By Sumit Roy
Natural gas was last trading up by 2% to $3.63/mmbtu after the Energy Information Administration reported that operators injected 65 billion cubic feet into storage last week, at the lower end of the 65 to 75 bcf range of analyst estimates. However, the injection was above last year's build of 27 bcf, and above the five-year average build of 60 bcf.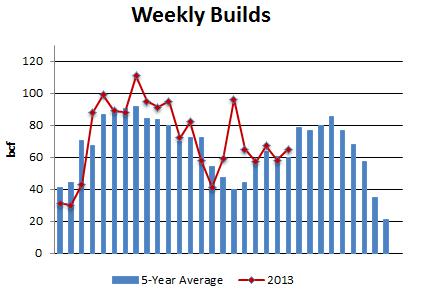 In turn, inventories now stand at 3,253 bcf, which is 176 bcf below the year-ago level and 53 bcf above the five-year average (calculated using a slightly different methodology than the EIA).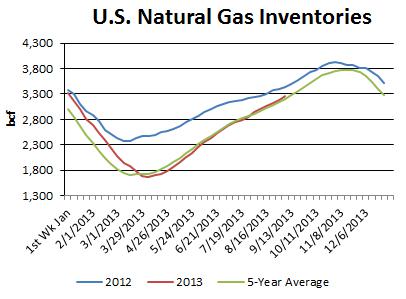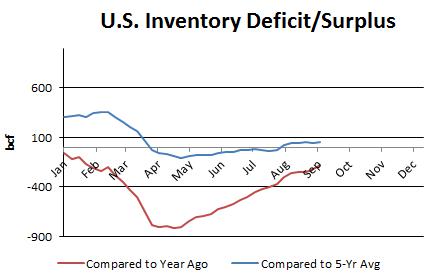 The weather last week was warmer than seasonal norms and warmer than the same period a year ago. The Edison Electric Institute said that utilities generated 82,760 GWh in the week ending Sept. 6, which was 2.3% below the same week a year ago.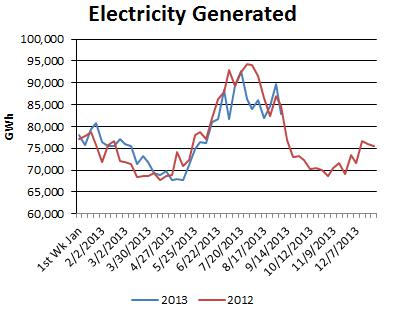 Looking ahead, the NOAA's six- to 10-day outlook continues to call for warmer-than-normal temperatures across much of the United States.
NOAA Six- to 10-Day Outlook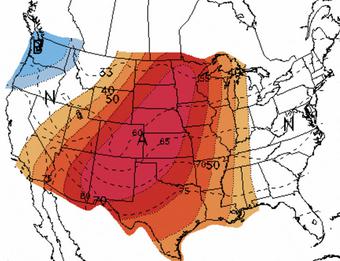 Meanwhile, the number of rigs drilling for natural gas in the U.S. rose by 14 to 394 last week.
Natural Gas Rig Count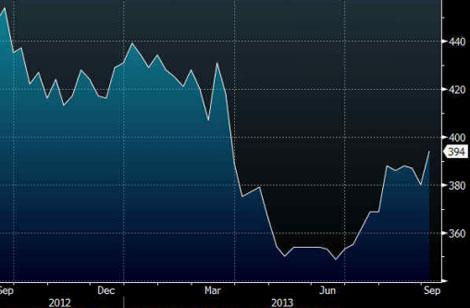 Natural Gas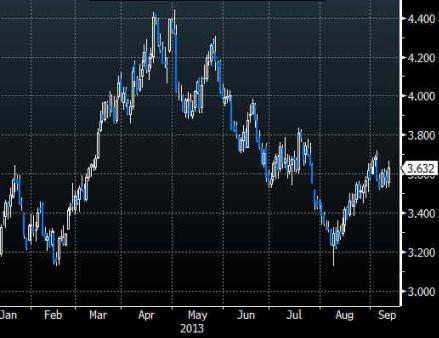 Bottom line: The latest inventory data from the EIA were neutral to bearish since the surplus against the five-year average rose from 47 bcf to 53 bcf. However, traders seem to be more focused on the weather forecasts, which remain bullish. Much of the country has been experiencing warmer-than-normal temperatures since the end of August, and it's expected to remain that way until the end of September.
The warm weather has lifted demand, but even so the inventory surplus over the five-year average has managed to creep up slightly -- evidence of a loose supply and demand balance. We don't see much room for natural gas to move higher, but at the same time, the ongoing bullish weather limits downside. We would opt to stay on the sidelines until a more compelling trade setup exposes itself.