We observe the phenomena around us to determine what is happening and to attempt to discern what is going to happen. If the water is rising, we might get flooded. If there is smoke on the wind, we know there is a fire. The same concept is true for human behavior as it is for natural phenomena. In the securities marketplace, investors discern the activity, buy or sell based on what is happening, and what they expect will happen.
In this article, we will observe what happened in August concerning ETF flows. We will look to discern trends, consider unusual activity and begin the process of discerning how our expectations might change from this knowledge. In addition, we will take a close look at two ETFs that had large inflows in August and thus far this year. Those are the PowerShares Buyback Achievers ETF (NYSEARCA:PKW) and the Vanguard Total Stock Market ETF (NYSEARCA:VTI).
Huge ETF Outflows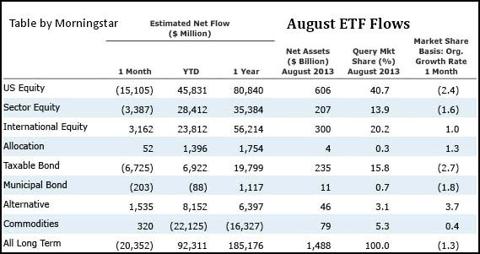 Click to enlarge
This was a month of huge net outflows, $20.4 billion, and the largest on record. This follows the $39.5 billion inflows in July. The largest outflow was out of US equities in the amount of $15 billion. Does that indicate a lack of faith in the US economy? That is a possibility. As a proportion of the assets held in different classes of funds, however, we get a slightly different story. By percentage, the largest withdrawals were from taxable bond funds. That is a sure indication that the masses and institutions believe that interest rates will rise. It was the removal of $6.7 billion from an asset base of $235 billion. Bond funds with long durations took the hardest hits.
Bond Fund Winners
Contenders for the freed up cash were PowerShares Senior Loan Portfolio (NYSEARCA:BKLN) and the iShares Floating Rate Bond (NYSEARCA:FLOT), offering lower rates but limited interest rate risk.
Equity Outflows
The iShares S&P 500 Index Fund (NYSEARCA:SPY) led the month's equity outflows. Due to its liquidity, and its representation of a large portion of the US Stock Market, this fund is a favorite of institutions. Buying or selling it in massive amounts is a quick way to change one's asset allocation. SPY is Morningstar's choice for funds in the large blend category of the institutional market.
Emerging Markets
There have been net outflows from emerging market ETFs, and at the same time inflows to the European and Developed Market ETFs. Morningstar notes that,
"While ETF investors have been pulling money out of emerging markets, mutual fund investors continue to buy. For the year to date through the end of July, mutual fund investors added $27 billion to diversified emerging-markets funds, while ETF investors have pulled $5.7 billion."
Could it be the retail mutual fund buyers are less in tune with current opportunities than ETF buyers, which include institutions?
Equity Inflows, Two Big Winners
PowerShares Buyback Achievers had inflows of $243 million in August and gained a little more than $1 billion in inflows this year. If anyone contends that stock buybacks are not effective, I suggest they consider the 5-Year and YTD charts of PKW. The heaviest volume has come this summer as the fund has grown rapidly. It is up an annualized 12% over the past 5 years, and nearly 30% YTD.
The broadest possible of US stock funds, the Vanguard Total Stock Market ETF, is a fund favored by individual investors. VTI gained $110 million in flows last month and $4.3 billion year to date. Morningstar selected this fund as the best in the Large Blend retail category. It has several advantages over SPY. One of these is cost, which is nearly half of SPY's 0.09% at 0.05%. Unlike the S&P 500, it also captures the mid-cap and small-cap companies. The most remarkable thing about the fund is that it routinely beats the S&P Index over most periods, from 1 year, 3 years, 5 years or 10.
PKW, Description, Stats and Charts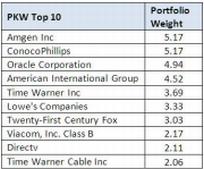 The PowerShares Buyback Achiever Portfolio is based on the NASDAQ Buyback Achievers Index (Index). The Fund will normally invest at least 90% of its total assets in common stocks that comprise the Index. The index is designed to track the performance of companies that meet the requirements to be classified as BuyBack Achievers. To become eligible for inclusion in the Index, a company must be incorporated in the U.S., trade on a US exchange and must have repurchased at least 5% or more of its outstanding shares for the trailing 12 months. The Fund and the Index are reconstituted annually in January and rebalanced quarterly in January, April, July and October.

Click to enlarge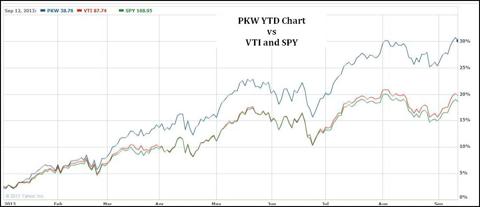 Click to enlarge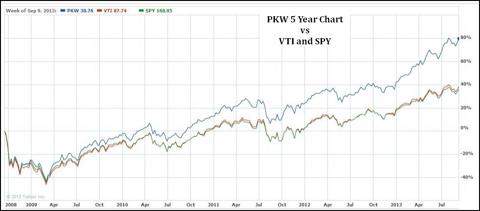 Click to enlarge
VTI, Description, Stats and Charts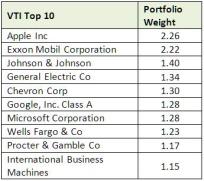 The Vanguard Total Stock Market ETF seeks to track the performance of the CRSP US Total Market Index. Large-, mid- and small-cap equities are diversified across growth and value styles. The fund employs a passively managed, index-sampling strategy and the fund remains fully invested. Its low expenses minimize net tracking error.

Click to enlarge

Click to enlarge
The Vanguard Phenomenon
The Vanguard Group Inc. was the only company among the five largest ETF companies that had more money come in than go out for the month. Vanguard, the third-largest ETF Company, had net inflows of $3.75 billion in August, according to Index Universe LLC. Investors' confidence in Vanguard should not come as a surprise, given that the company has had only one month of company wide net outflows in the past 20 years.
In addition to that, fully 40% of fund inflows this year have been to Vanguard. Part of the reason may be that the investors own Vanguard, not a corporate profit making entity. Those would include BlackRock and State Street, or the family controlled Fidelity. It is truly a mutual company, the only such financial house of any size. Because of this the expenses for the owner/investor are very low.
I Digress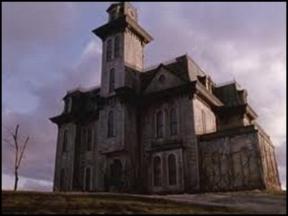 I am compelled to interject a personal story at this time. The time was over a dozen years ago. The place was an upscale liberal arts college in a suburb of Boston where the real estate cost is high and the crime rate is low. I was taking a course in an investment advisor series taught by adjunct faculty in the evenings. A project was required in which teams of three or four students would work together to propose an investment solution for a hypothetical family's trust. The description of the family is below.
"An old family with Castilian roots, their credo is, "Sic gorgiamus allos subjectatos nunc." The man of the house is a lawyer, whose avocation is fishing. His devoted wife is a thin middle-aged woman with a preference for skintight clothes and is the mother of their three children. The oldest is a reckless but happy daughter, next comes the boy genius son and then the younger son, who was born with multiple disabilities and disfigurements, including facial hair. The wife's parents are in the household, a seventyish couple and the unemployed brother of the lawyer. Perceived as eccentric by their neighbors, the size and grandeur of the mansion, known locally as the haunted house, displays the family's wealth."
When all was said and done, my group produced a very slick 15-page proposal, carefully bound and well-illustrated with graphs, charts, and tables. However, this was just the sizzle; the meat of the proposal was the simple allocation of the assets into The Vanguard Total Stock Market Fund VTI, 50%, and the Vanguard Total Bond Market Fund, 50%. This seemed almost laughable compared to the sophisticated and complex solutions prepared by the competing groups. However, the teacher, a seasoned financial advisor, judged that ours was the best proposal, elegant in its simplicity, easy to maintain, inexpensive and difficult to beat over the long term.
Conclusions
Those of you who follow me know that for the past month I have been talking about European funds, Developed Market Funds and the Large Cap Value Fund, The Vanguard High Dividend ETF (NYSEARCA:VYM). I have warned against emerging market funds. A theme of this series is simplification of one's holdings.
I believe the popularity of The Vanguard Total Market Fund, VTI, is due in part because it has among its proponents many seasoned wealth managers taking the safe and simple approach with their world-worried new boomer retirees. I believe, as do many others, that anything you can do to simplify your life as you age is a great benefit. It gives you the priceless gifts of time and peace of mind.
The Addams Family Trust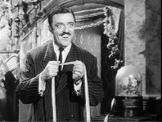 You may have realized the identity of the hypothetical family of classroom project if you had translated their Latin creed to the English, "We gladly feast on those who would subdue us." The Addams Family is quite content with their investment strategy of 12 years, however, they recently changed their asset allocation to 70%/30% to address the rising interest rates.
There is risk involved in all investing. Take care to do a careful evaluation of any securities you are considering purchasing. Consult a qualified professional if you need assistance.
Disclosure: I am long VYM. I wrote this article myself, and it expresses my own opinions. I am not receiving compensation for it (other than from Seeking Alpha). I have no business relationship with any company whose stock is mentioned in this article.
Disclosure: I am long VYM. I wrote this article myself, and it expresses my own opinions. I am not receiving compensation for it (other than from Seeking Alpha). I have no business relationship with any company whose stock is mentioned in this article.