For the past year, Exelon Corp. (NYSE:EXC) has had a roller coaster ride, with the stock having plummeted 15% since September 2012 - the company had announced a dividend cut of 41%, which led to a drop in the share price. Separately, the recent weak PJM auction prices did not bode well for the company. However, I believe the worst is priced in the stock price, and the company's management is committed to improving its financial flexibility and cost structure in order to strengthen its financial performance. Also, the company is planning to incur capital expenditure (MUTF:CAPEX) in the upcoming years, which will result in rate base growth for Exelon.
Earlier this week, on September 11, the company presented at the Barclays CEO Energy-Power Conference. Important takeaways from the presentation were that the company updated its investment plans to achieve earnings growth, implement cost control measures, optimize its generation portfolio and improve its operational excellence.
EXC is targeting to achieve annual rate base growth of 5%-6% though the next five years. In order to achieve the desired rate base growth, it plans to direct investment toward its regulated business operations. The investment will be directed toward upgrading the present infrastructure, and investing in smart grids and smart meters, gas pipelines and transmission. Over the next five years, the company plans to invest $13.5 billion, which will be recovered through rate increases. This investment will fuel future earnings growth. The following chart shows the anticipated rate base growth through 2015.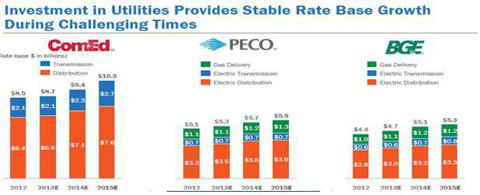 Source: Presentation Slides
Also, the company has been working to improve its operations and cost structure. During the first two quarters of the ongoing year (2013), EXC's nuclear plants operated at a capacity factor of approximately 95%, which signaled that operational excellence efforts were on track. Moreover, the company anticipates that it will comfortably realize $550 million in merger synergies by next year on a full run rate basis.
Consistent with cost control measures, the company plans cutting $100 million of cost in 2013 and 2014, and targeting additional operational and maintenance (O&M) reductions in 2014 and 2015, which will translate into a flat CAGR for the company's ExGen segment.
EXC is among the low-cost electricity producers in the U.S. and is committed to further improve its generational fleet. EXC plans to capitalize on investment opportunities available to strengthen its generational fleet. The company has been working to strengthen its renewable generation assets. The company is planning to raise $635 million in senior secured debt to finance 13 ongoing wind energy projects. The debt is expected to have a maturity of 20 years. Fitch Ratings is anticipating assigning a stable outlook and BBB- credit rating to the $635 million senior note issue. The ongoing 13 wind projects, which will look to generate 667MW, will be distributed across six states. The optimization of the generational portfolio and investments in renewable energy sources remain key earnings drivers for the industry and EXC. Duke Energy (NYSE:DUK) has spent approximately $3 billion to optimize its generational fleet of solar and wind.
Final Words
EXC's plans to direct its investments toward its regulated business operations will positively impact the company's future earnings potential. Also, the company's ongoing measures to achieve operational excellence and improve on its cost structure will strengthen its bottom line results. Moreover, EXC is keeping up with the industry by enhancing its renewable generational fleet, which will help the company diversify its earnings base. I believe the above mentioned factors augur well for the company's future financial performance and stock price.
Disclosure: I have no positions in any stocks mentioned, and no plans to initiate any positions within the next 72 hours. I wrote this article myself, and it expresses my own opinions. I am not receiving compensation for it (other than from Seeking Alpha). I have no business relationship with any company whose stock is mentioned in this article.