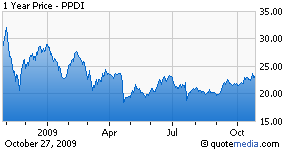 PPD, Inc. (NSDQ: PPDI) announced it has reached an agreement to acquire Excel PharmaStudies, Inc., a China-based CRO specializing in Phase II-IV clinical trials. Founded in 2000, Excel has offices in 15 China cities and over 300 employees. It has worked with more than 120 pharmas and biotech companies. PPD said the purchase will add capacity and expertise in China, while also increasing its employee count and client base in the Asia Pacific region. Financial terms of the acquisition were not disclosed.
China entrepreneurs have been very successful in creating CROs of various types over the past ten years. As capacity grows, consolidation seems almost inevitable, and PPD, which does not have a major presence in China, found a way to make a significant inroad into the sector with a single deal. Excel was named the "Asia Pacific Clinical Research Organization of the Year" by Frost & Sullivan in April 2009.
Excel offers a range of Phase II-IV clinical services, including regulatory affairs, patient recruitment, protocol design, feasibility studies, good clinical practice training and program management.
In April of this year, Excel announced it would open a biometrics center in China Medical City, located in Taizhou City, Jiangsu Province. Excel planned to move the company's existing biometrics data services from its Beijing and Shanghai operations, then integrate and expand its offerings, increasing the staff count to approximately 100. At the time of the announcement, Excel said the move to Taizhou City would lower its costs.
Excel also operates a vaccine research center in Taizhou.
"Biopharmaceutical companies are increasingly including China and Japan in their drug development programs because of the rapid growth of these markets," said David Grange, CEO of PPD in a statement. "Excel brings a solid reputation, broad client base and regulatory expertise and is an important part of our continued expansion in this fast-growing region."
When the acquisition closes, Excel will become a wholly owned subsidiary of PPD, and its employees will join PPD. Mark Engel, co-founder of Excel, will work exclusively with PPD as a strategic consultant.
PPD has been in China since 2003, when it opened an office in Beijing. In 2008, it began offering global central lab services in China through an exclusive agreement with Peking Union Lawke Biomedical Development Limited. In China, PPD has offices in Beijing and Hong Kong. It also has offices in India, Singapore, Taiwan, Thailand, Korea and Japan, employing more than 400 people in Asia Pacific.
PPD offers discovery, development and post-approval services as well as compound partnering programs worldwide, with offices in 38 countries and more than 10,000 professionals. The company has a market capitalization of $2.7 billion.
Over the past 12 months, PPD reported net income of $182 million on revenues of $1.5 billion.
PPD made a flurry of announcements Tuesday. In addition to the Excel deal, PPD said it would invest $100 million in Celtic Therapeutics Holdings L.P., an investment partnership that intends to acquire and develop 10 to 15 novel therapeutic product candidates in mid-level development. The investment in Celtic Therapeutics is intended to lead toward a strategic alliance between Celtic Therapeutics and PPD.
PPD also said it intends to spin off its compound partnering business from its core CRO business. And, as if more news was needed, it announced its Q3 financial results.
Disclosure: none.