Foot Locker (NYSE:FL) is a retailer of athletic shoes and apparel which operates 3369 stores in the US, Canada, Europe, Australia and New-Zealand. On July 10th 2013, it completed its acquisition of Runners Point Group. In today's article, I will be looking at FL's revenue, net income, dividend and valuation. At certain points, I will use DSW, Inc. (NYSE:DSW) and Shoe Carnival, Inc. (NASDAQ:SCVL) for comparison.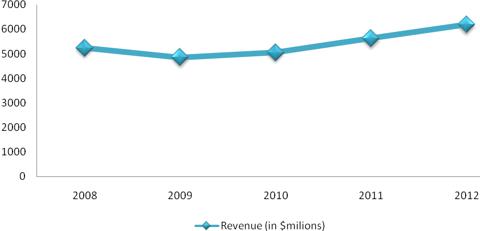 Over the past couple of years, FL has had slow, but steady growth in revenue. Between 2008 and 2012 the revenue has gone up by an average of just over 4%. In the first 6 months of the current fiscal year, total revenues were $3.092 billion, which is 5% higher than in the first 2 quarters of the previous year.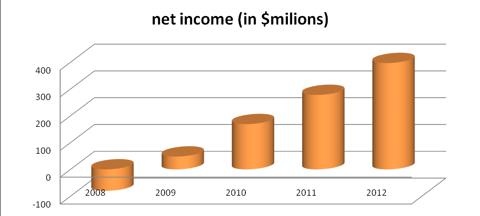 Foot Locker's net income was negative in 2008 but has grown at an amazing pace since then, reaching $397 million, or $2.58 per share in 2012. Earnings per share in the first half of the current fiscal year were up 11% at $1.34 compared to $1.21 last year.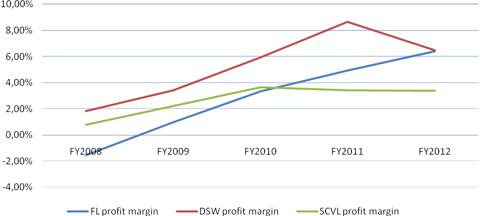 FL's profit margin has gone up dramatically over the past couple of years, reaching 6.42% in the most recent fiscal year. This is very close to DSW's 6.47% and much higher than SCVL's 3.39% margin. Foot Locker's profit margin for the first six months of FY2013 is at a very decent 6.60%.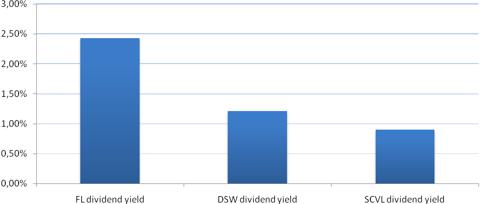 Foot Locker pays a quarterly dividend of $0.20 per share. At the current price of $32.87 per share, this means investors get a 2.43% yield, which is a lot higher than the 1.21% investors in DSW or the 0.90% investors in SCVL get. Foot Locker's dividend is also very safe: in the most recent fiscal year, the payout ratio was at less than 30%.
At the end of the second quarter of the current fiscal year, Foot Locker's cash, cash equivalents, and short-term investments totaled $836 million, while the debt on its balance sheet was $141 million. In Q2 2013, part of this large pile of money was used to buy back 2.83 million shares, lowering the total number of shares to 148.5 million. With a relatively low payout ratio and a lot of cash on hand, I wouldn't be surprised if FL would decide to either raise the dividend or buy back more shares.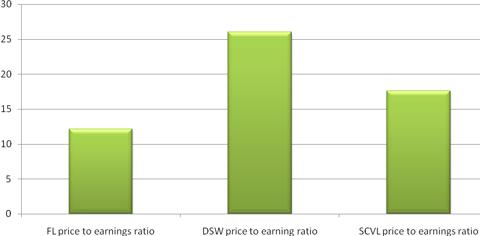 At a price to earnings ratio of only 12.15, Foot Locker is a lot cheaper than both DSW (with a p/e of 26.05) and SCVL (with a p/e of 17.61). Its price to sales ratio is 0.8, compared to DSW's 1.6 and SCVL's 0.6.
Conclusion
As a dividend-orientated investor, one of the things I look for is a safe, reliable dividend. Foot Locker has hundreds of millions in cash which it uses to reward its shareholders with both dividends and share buybacks. Revenue has been slowly but surely growing over the past couple of years, and so has the dividend. To me, FL seems like a great stock to own for dividend growth investors, and its current low price ($32.88, $4.97 lower than its 52-week high) tells me now is the time to buy FL.
Disclosure: I have no positions in any stocks mentioned, and no plans to initiate any positions within the next 72 hours. I wrote this article myself, and it expresses my own opinions. I am not receiving compensation for it (other than from Seeking Alpha). I have no business relationship with any company whose stock is mentioned in this article.