The U.S. Postal Service is engaged in a well-publicized battle for survival in this era of digitization. With the closure of its paper mill in Courtland, Alabama, International Paper (NYSE:IP) has further underlined the inexorable drive of digitization. On September 11, 2013, IP announced the following:
"This mill closure will reduce IP's North American uncoated and coated freesheet paper production capacity by 950,000 tons, of which 765,000 is uncoated freesheet…

…The Courtland Mill produces papers for forms, envelopes, labels, copiers, printers and magazines. The demand for uncoated freesheet in North America has been in decline since 1999 and has recently accelerated as consumers continue to switch to electronic alternatives such as online publications and electronic billing and filing."
IP still has four mills in its Printing and Communications Papers Business that are focused on "uncoated freesheet, bristols and specialty papers markets." There are two mills in South Carolina, one for uncoated freesheet and another for specialty paper. There is an uncoated freesheet paper mill in Alabama and a specialty paper mill in New York.
I took particular note of IP's claim that the digitization of publication, billing, and communication is accelerating. This is a positive note for IT companies engaged in facilitating the era of digitization. IP is far from doomed though. For example, the popularity of online shopping continues to drive up the demand for the packaging used for shipping products.
The Rome News-Tribune, a publication in Rome, Georgia, interviewed Thomas Ryan, director of communication for International Paper in Memphis, TN on the closure. Miller notes that while digitization is hurting the uncoated freesheet business it is helping the linerboard business (the Post Office would of course do well to get more competitive in the shipping business):
"As consumers make more and more purchases over the Internet, and with their smart phones, the demand for linerboard - which creates the boxes that the merchandise is shipped in - is only going to increase."
Miller added that IP has made two related acquisitions that strengthened its linerboard business (Weyerhaeuser and Temple-Inland). He also noted that IP tried to salvage the plant by exporting to growth markets but was ultimately unsuccessful in building this into a sustainable business. Clearly, these markets are growing toward the mainstream of the digitization age.
As if to reassure investors the day before this announcement of the mill closure, IP announced it will increase its annual dividend by $0.20 to $1.40 (current yield is 2.5%). This change makes the stock a bit more competitive with rising interest rates on government bonds. The company also announced the launch of a $1.5B share repurchase program for buying shares over the next 2-3 years. With $1.2B in cash on the balance sheet (slightly down from $1.3B at the end of 2012), this announcement expresses a strong confidence in the business over the next few years.
Indeed, analysts remain quite bullish on the business: 6 strong buys, 11 buys, and 1 hold. IP provides the following table summarizing analyst short and long-term estimates (which are of course molded around the company's guidance):
Analyst Forecasts - EPS
 
Last Month Revisions
Fiscal Period
 
Mean
High
Low
Median
# of Estimates
#Up
#Down
Mean % Change
Annual
Dec 15
5.05
5.50
4.70
4.97
8
0
3
-1.02
Annual
Dec 14
4.49
4.90
4.05
4.47
19
2
2
-0.54
Annual
Dec 13
3.33
3.50
3.05
3.36
19
0
3
-0.49
Quarterly
Sep 13
1.00
1.11
0.87
1.00
17
1
2
-0.94
Quarterly
Dec 13
1.03
1.16
0.89
1.06
17
0
4
-0.90
Quarterly
Mar 14
1.05
1.12
0.90
1.07
6
2
1
0.18
Quarterly
Jun 14
1.10
1.22
0.93
1.11
5
1
2
-0.54
Long Term Growth
 
15.83
27.50
5.00
15.00
3
0
0
0.00

With a forward P/E of 11 the company remains reasonably priced despite a 25% year-to-date gain (well ahead of the S&P 500′s year-to-date gain of 18%). The stock is also still 26% away from challenging its all-time high set in 1997 and 1999.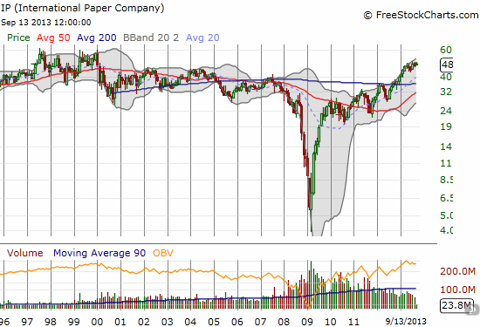 International Paper has come a LONG way from the financial crisis and recession
Source: FreeStockCharts.com
I have very belatedly put IP on my radar since the business seems to be adjusting well. However, given the run-up, I prefer to buy the dips.
Be careful out there!
Disclosure: I have no positions in any stocks mentioned, and no plans to initiate any positions within the next 72 hours. I wrote this article myself, and it expresses my own opinions. I am not receiving compensation for it (other than from Seeking Alpha). I have no business relationship with any company whose stock is mentioned in this article.