The average market price for the highest quality preferred stocks [1] started dropping last week in anticipation of the September 17-18 meeting of the Federal Reserve's Federal Open Market Committee (FOMC), making 102 of these securities available below their $25 par values at the close last Friday.
Preferred stock investors will, once again, be watching closely as the FOMC ponders its Quantitative Easing (QE) bond-buying program this week, the result of which will be announced at the conclusion of the committee's two-day meeting on Wednesday afternoon.
An unemployment rate of 6.5 percent is the threshold level that the Fed has said is needed before it will begin raising interest rates by backing out of its $85 billion per month QE program. The Fed's QE program creates an artificial shortage of bonds, pushing up prices of fixed-return securities (bonds, preferred stocks) and lowering their yields (since more money has to be invested to earn the same return). While good for employers, the resulting lower rates have decimated savers and income investors for over two years now.
The Fed has also stated on numerous occasions that it does not expect the unemployment rate to reach the 6.5 percent threshold until 2015.
Four Year Trend Continues
Since employment started improving during the fall of 2009, the unemployment rate has fallen by one percent every 18 months or so [2]. By projecting this rate of improvement into the future, this chart illustrates where the often-repeated 2015 forecast comes from.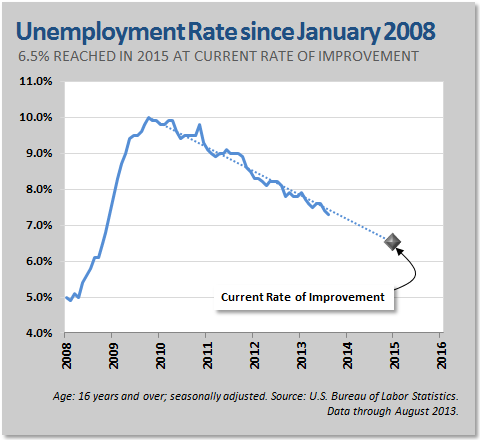 The trend that supports the 2015 forecast has remained unchanged over the last four years and yet preferred stock prices dropped during June (surrounding the FOMC's June 18-19 meeting) and again during the first week of August (following the FOMC's July 30-31 meeting).
In both cases, fearful sellers, having paid prices well above par for their shares over the last two years, were anticipating a tapering of the Fed's QE program. Backing out of the QE program should produce lower prices for higher returns which is great news for preferred stock buyers but unwelcome for those who previously paid above-par prices for their shares.
Opportunity for Buyers
In June and early-August, fearful sellers sold their preferred stock holdings in anticipation of a policy change that did not materialize. The June selloff pushed the average market price of high quality preferred stocks back down to pre-QE2 levels (for a price chart of the June event see "Preferred Stock Prices Return to Pre-QE2 Level, Bargain List Grows for Buyers").
Now here we are once again with the September 17-18 FOMC meeting upon us. Will fearful sellers hold their shares or will their fears get the better of them once again, triggering sales and creating an opportunity for buyers?
102 Sub-$25 High Quality Preferred Stocks
The short answer is that, short of clairvoyance, there is no way to know the answer to that question.
Importantly, however, buyers should note that preferred stock prices started edging down last week (although not nearly as dramatically as the two prior events in June and early-August).
The number of high quality issues selling for less than their $25 par value was at 90 at the beginning of last week. The count rose to 93 last Wednesday and reached 101 on Thursday.
At last Friday's close the list of the highest quality preferred stocks selling below $25 was 102, the list growing by an additional twelve choices during the week for preferred stock buyers to pick from [3].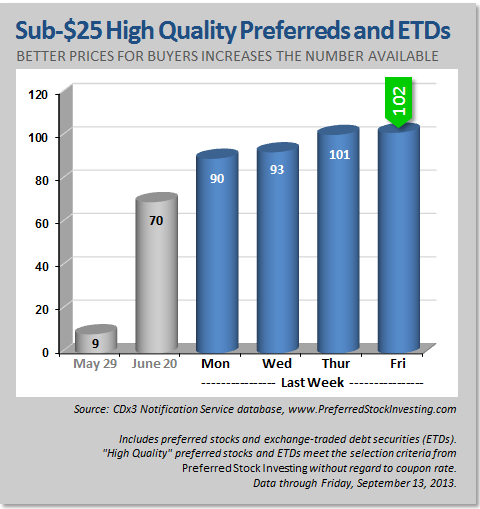 All of these securities meet a variety of risk-lowering criteria such as offering cumulative dividends, investment grade ratings from Moody's and multi-year call protection. Examples include CTQ (7.375% coupon, $24.72 Friday close) from CenturyLink's (NYSE:CTL) Qwest Corporation, HPT-D (7.125% coupon, $24.80 Friday close) from Hospitality Properties (NYSE:HPT) and TDJ (7.0% coupon, $24.56 Friday close) from Telephone and Data Systems (NYSE:TDS).
Income Investing is Different than Value Investing
With prices edging down last week, the stage may be set for a repeat of the June and August events where value investors prematurely sell their preferred stock shares, creating an opportunity for income investors.
Unlike value investors who earn their income from price changes, income investors earn their money from dividends, taking advantage of the long-term up and down movement of interest rates.
As rates move up and down over time, prices, which move in the opposite direction of rates, move down and back up, respectively. Preferred stock buyers accumulate dividend-paying shares during periods of increasing rates and decreasing prices (such as the period we appear to be transitioning into) and sell those shares, if you are a seller, once rates swing down again and prices move back up (such as the period we have experienced for the last two years).
Too often, preferred stock shareholders who are more used to shorter-term value investing sell their preferred stock shares prematurely when prices start to fall, locking in a capital loss while simultaneously eliminating their own dividend income.
By taking advantage of the known inverse relationship between rates and prices, longer-term preferred stock investors are often able to add a capital gain to their principal while earning steady dividend income in the meantime. Charts illustrating the results of applying this strategy since 2001 are presented in "Why Falling Prices Should Be Welcomed By Preferred Stock Investors."
While there is no way to know what future prices will be, the evidence that we have from last week suggests that value investors who hold preferred stock shares are poised to create another opportunity for income investors. Preferred stock buyers should be watchful for bargain prices triggered by this week's FOMC meeting.
Footnotes:
[1] Source for preferred stock price data in this article: CDx3 Notification Service database, www.PreferredStockInvesting.com. Disclosure: The CDx3 Notification Service is my preferred stock email alert and research newsletter service and includes the database of all preferred stocks and exchange-traded debt securities traded on U.S. stock exchanges used for this article.
[2] Source for U.S. unemployment rate: U.S. Bureau of Labor Statistics, www.bls.gov.
[3] Source for current sub-$25 high quality preferred stocks: the "CDx3 Bargain Table" HotList, CDx3 Notification Service website (subscription required).
Disclosure: I have no positions in any stocks mentioned, and no plans to initiate any positions within the next 72 hours. I wrote this article myself, and it expresses my own opinions. I am not receiving compensation for it (other than from Seeking Alpha). I have no business relationship with any company whose stock is mentioned in this article.
Additional disclosure: Securities identified within this article are for illustration purposes only and are not to be taken as recommendations.