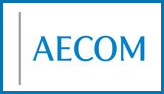 Shares of AECOM Technology Corporation (NYSE:ACM) got a lift Monday after the company announced a weekend acquisition. Ellerbe Becket which is an architectural, interiors and engineering firm has been bought by AECOM who continues to build out its portfolio of product offerings by buying out the competition. The ZachStocks Growth Model has a long position in ACM which has taken more time than expected to mature, but it now appears that the company may be building a strong fundamental base which could lead to a sharp rally in the stock.
It is a bit unusual to see the acquiring firm stock rise on the day that the acquisition is made, because usually investors are wary that the acquiring company may have paid a premium in order to take over the target company. However, ACM rose more than 12% on a day when the market was experiencing a significant decline. Volume was roughly double the average number of shares indicating that institutional investors may have been at work building large positions. The initial strength after the transaction is a positive sign and is likely to point to this being an accretive deal for AECOM.
Ellerbe Becket employs 450 people in 7 offices across the US and the Middle East. The company specializes in the following types of projects:
Health care facilities
Sports complexes
Government buildings and installations
Corporate projects
Higher education facilities
One concern that often arises when a large corporation takes over a smaller rival is that headcount will be reduced resulting in unemployment. However, in the architectural business, strength comes from human capital and so it is unlikely that AECOM will do much in the way of headcount reduction. In fact, I imagine that there will be some retention bonuses for key architects and project managers to ensure that the investment pays off.
AECOM purchased Ellerbe Becket as the parent company continues to try to build out its product offerings to cover a broad range of architecture and engineering solutions. The combination will give existing clients of both companies a wider platform of services for individual products. AECOM is betting that cross selling these services will result in strong profitability for shareholders. Although terms of the deal were not released, AECOM has a relatively stable financial position and it is not likely that significant additional debt was needed in order to secure this transaction.
Ellerbe Becket's decision to join us in order to expand the services available to its clients and the professional development opportunities offered to its employees further establishes AECOM's position as a preeminent global design consultancy. ~John M. Dionisio, President and CEO

The company will report earnings on November 12 and while the acquisition obviously occurred in the fourth quarter (and will not be included in the September fourth quarter numbers), it will be interesting to see if management sheds any additional light on the transaction. It would be helpful to know approximate pricing details, any financing efforts that were taken to pay for the deal, and what sort of earnings growth investors can expect as a result of this purchase.
Stimulus measures both in the US and abroad were expected to help the company grow in 2009 and beyond. Infrastructure projects captured headlines and investors' attention, but investors now seem to have lost interest in infrastructure spending. The earnings do continue to grow quarter by quarter, but investors still seem relatively unsure of the long-term growth prospects. ACM is currently trading at near 16 times expected earnings for this year, and 13 times earnings expectations for 2010. The multiple seems a bit low for a company that is growing earnings by 20% on an annual basis and I think patient shareholders will eventually be rewarded for sticking with this name.
Currently, there is no yield on the stock as management has decided to retain earnings to continue building the company. This may be a wise move from a capital perspective, although a small dividend plan may open the stock up to a broader group of investors who need to have some cash-flow attached to their investment. The chart pattern is not particularly attractive, but the Ellerbe acquisition could spark interest resulting in a more attractive price movement.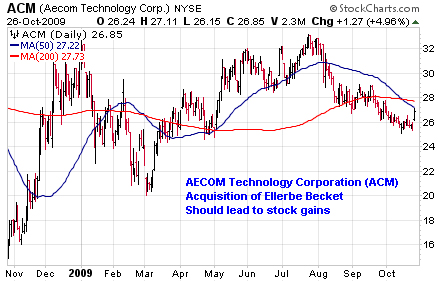 FD: Author has a long position in the ZachStocks Growth Model.