As fellow do-it-yourself investors, we appreciate the power of collective thought. In fact, the primary reason we love contributing articles on Seeking Alpha is the privilege of discussing and analyzing the market with like-minded individuals. To achieve long-term success, investors must keep an open mind and continuously educate themselves and there is a wealth of knowledge to be gained from fellow contributors, commentors and readers on Seeking Alpha.
As most of you know, the main focus of our research is dividend stocks. We have wrote many articles about establishing a dividend investing plan as well as building a DIY Dividend Portfolio...but now we want to hear from you!
Our next series of articles is going to focus on building and monitoring a long-term dividend portfolio from scratch using the collective knowledge and opinions of SA readers and contributors. In essence, we would like to create a "DIY Dividend Investors Club" for SA members that we will moderate through future articles. If you are interested in participating all you have to do is provide your feedback and/or opinions in the comment section of future articles. Or if you just want to passively follow along, you are welcome to do that too.
The DIY Dividend Investors Club Portfolio
Over the course of the next few weeks, we are going build a long-term dividend portfolio that we will continue to monitor on a monthly basis going forward. Stocks in the portfolio will be initially selected based on the collective feedback from the Club. In addition, we will ask the Club to weigh in on the management of the portfolio over time as well.
Here are the high-level parameters that we are setting for the portfolio:
Portfolio Size: $250,000
Target # of Stocks: 20-30
Maximum Stock Concentration: 5.0% of portfolio
Maximum Sector Concentration: 20.0% of portfolio
Maximum High Yield Concentration: 20.0% of portfolio
Minimum Dividend Yield: 2.5%
As you can see, the investment plan is really simple. We are targeting a portfolio of 20-30 stocks with a minimum dividend yield of 2.5%. In addition, to ensure proper diversification we are setting portfolio concentration limits for individual stocks (5%), sectors (20%) and high-yield exposure (20%). Note that we consider any stock with a yield over 6% as "high-yield".
Building the Portfolio (Picking the Stocks)
There's really no right or wrong answer when it comes to stock picking methodology. For those of you that are interested, you can read about our investment philosophy here. That said, to help facilitate the stock picking process we are going to build the portfolio by sector (based on the 9 major sectors in the S&P 500).
Over the next few weeks, we will publish an article on each sector highlighting some suggested stocks within the sector (based on our rating system). Readers can either vote on the stocks we suggested for the portfolio or "write in" their own stocks to vote on. Majority will rule!
Below is a schedule of the entire series. Please make sure to "follow" us so that you will be notified when each new article is published.
Part 1: Introduction
Part 2: Consumer Staples
Part 3: Utilities
Part 4: Healthcare
Part 5: Consumer Discretionary
Part 6: Financials
Part 7: Technology
Part 8: Industrials
Part 9: Materials
Part 10: Energy
Part 11: Unveiling the Portfolio
Let's Get Started: Picking A Portfolio Captain
There's no reason to wait until the next article to get down to business. Let's pick the first core stock for the portfolio! Every team needs a good captain and we would like to kick things off by suggesting a few highly-rated dividend aristocrats to consider as a "portfolio captain". All of these stocks may eventually make the team as we go through the various sectors and build out the portfolio, but let's choose one now as our fearless leader.
McDonald's Corp. (NYSE:MCD)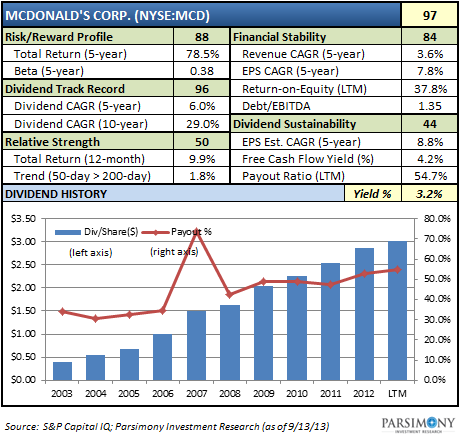 McDonald's carries a very high rating for Dividend Track Record (96) and we believe that it is a great long-term stock for a DIY Dividend Portfolio. MCD has produced a very respectable 5-year total return of 78%, with a very conservative maximum drawdown of 21%. Even more impressive is the fact that the company has increased its dividend at a compound annual rate of 29% over the past 10 years! MCD is probably one of the best dividend growth stocks of all time.
Kimberly-Clark Corp. (NYSE:KMB)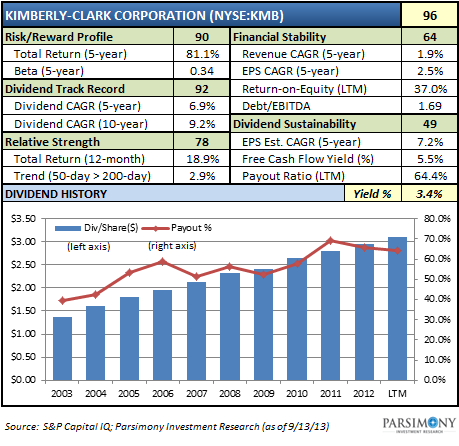 Kimberly-Clark has a nice current dividend yield (3.4%) and a very respectable 5- and 10-year dividend growth rate of 6.9% and 9.2%, respectively. The stock has also performed well over the past 12 months, with a total return around 20%.
Wal-Mart Stores (NYSE:WMT)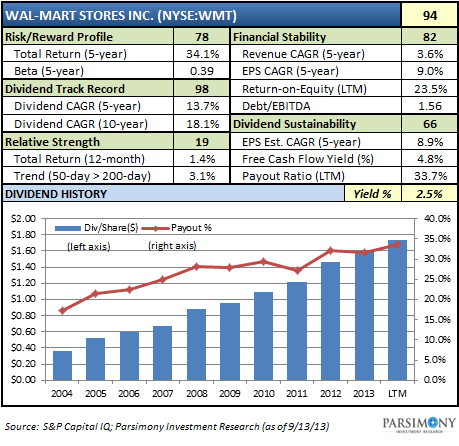 Wal-Mart is also one of the best dividend growth stocks of all-time (in our opinion) despite only delivering shareholders a 34% total return over the past five years. The company has increased its dividend at a compound annual rate of 13.7% and 18.1% over the last 5 and 10 years, respectively. Also, the company still has a very modest payout ratio of 34%, so it has plenty of room to continue to increase its dividend in the future.
Coca-Cola Company (NYSE:KO)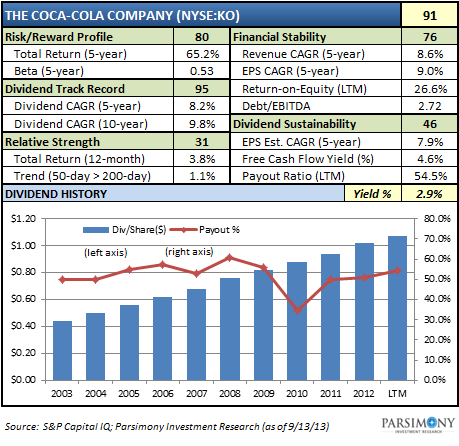 The Coca-Cola Company has paid a quarterly dividend since 1920 and has increased dividends in each of the last 50 years. Over the past 5 years, the company has steadily grown its revenues and earnings at a compound annual rate of 8.6% and 9.0%, respectively. This has led to a stable dividend growth rate of 8.2% and a total stock return of 65.2% over that same period.
Summary
We are truly looking forward to this series as well as seeing how the DIY Dividend Investors Club Portfolio performs over time. We hope that you'll participate in each stage of the process and be honest and open with your opinions. The ultimate goal here is to leverage the collective knowledge base of income-focused SA members to build a great long-term dividend portfolio!
FEEDBACK REQUEST: Please vote for your "portfolio captain" in the comments section below. If you don't like any of the suggestions above, please feel free to "write-in" a vote of your own. Remember...majority rules!
Disclosure: I am long MCD, KO, WMT, KMB. I wrote this article myself, and it expresses my own opinions. I am not receiving compensation for it (other than from Seeking Alpha). I have no business relationship with any company whose stock is mentioned in this article.