Silver and gold miners have had it rough the past couple of years as metal prices have taken their sweet time backing off their all-time highs reached in 2011. It's hard to get traction while the price of your product keeps falling (hopefully that's just about done with). Yet there are still a few mining companies that have done relatively well by doing what the best businesses in every other industry sector do: grow. When said growth is not being priced into a company's valuation, it spells opportunity. One such opportunity we'd like to examine today is spelled S-V-L-C. SilverCrest Mines (NYSEMKT:SVLC) not only represents one of the best values in the gold and silver mining space in our opinion, but its possible addition to one or more indices (namely, the Market Vectors Junior Gold Miners ETF or GDXJ) could serve as an immediate catalyst for a higher share price.
The Basics
SilverCrest is a mining company focused on silver and gold production in Mexico. Its flagship producing asset is the Santa Elena Mine in the high deserts of Sonora. This mine began production in 2011 and has been consistently profitable from day one, a notable achievement even in a rising metal price environment. SilverCrest also has a project in early development called La Joya in Durango. This is primarily a silver-copper deposit the company expects to mine initially by open pit exploiting the higher grade structures. A Preliminary Economic Assessment is currently being targeted for completion before the end of 2013.
SilverCrest is dual-listed in the US and Canada with 108 million shares outstanding plus 6 million options at an average exercise price of CAD$1.41. This adds up to a market capitalization of about $200 million at the current share price or roughly $160 million net of its working capital position.
Beyond consistently meeting or exceeding expectations, management has done an exceptional job maintaining a strong balance sheet as a result of well-orchestrated fundraising that has kept dilution to a minimum. Below are the financings dating back to June 2009, which included all the money necessary to build and expand Santa Elena.
Here are some other salient details to consider:
Insider ownership is solid at about 8 percent.
Cash costs are low at about $8/oz silver-equivalent.
All construction-related loans and hedges have been extinguished.
Production is growing and costs holding steady at Santa Elena.
The company has produced positive cash flow of $5-$10 million each and every quarter since July 2011 when commercial production was declared.
SilverCrest's strong management have already leveraged one solid asset into consistent operating results and are now planning to do the same thing again.
Moreover, the share price has remained relatively strong even during the summer turmoil in the mining sector. There were a few days where SilverCrest traded somewhat below $1.50 but otherwise the shares have been holding up fairly well near the $2 level. This implies the shares are held in strong hands and are considered relatively attractive by the market at $2/share. Currently one can pick up shares around $1.80, which we consider something of a bargain (see below) given the recent move by the metals and miners off their summer lows.
Importantly, in the next few days and weeks there is a possibility the company will be added to one or more indices (e.g., GDXJ) and this could mean a higher share price. Therefore if an investor were inclined to maintain exposure to a quality gold and silver miner in his or her portfolio, it might make sense to establish a position in SilverCrest sooner rather than later.
Note that index changes will be formally announced after market close on Friday (the 13th!) both for the GDXJ and its big brother the Market Vectors Gold Miners ETF (NYSEARCA:GDX). Because of significant modifications to the indexing methodology of the GDX's underlying NYSE Arca Gold Miners Index (GDM), these announcements have the potential to make big waves in the market during the days and weeks ahead. We discussed the potential implications of the index changes and rebalancings in a Metal Augmentor member's-only analysis published earlier this week.
Valuing the Santa Elena Mine
SilverCrest's flagship property is the 100%-owned Santa Elena Mine, currently open pit and transitioning into underground mining next year. Original construction began in October 2009, was completed in September 2010 and commercial production announced in July 2011. The initial mine build was completed on time and under budget (~$20 million) and the ongoing expansion is also on time and budget.
It took less than 5 years to go from an acquisition to profitable production at Santa Elena, a very impressive feat in the mining world. As already mentioned, the mine has been consistently profitable since then and we've seen very little operating cost inflation.
But how does one place a value on a mine like Santa Elena?
There have been some recent attempts made, including at Seeking Alpha by Ben Kramer-Miller in his A Bet on SilverCrest is a Bet on La Joya. Mr. Miller would apparently have us value Santa Elena using price-to-cash-flow (P/CF) multiples whereas we believe the more appropriate method for valuing a mining operation is by discounted cash flows (DCF). The P/CF metric simply isn't very insightful when evaluating projects much less mining companies given the confounding factors of mine life and operating variances. Take a look at the following chart reproduced from research produced by BMO and Dundee with P/CF ratios ranging all over the place.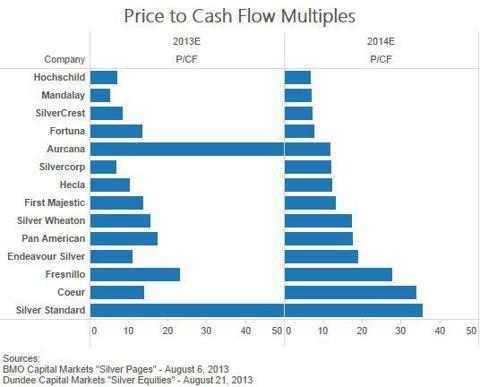 In the case of SilverCrest, we don't need to use a P/CF ratio because the company has recently completed a discounted cash flow valuation as part of its pre-feasibility study (NYSE:PFS) for underground expansion at Santa Elena. This study arrived at a pre-tax NPV of ~$130 million using $1250 gold and $19.50 silver with production through 2021. At today's slightly higher metal prices that NPV would be in the $160 million range (which is about equal to SilverCrest's market cap net of working capital). Factoring in taxes and Sandstorm Gold's option to participate in the expansion, the NPV would drop toward $100 million.
On the flip side, the PFS considers only the mining of ore reserves whereas recent drilling has identified significant mineral resources as well as open areas along trend, at depth and within other mineralized structures at Santa Elena. Moreover, SilverCrest's nearby Cruz de Mayo project could contribute incremental production to the Santa Elena mill down the line. Taken together, this suggests significant upside to the 8 year mine life included in the PFS.
As for anyone tempted to consider the numbers in the PFS to be inflated, we'd recommend looking back at previous economic studies for Santa Elena and compare how closely actual operating results have aligned. We simply don't see the capital or operating cost inflation or variation that is all to common with other mining projects. Yet another feather in SilverCrest's cap.
Last but not least, we have used our own proprietary model to derive a comparative valuation for Santa Elena and SilverCrest's other assets. The base case at current metal prices produced a comparative value of $1.70 per SilverCrest share with a +/- 30% metals price variance range of $0.63 to $2.60 per share (the bottom of that range would be at metal prices nearly low enough to render Santa Elena unprofitable).
The Case for Exploration Upside at Santa Elena
Not every ore deposit is created equal. Many open pit mines exploit a well-defined ore body without much potential for additional discoveries. Santa Elena started out as an open pit only because that was the most profitable way to mine the near-surface mineralization. The gold and silver continue for long distances beyond the margins of the open pit. Similarly, in Mexico it is typical to find epithermal vein systems with discrete metal zoning whereby the vertical extent of precious metals is limited to 200-300 meters. In these cases, a vein system that rakes horizontally can mean the difference between an average mine and a large mine. Santa Elena has a prominent rake. Furthermore, precious metal zoning at depth has not yet been encountered suggesting that Santa Elena could be one of a few stacked or multiphase epithermal systems that can sometimes extend for a thousand meters vertically. Recent drill results released by SilverCrest include holes at depth exceeding 300 meters below surface that continue to carry very strong gold grades.
Understanding La Joya
If one starts with the bad assumption that Santa Elena doesn't fully account for SilverCrest's valuation, then it naturally follows that the market is probably assigning significant value to the company's other assets (mainly La Joya). We don't necessarily believe this to be the case a disappointing PEA would still deal a blow to SilverCrest's share price. So it's important to look at the prospects for La Joya before making a decision to buy the shares in advance of the PEA being released.
La Joya was acquired in December 2010 and after an initial round of drilling a significant maiden resource was published in January 2012. An updated resource that doubled the size of the resource (to approx. 100 million ounces of silver plus a half billion pounds of copper at the lowest cutoff grade) was then announced in January 2013 with the PEA expected later this year.
What investors should understand about La Joya is that it has multiple domains with different grades and is located in an area with existing mines (i.e. potential suitors) and good infrastructure. Even if for some reason a mineral processing plant at La Joya would not be economic -- in our mind the question isn't a binary one of yes or no but rather how small or big an optimal mine would be -- the resource itself could still have significant potential value to one of the nearby operations such as Sabinas (operated by Peñoles).
Without question lower grade silver deposits can be tricky to operate at a profit so it is important to evaluate each one and if possible to establish analogies to successful existing mines. There are a number of silver-copper deposits in the world that have been successfully mined, some of them underground, at 0.5% copper and 2 ounces per tonne silver. With this in mind, SilverCrest management is initially targeting an open pit operation at La Joya with similar grades. La Joya may never be a massive mining scenario with several hundred million "silver equivalent" ounces being exploited but that's okay given the possibility that 50 million ounces of silver could potentially be mined by open pit with a large copper credit.
Based on the above, we feel fairly comfortable that the La Joya PEA will not reveal a nasty surprise for investors who purchase the stock now.
SilverCrest Peer Valuation
At Metal Augmentor, our preferred way to evaluate a mining company is by comparative analysis whereby we look at the entire peer group. This allows us to find outliers and make insights that would not otherwise be possible by evaluating one company at a time. For example, the following chart provides all-in sustaining costs for a select group of silver producers. SilverCrest obviously stacks up pretty well.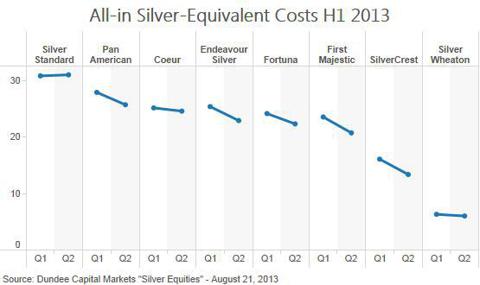 Next we have a table displaying Price to Net Asset Value (P/NAV) and those aforementioned P/CF ratios. Many if not most silver producers trade at a premium to their NAV when using current silver prices due to the presumed price leverage that a mining operation has compared to the metal itself. Notably SilverCrest is the only silver company trading at a NAV below 1.0x and it's P/CF multiple is also among the lowest.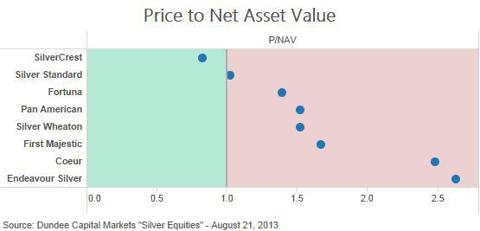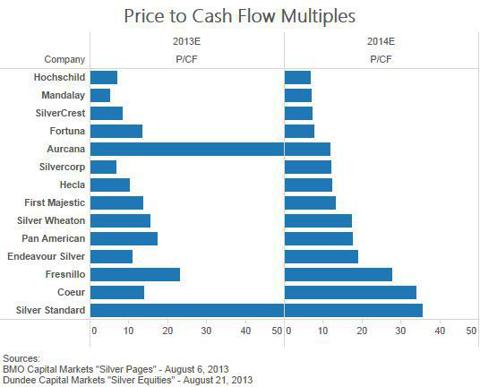 Because of its low operating costs, SilverCrest appears to be a mining company with staying power even if the metals market remains tough for a while longer.
Wildcard: The GDXJ Rebalancing
After market close today the Market Vectors Junior Gold Miners ETF (NYSEARCA:GDXJ) and Gold Miners ETF will officially announce their quarterly rebalancing changes. SilverCrest is a potential high-impact addition to the GDXJ. If added, the ETF would need to acquire about 8 million shares in a relative hurry. There has not been a clear price correlation between share price and index changes in the past but we look at this as an added impetus to accumulate shares of SilverCrest sooner rather than later given this possibility. More to the point, we view seemingly innocuous events such as potentially being added to an index as a more important consideration for investing than the possibility of a disappointing PEA.
Conclusion
Regardless of any changes to the GDXJ, SilverCrest in our opinion is one of the best bets in the silver and gold producer space given its solid assets, exceptional management team and proven track record of meeting or exceeding expectations. Simply put, this is not just an average mining company and perhaps not even an above-average mining company. It's what we at Metal Augmentor call Peerless, defined as having some important advantages over the others in their peer group thereby improving the odds of success while providing a greater margin of safety for investors. Click here for Metal Augmentor's current list of Peerless companies in the mining and exploration space.
Disclosure: I am long SVLC. I wrote this article myself, and it expresses my own opinions. I am not receiving compensation for it (other than from Seeking Alpha). I have no business relationship with any company whose stock is mentioned in this article.