There has been much excitement since I last wrote about Potash (NYSE:POT). The dramatic announcements from mid-August have since subsided to an equilibrium state, and it's time to re-examine the POT investment thesis. I'll save you the trip to the bottom of the page; my thesis is 'buy'. Below are four reasons why.
Barbarians in Disarray. The 25% drop in Potash and Mosaic (NYSE:MOS) was predicated on the credibility of Uralkali and their ability to win the battle with Belarus. Between the Uralkali CEO's arrest, the defection of a billionaire from the Uralkali ranks, and the potential incarceration of said billionaire, the European threat to Canpotex 'cartel' looks anything but credible.
Potential competition validates market. The fact that Potash was in a good commodities market was validated by the BHP Billiton's (NYSE:BHP) desire to go beyond metals into Potash. This was the cause for added anxiety over and above the intrigue alluded to above. The fact that BHP has a long-term interest in this market is a net positive for the long-term potential of Potash as a commodity. The fact that BHP is moderating expectations on their Jansen project, and doesn't expect it to materially influence earnings till at least 2020, means that the validation comes without an accompanying threat.
Cheap on historic basis. Even accounting for near-term margin compression, the EV/EBITDA numbers look historically cheap, not only for POT but also for Mosaic. These numbers suggest that POT and MOS are relative values even within the fertilizer industry, and have a 25% upside without undue wall street euphoria.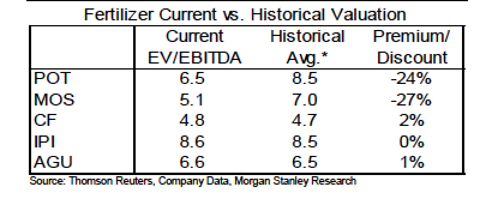 Technicals support Value-Based Metrics. Speaking of 25% upside, it's comforting to see that the technicals of POT suggest the same 25% upside as the valuation-based numbers (above) do. Based on the theory that 'last support becomes first resistance', we can expect to see resistance in POT at about $38, followed by similar resistance at $40. Those numbers are about 20-25% above the current stock price of around $32. This does not include the 4.5% dividend you collect while you wait.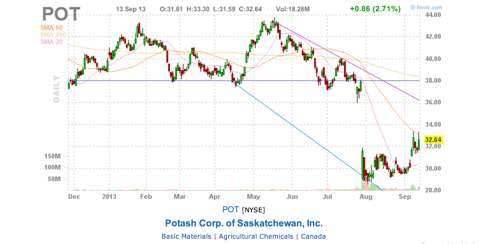 Is the coast completely clear for POT or the Potash industry? Not really, as you can expected some continuing drama from India and China. I believe however, that Canpotex is disciplined and the competition isn't. Further, BHP Billiton's foray indicates secular positives for the Potash industry. With support at $30, medium-term upside in the $38-44 range, your odds are favorable. I consider $32 a very fair price, with a test of $30 for the patient. As always, take this as a data point for further due diligence of your own, and happy investing.
Disclosure: I am long POT. I wrote this article myself, and it expresses my own opinions. I am not receiving compensation for it (other than from Seeking Alpha). I have no business relationship with any company whose stock is mentioned in this article.