Last spring Linn Energy (LINE), a US oil and natural gas MLP, was flayed at the Ira Sohn Investment Conference by Jon Jacobson of Highfields Capital Management, who suggested investors should short Linn Energy and LinnCo (LNCO). Jacobson reasoned that half of distributable cash flow came from hedging gains. Therefore its distributable cash flow was unsustainable. A Barron's article agreed with Jacobson, and the selling started. On July 2, 2013 the SEC added its voice to the detractors by starting an inquiry into LINE's accounting practices with respect to its hedges. This was brought on by its review of the LINE/LNCO merger with Berry Petroleum (BRY). LINE stock dropped from $33.29 at the close on July 1, 2013, when LINE announced it was cooperating with the SEC inquiry, to a $20.35 intraday low on July 5, 2013.
LINE's management could have panicked. A lot of people were worried that this could mean the end of the Berry Petroleum merger. However, LINE's management did not panic. They have cooperated with the SEC so well that the SEC is apparently near approval of the deal. The Associated Press reported on September 11, 2013 that the SEC had provided comments to LINE/LNCO on the Amended Registration Statement on Form S-4 to LINE on August 9, 2013. LINE/LNCO have been working diligently to file an amended s-4 in line with the SEC's comments. As a result of this, LINE, LNCO, and BRY set September 30, 2013 as the date for a shareholder vote on the merger.
Many analysts interpret the setting of the date for the shareholder votes as a belief that the deal will now go through. It is a $2.5B deal (or $4.3B including the BRY debt that LINE will absorb). The only stumbling block now seems to be LINE's/LNCO's stock price, which has fallen as all of the above negative news has unfolded. Depending on the stock prices at a later date, the number of shares of LNCO that will be swapped for shares of BRY might have to be adjusted. Alternatively they may not have to be. LINE's share price shot up last week on this news and on the news of a further $525 million buy by LINE of about 6,250 net acres in the Permian Basin.
LINE closed at $24.75 per share on September 10, 2013. It closed at $28.18 on Friday September 13, 2013. Further analysts are beginning to applaud LINE/LNCO. The Motley Fool came out with a positive article after the Permian Basin acquisition was announced. R.W. Baird kept its outperform rating on LINE/LNCO, and it raised its price target from $29 to $34 per unit. Other analysts may follow in the coming week. With this kind of bullishness from analysts, LINE/LNCO may soon regain its former price.
Further it now appears that the SEC does not have problems with LINE's accounting practices. This effectively clears the way for the BRY deal. Plus it goes a long way toward putting the lie to the "hedge fund short of LINE/LNCO". It appears LINE's leadership charismatically said, "Damn the torpedoes. Full speed ahead" (Admiral Farragut); and consequently LINE is charismatically winning the day. That doesn't always work, but a company can look very good when it does. It could bring about a significant improvement in market sentiment toward LINE/LNCO. It could make an investor want to buy the stock.
The latest deal announcement for the Permian Basin acreage appears to be a good one. LINE is spending $525 million for proved reserves of approximately 30 MMBoe (approximately 70% oil). This is about $17.5/Boe. Since 70% of this is thought to be oil, it is only about $20 per barrel of oil. That seems like a good price for proved reserves. The 6,250 net acres has 4,800 Boe/d of current production from the Clearfork formation (about 63% oil) with 124 producing wells. It has approximately 300 identified low-risk, future infill drilling locations. It has future waterflood reserve potential of another 24 MMBoe (secondary development); and it could have even more if the company finds tertiary (CO2 injection) development is appropriate. It often is for developments for which water flooding works. If so, this might add another 20 MMBoe. This may bring the price down below $10 per Boe (or even $10 per barrel of oil). The operating expenses are low at about $15/Boe. The deal will be financed primarily by a $500 million senior secured term loan, which will mature in April 2018. This will be committed at closing. The reserves to production ratio is 17 years, which suits LINE's strategy well. The location is also convenient for LINE. LINE has other properties in the Permian Basin. The new production will be immediately accretive to earnings. It is easy to see why the market was excited by this purchase.
The chart below shows LINE's production profile at the end of Q2 2013.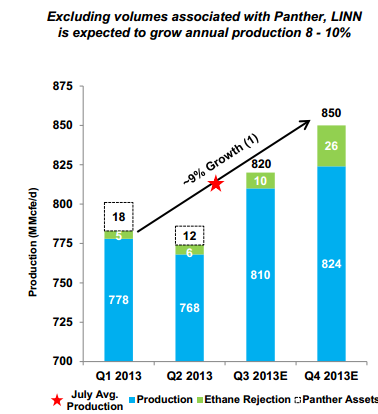 If you add the soon to be acquired 4,800 Boe/d (4,800 Boe/d * 5.8 mcfe/Boe = 27,840 mcfe/d or 27.84 MMcfe/d) to the 820 MMcfe/d figure of Q2 2013, you get 847.84 MMcfe/d. This doesn't seem like much more on a percentage basis (only +3.4%). However, when you consider that about 63% of it is oil, it carries with it a much bigger effect on overall revenue. It should help LINE considerably as the year goes on. I have yet to see the exact closing date of this deal; but it seems likely to be before the end of 2013.
This deal should pop the forecast for the Q4 end production rate up to approximately 878 MMcfe/d, which is about +7.1% from the rate at the end of Q2 2013. With no drilling expenses associated with the +27.8 MMcfe/d from the new Permian Basin acreage, this might be enough to push the distribution coverage ratio up to approximately 1.0 from the 0.89 ratio for Q2 2013. If the Berry Petroleum deal goes through during the same time, it should push the distribution coverage ratio far beyond that. It is adding a whopping 1.65 Tcfe of proved reserves of which 67% are oil to LINE's approximately 4.8 Tcfe at the end of 2012. Plus BRY's holdings will provide a lot of future growth potential.
In sum LINE is about to get a small boost from a relatively sure deal. Plus the Berry Petroleum deal now looks like it will go through, presuming the shareholders vote their okay on September 30, 2013. The company's comments and actions make it look like the SEC is no longer a problem; and this is a doubly big plus. It also means that the SEC does not have significant issues with the deal or LINE's accounting practices. When the deal finally does go through, it should provide a big pop to LINE's stock price. The stock price is already up; but it stands to go up a lot more when the Berry Petroleum deal goes through. The recently increased likelihood of this makes LINE a buy again.
The two year chart of LINE provides some technical direction for this trade.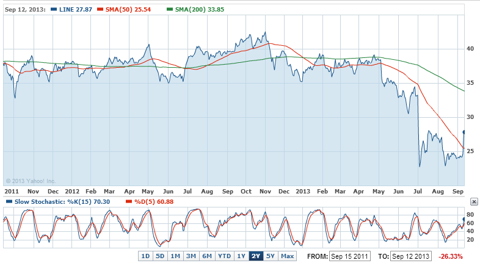 The slow stochastic sub chart shows that LINE is neither overbought nor oversold. The main chart shows that its downtrend has apparently bottomed. The Permian Basin deal and the expected organic growth in 2H 2013 should be enough to keep LINE rising from that bottom. If the Berry Petroleum deal is finally approved by the shareholders, the stock could really take off. When you consider it pays a $3.08/year dividend (a 10.93% yield at the closing stock price on September 13, 2013), an investor has to be excited about the prospects. The stock price could easily go up 20%+ from here in the next six months. If it reaches its high of 2012 of $42.52, that would be an over +50% gain in the stock price from the current price. A successful completion of the Berry Petroleum deal (without further added expense) has the potential to lift the stock that far or even higher. Regardless a good steady 10.9% on your money is nothing to sneeze at; and LINE has had a steady 81% overall increase in its distribution/dividend since its IPO in 2006. The likelihood that you will earn at least 10.9%+ on your investment for many years to come, if you invest now, is very high. That makes it a good investment. It only has an average analysts' recommendation of 2.5 (a high hold or a low buy), but that seems likely to improve over the next couple of months. It has a CAPS rating of four stars (a buy).
NOTE: Some of the above fundamental financial information is from Yahoo Finance.
Good Luck Trading.
Disclosure: I have no positions in any stocks mentioned, but may initiate a long position in LINE over the next 72 hours. I wrote this article myself, and it expresses my own opinions. I am not receiving compensation for it (other than from Seeking Alpha). I have no business relationship with any company whose stock is mentioned in this article.