Precious Metals Weekly Market Wrap
The bears regained the upper hand in precious metals markets over the short-term as a vicious sell-off on Thursday sent gold and silver prices to their biggest one-day declines in almost three months. Both metals ended higher on Friday, but large sell orders occurring at odd hours the day before inflicted important technical damage as the world awaits a Federal Reserve decision this week on whether it will slow its money printing effort.
With Mideast tensions continuing to ease, any "Syrian premium" that helped to drive precious metals higher last month has now vanished, at least for the time being, and this has clearly affected the view of U.S. investors toward gold. After modest inflows in August, small outflows from metal ETFs have now resumed and some U.S. investment banks have lowered their gold and silver price forecasts or reiterated prior bearish calls.
Physical demand in Asia will be closely watched in the months ahead as gold buying in China has continued at a record pace and Indian exports are expected to rise sharply during the last few months of the year, but Asian demand will do little more than provide price support at or below current levels. Some new catalyst is clearly needed to reverse the recent slide in order to drive prices for precious metals higher and, while there are many candidates, none seem likely to develop in the days ahead.
For the week, the gold price fell 4.4 percent, from $1,388.80 an ounce to $1,327.90, and silver tumbled 6.6 percent, from $23.84 an ounce to $22.27. Gold is now down 20.7 percent for the year, some 30.9 percent below its record high of over $1,920 an ounce just over two years ago, and the silver price has fallen 26.6 percent in 2013, now 55.0 percent below its record high near $50 an ounce in early-2011.
Gold dropped more than three percent on Thursday as shown below via StockCharts, reminiscent of the big moves lower that were seen first in the spring and then again in the summer when the metal dipped below $1,200 an ounce.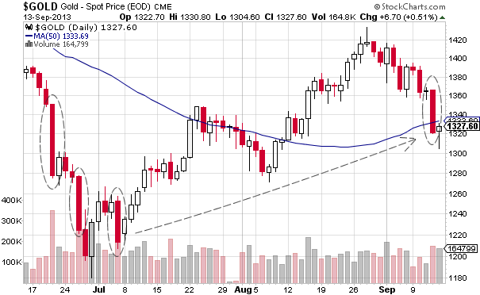 Click to enlarge
As was the case in the spring, very large sell orders placed during thinly traded hours of the day were responsible for initiating the move lower. This triggered stop loss orders after important technical levels were breached, furthering the price declines.
During this process, gold futures trading was temporarily halted by the CME Group's Stop Logic system. According to this report from Reuters, there was a 20-second trading delay imposed after an exceptionally large sell-order of 4,300 contracts was placed at 2:54 AM EST, following the close of Asian markets but before European markets opened.
When unusual market action is detected, CME's Stop Logic halts trading for between 5 and 20 in order to prevent excessive price moves triggered by cascading stop loss orders. But, by the time trading was halted, the damage had already been done as the initial move lower pushed the gold price below key levels.
Once again, this smacks of market manipulation as any rationale seller wanting to exit a large position would be cognizant of the fact that putting so many futures contracts up for sale in the middle of the night will result in lower prices as that order is filled with existing bids. This commentary by Lawrence Williams at Mineweb does a good job of addressing the many related issues in what has become a recurring pattern in the gold market. What is interesting this time around is that many of the suspects in the spring (i.e., U.S. banks and hedge funds) are now bullish on precious metals, suggesting that other players (e.g., Chinese buyers desirous of lower prices) may be responsible.
Regardless of who put those 4,300 gold futures contracts up for sale and why, the move lower for gold and silver was probably going to happen anyway as the Federal Reserve is all but certain to reduce its $85 billion per month asset purchase program this week.
Over the years, central bank stimulus has been a key factor driving precious metals higher and the first step toward policy normalization this time around is not likely to be a positive development for gold and silver. It's possible that the size of the tapering will be less than the expected $10-$15 billion which would be bullish for gold, however, the Fed is surely reluctant to roil financial markets and will likely do what is expected of them.
Recent developments in the Middle East have also been bearish for precious metals as reduced expectations of a U.S. military strike against Syria have resulted in this particular risk premium for gold virtually disappearing. Recall that, late last month, gold surged to a three-month high over $1,430 an ounce due, in part, to concern over the possible unintended consequences of U.S. military action aimed at punishing Syrian President Bashar Assad for his alleged use of chemical weapons. Should U.S. talks with Syria and Russia break down, tensions could quickly escalate again, but a diplomatic solution now seems likely since military action has proven to be a very unpopular option amongst the American electorate.
All of these factors have combined to turn many U.S. investors from neutral/bullish to bearish in recent days, at least according to ETF flows, an important gauge of sentiment over the last year. After rising for three straight weeks in August, the holdings of the SPDR Gold Shares ETF (NYSEARCA:GLD) saw their sharpest decline in seven weeks, dropping by 2.1 tonnes last Monday and then 6.0 tonnes on Friday. Over the last two weeks, nearly the entire August gain of 11.7 tonnes has been reversed.
Similarly, after adding over 100 tonnes in August, the iShares Silver Trust ETF (NYSEARCA:SLV) has now seen almost half of that inflow reversed in September, including a large 60 tonne reduction on Friday. If the late-week outflows for both gold and silver ETFs are any indication, the large (and very suspicious) gold futures sell order the day before may have a lasting impact on markets.
There has been no near-term support for metal prices from India as gold imports reportedly plunged 95 percent in August to just 2.5 tonnes amid widespread confusion over the government's latest efforts to curb gold demand. Now that the new import rules have been clarified, a surge in gold buying is expected, fueled by festival demand and a good monsoon, but there remains a risk that physical demand will disappoint.
China remains the world's most reliable buyer of gold and, as illustrated below via this story from Gold Miners Weekly, the metal continues to flow from many parts of the world into Hong Kong, ultimately bound for Mainland China.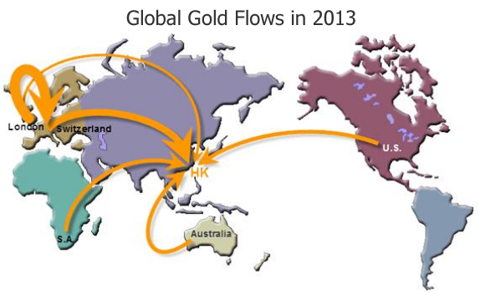 Click to enlarge
Demand in China and the ongoing flow of metal from the West to the East continue to be the most bullish aspects of the 2013 precious metals market.
According to the report, Hong Kong has imported a whopping 800+ tonnes of gold from the rest of the world so far this year, much of it via Switzerland where 400 ounce London Good Delivery bars are transformed into smaller bullion products such as kilo bars (32 ounces) preferred by Asian buyers.
The Chinese central bank prefers 400 ounce bars and more details about this important source of gold demand were revealed in this story by Koos Jansen where Alex Stanczyk, Chief Market Strategist for the Anglo Far-East group of companies, was interviewed.
While the entire report is well worth reading (in particular, a declassified 1975 memo from Fed Chief Arthur Burns about the central bank's desire to manipulate the gold market), this excerpt goes a long way in explaining rapidly increasing Chinese gold buying in recent years.
The Chinese government is encouraging the people to buy gold for three reasons. Number one, it soaks up capital that would otherwise flow into bubble markets like real estate and equities. Number two, gold provides a strong base in case of inflation or other economic chaos. This provides stability and lowers the chances for civil unrest if there are economic problems. Number three, if the people would sell it back, it gives the PBOC a way to increase its reserves by stealth. Remember the PBOC is very secretive about their gold reserves. It buys a huge amount of gold off books using proxies, so it can keep it reserve numbers hidden. This is very Chinese if you understand the Chinese mind set. The next time they will report on their reserves it will be 3000 tons, probably higher.
I've long suspected this was the view of the Chinese government, but it's nice to see it codified above. Unfortunately for gold bulls in the West, nothing in China is likely to affect the gold price in the week or two ahead as the bears are now firmly in control. Over the long-term, the massive flow of gold from West to East in 2013 could have a huge impact on physical supply and price, but exactly when that will occur is anyone's guess.
The recently released Thompson Reuters GFMS Gold Survey 2013 indicated that gold prices could recapture the $1,500 an ounce level over the winter, but that waning consumer demand should limit gold to an average price of $1,350 over the course of the 2014 calendar year. Some investment banks were far more bearish, this Bloomberg story detailing the view of Goldman Sachs analyst Jeffrey Currie who think the Fed's tapering announcement this week will extend gold's recent decline, perhaps beginning a push back below $1,000 an ounce by next year.
Analysts at UBS and Credit Suisse also see lower metal prices ahead while HSBC analysts stand virtually alone in raising their gold price forecast for both this year and next. Kitco reported that an HSBC research note raised their 2013 average gold price forecast from $1,396 an ounce to $1,446 due to the surge in physical buying, while its 2014 and 2015 forecasts were unchanged at $1,435 and $1,395, respectively.
To be sure, after the events of last week, precious metals markets are now in desperate need of some new positive catalyst to prevent the dire predictions of Goldman Sachs from materializing. While higher inflation in the West could develop very quickly, there are scant signs of that happening anytime soon. More likely, some sort of geopolitical or financial/economic crisis will be required to reverse the technical damage that was just done and push the gold price back toward $1,400 an ounce and silver back toward $24 an ounce.
While the developing crisis in emerging markets and the looming U.S. debt ceiling debate are possible catalysts, at present, there is simply no immediate reason for traders in the West to push prices higher. This is good news for the Chinese and Indians who prefer to accumulate metal at lower prices, but it is decidedly bad news for current holders of gold and silver who would very much like this long correction to come to an end.
Disclosure: I am long GLD. I wrote this article myself, and it expresses my own opinions. I am not receiving compensation for it (other than from Seeking Alpha). I have no business relationship with any company whose stock is mentioned in this article.
Additional disclosure: I also own gold and silver coins and bars.