After the close on Friday, Sept. 13, ING Investments (NYSE:ING) declared distributions for their equity closed-end funds (CEFs), which included distribution reductions for several of their funds. This is not a huge surprise, and I had even warned in a May article titled "Top Funds By Fund Family" that some of the ING funds were not out of the woods with regard to a possible distribution cut. In that article I said that I could not endorse any of the ING funds based on their current valuations, and that, over time, a couple of the funds would be forced to cut distributions again. So the question now is: Are the distribution cuts over and, if so, are any of the ING funds good buys now?
Let's first take a look at which ING funds were included in the latest round of cuts. Note that all of the ING funds use an option-income strategy, although IRR is also known as a risk-managed fund, which means it also buys put options.
* Market yields are based on closing prices as of Friday, Sept. 13. The only ING funds that did not cut distributions were the ING Infrastructure, Industrials and Materials Fund (NYSE:IDE) and the ING Global Advantage and Premium Opportunity Fund (NYSE:IGA).
This is now up to the fifth distribution cut for these funds over the past four years, and many investors might be getting tired of this exercise. What's amazing to me is that even during that four-year period, the ING funds maintained some of the highest valuations of any equity CEFs. However, more recently some of the funds have dropped to more significant discounts.
So why is ING cutting distributions again just when the overseas markets in which their funds focus seem to be rallying? The answer lies in the NAV yields of the funds compared to their NAV performances. I have often written that funds with more than 12%-plus NAV yields would probably not be able to sustain their NAVs over time, no matter what their income strategy and no matter what the market environment. Although none of the ING funds had NAV yields over 12% anymore after cuts from previous years, the ING funds still had some of the highest NAV and market price yields of any equity CEFs. That, when combined with underperforming markets in Europe, Asia, and emerging markets, has forced ING into another round of cuts.
The following table shows the bottom half of all of the option-income CEFs I follow sorted by their total return NAV performances YTD. In other words, these funds have the worst NAV performances YTD of all the option-income CEFs. As it so happens, all of the ING funds show up in these bottom 30 funds, with two in the bottom five. Here you can see that most of the ING funds, shown in red, have Total Return NAV performances (left boxed column) that are trailing their NAV yields (right boxed column) -- some pretty significantly.
Click to enlarge images.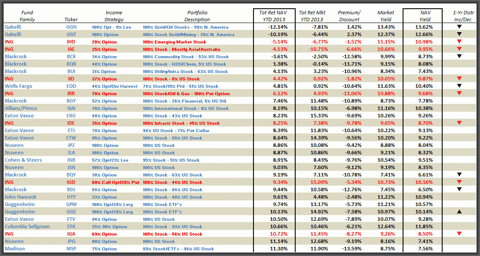 You don't have to be a genius to realize that if a fund is not covering its NAV yield, then it's going to see its NAV decline, thus resulting in destructive return on capital (ROC). Although a lot of funds in the table fall into this predicament -- and some will probably also have to cut their distributions at some point -- generally speaking, funds that have 7% to 9% NAV yields should be able to sustain their distributions even if they have an off year.
The above table includes the NAV yields of the ING funds before the latest round of distribution cuts. In the table below, I include only the ING funds and what their new NAV and market yields will look like after the distribution cuts.

Here you can see that now virtually all of the ING funds fall in that 7% to 9% NAV yield sweet spot range. But what you'll also notice is that for most of the funds, the NAV yield will still be higher than their YTD NAV performances. What this means is that if the international markets in which the ING funds invest most, if not all, of their stock portfolios continues to lag, then another round of cuts cannot be ruled out again next year.
It's hard for me to say whether management of the ING funds has anything to do with this, since I generally don't try to analyze the actual holdings of the funds, and it could be that the ING funds may just be suffering from a period of underperformance in the international markets that is beyond their control. Option-income funds generally perform better in flat to slightly up or down markets as their option-income strategy is more optimized, but in the case of the ING funds, many have low option coverage percentages and thus are relying more on portfolio appreciation than option premium to pay for their distributions.
Certainly investors have given the ING fund managers the benefit of the doubt far longer than I would have imagined based on their historically high valuations. Many of the ING option-income funds continued to trade at premium valuations over the past few years even while ING was cutting distributions. Not too many fund families would see their funds treated with the same deference and patience, and for all I know the reaction to this latest round of cuts will be muted once again.
Are There Any ING Funds to Buy?
I don't own any of the ING funds currently and it will be interesting to see what the reaction to the latest round of cuts by investors will be. ING's emerging market fund, IHD, probably has the most to fall because not only does it have to absorb the largest cut at 20%, but IHD was also trading at the highest valuation -- i.e., the narrowest discount at -1.5%, although that is actually down from a 9% premium earlier this year.
The only ING funds that would interest me would be the two funds that didn't cut their distributions, IGA and IDE, especially if they drop in sympathy with the others. IGA has about a 53% exposure to U.S. stocks so it has had the best NAV performance of all of the ING funds, up 10.7% YTD. IGA's discount has been widening substantially recently after rising to a premium earlier this year. I even called out IGA as a fund to sell in my May 13 article titled "Funds To Buy And Sell," and since that time IGA has dropped 8.1% on its total return market price performance, which includes a $0.28/share distribution in July.
Here is IGA's one-year premium/discount graph, and for anyone who thinks that CEF valuations don't change that much over time, I would argue otherwise: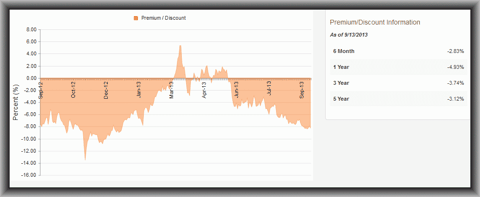 IDE is a more sector-focused fund and can be quite volatile in its market price. Like IGA, IDE has a more U.S.-stock-weighted portfolio than the other ING funds with 47% of its portfolio invested in U.S. stocks. Unlike IGA, however, IDE focuses on global stocks primarily in the infrastructure, industrials, and materials sectors that will potentially benefit from the building, renovation, expansion, and utilization of infrastructure. The fund seeks to build a diversified portfolio of 60-100 equities of companies that may potentially benefit from spending in six areas: power, construction, materials, communications, transportation, and water.
If it sounds as if I got that directly from the ING fact sheet on IDE, I did. You can access the Fact Sheet here. IDE has also seen its discount widen recently, as shown in this one-year chart.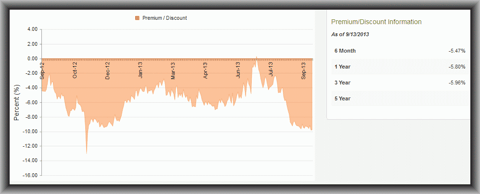 The other ING funds -- including ING's flagship fund, IGD -- I don't find particularly compelling. I think the distribution cuts announced this past week -- which include IGD, IAE, IHD, IRR, and IID -- will create a severe overhang of sellers for these funds going forward and will limit any valuation improvements, even if the international and emerging markets improve. In conclusion, of the ING option-income CEFs I would stick with IGA and IDE, particularly if they fall in sympathy with the others.
Disclosure: I have no positions in any stocks mentioned, and no plans to initiate any positions within the next 72 hours. I wrote this article myself, and it expresses my own opinions. I am not receiving compensation for it (other than from Seeking Alpha). I have no business relationship with any company whose stock is mentioned in this article.