By Ivan Y.
We all know that BlackBerry (NASDAQ:BBRY) has put itself up for sale. If you're a trader or investor, the answer to the question in the title is a no-brainer. But if you are an acquirer considering a purchase of the entire company, the answer is not as obvious.
With BlackBerry trading today around $10.xx, a potential acquirer, whether that is Microsoft (NASDAQ:MSFT), Hewlett Packard (NYSE:HPQ), or another entity, would need to pay a reasonable premium on top of that. So a bid of $12 would probably be the minimum. However, I believe the acquisition price will drift lower the longer the sales process drags on. I believe this is the case, because the value of BlackBerry's brand and book value will deteriorate in the next several months and into 2014. The brand will deteriorate as potential buyers of BB10 devices and services question the future of the company and whether they should spend the money now to buy something from a company that may not be around next year in its present form.
Morgan Stanley is a prominent example of a company that is delaying its upgrade to BB10. The brand will also deteriorate as BlackBerry continues to lose paying subscribers, as well as market share to the iOS, Android, and Microsoft ecosystems. According to the IDC, BlackBerry's global market share currently is 2.9%, declining from 4.9% last year. The best thing a BlackBerry bull could say about that is that there isn't much market share left to lose. As far as subscribers are concerned, the number of subs peaked during the summer of 2012, but has dropped each of the last three quarters and will almost definitely drop again during the next earnings report due on September 27th.
80 million (August 2012)
79 million (November 2012)
76 million (February 2013)
72 million (May 2013)
The other issue is an expected reduction in BlackBerry's book value. The company's tangible book value stood at $9.4 billion (or $18.24 per share) as of June 1st. That includes about $3.1 billion in cash, cash equivalents, and liquid investments with no debt. However, due to increased marketing spending for BB10 and reduced subscriber revenue, it is likely we will see some cash disappear from the balance sheet when the company reports earnings on September 27th.
So you can see the dilemma that someone interested in acquiring BlackBerry faces. You could pay about $12 now when the share price is $10.xx, or wait until 2014 and pay only $10 for the acquisition when the stock price is perhaps $8. However, there is a cost to waiting. That cost comes in the form of fewer subscribers and a lower cash level.
What Should An Investor Do?
Historically, the odds are not in your favor if you buy BBRY (formerly RIMM) shares right before an earnings report is released. Shares have declined on the trading day after an earnings report in seven of the last nine quarters.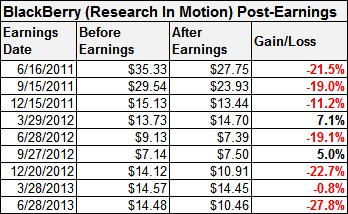 Shares have declined by 19% or more in five of those trading days after an earnings release. Those are some ugly numbers. However, that's all in the past. What will happen on September 27th? Almost all the analysts (and probably most investors) are expecting the numbers to be bad. Even bullish analyst Peter Misek of Jefferies is expecting sales of only 2 million BB10 units. Earlier this year, Misek had confidently predicted that initial BB10 sales would be 4 million per quarter. Last quarter, 2.7 million units were sold. Misek was way off in his estimates last quarter, so you could take his pessimism this quarter as a contrarian indicator. I believe the bar has been set low enough this quarter even for BBRY to hurdle over (or at least not to miss it by too much). Analyst consensus estimates are currently predicting a 15 cent EPS loss.
I too am expecting an ugly earnings report, but I don't expect a 19%-plus sell-off afterwards, because of three reasons. First, expectations this quarter are much lower as I mentioned above. Second, takeover speculation will continue to put a floor underneath the stock. That floor is about $8.50 to $9.00, which is where the stock was trading before the public announcement of the strategic review. Third, I think the CEO has learned his lesson from the last conference call, one in which he sounded pessimistic and dodged questions left and right like he was Floyd Mayweather in a boxing ring. I expect a better performance from Thorsten Heins this quarter. If not, then he should be canned immediately and escorted out of the building.
Disclosure: I am long BBRY with covered calls. I wrote this article myself, and it expresses my own opinions. I am not receiving compensation for it (other than from Seeking Alpha). I have no business relationship with any company whose stock is mentioned in this article..