As markets worldwide await the Federal Reserve's meeting September 17-18th, I imagine that housing will play a major role in the decision-making for monetary policy. Interest rates have risen sharply in anticipation of some kind of pullback in the Fed's bond buying.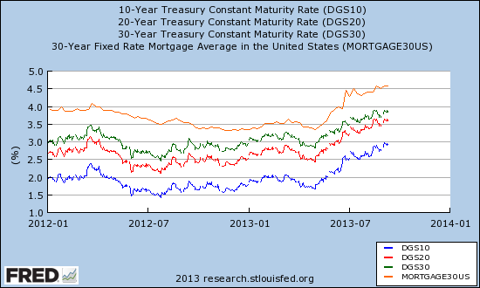 Rates continue to rise
Source: St. Louis Federal Reserve
At the same time, housing prices have soared by any measure out there. Some have claimed a new housing bubble is underway. An appreciation of the diverse conditions in the housing market present a much more nuanced picture. Trulia's (TRLA) second ever "Bubble Watch" (August 14, 2013) demonstrates these nuances quite clearly.
Overall, Trulia's Chief Economist Jed Kolko estimates that U.S. homes remain 5% undervalued, down from 7% overvalued in the first Bubble Watch report (May 14, 2013). Three new metro areas - Honolulu, Hawaii; Dallas, TX; and Oakland, CA - join other Texas and California metros into the ranks of the most overvalued, squeezing out Portland, Oregon from its high perch. At the same time, the metro areas that are the most undervalued are still selling at significant discounts of anywhere from 16 to 20% undervalued; this list bottomed out at 24% undervalued in the first report. The metros in the updated list are dominated by Ohio and Florida and include Las Vegas, Nevada and Detroit, Michigan.
Putting this altogether, Kolko concludes that the housing market is not likely headed into a bubble anytime soon:
"Nationally, home prices have started to slow down even though they haven't yet become overvalued. The Trulia Price Monitor showed asking prices declined in July 2013, month-over-month, and are decelerating on a quarter-over-quarter basis. This price slowdown boosts the chances of avoiding a housing bubble in the next few years. If price gains fall back in line with the current modest increases in incomes and rents, prices would stay close to their fundamental long-term value and wouldn't get too overheated. The three factors that are contributing to the price slowdown - expanding inventory, rising mortgage rates, and fading investor interest - aren't going away any time soon, which should put a cap on how much prices rise. Even though prices look less undervalued than last quarter or last year, the price slowdown means our chances of avoiding the next housing bubble just got better."
I think the talk of a bubble overly focuses on the hottest housing markets which, appropriately enough, have some of the strongest job markets in the country. I think what is likely most unsettling is the rapid pace at which housing affordability has plunged. Over-extrapolated, one might think a bubble is around the corner but as Kolko suggests, the natural market-driven brakes are already getting applied, especially with the rapid decline in investor interest. The irony of these brakes, however, is that affordability may get even worse in those markets constrained by available inventory. For example, in reporting a drop in pending home sales for July, 2013, the National Association of Realtors (NAR) had this to say (emphasis mine):
"The modest decline in sales is not yet concerning, and contract activity remains elevated, with the South and Midwest showing no measurable slowdown. However, higher mortgage interest rates and rising home prices are impacting monthly contract activity in the high-cost regions of the Northeast and the West…More homes clearly need to be built in the West to relieve price pressure, or the region could soon face pronounced affordability problems."
Below, I post graphs of the national housing affordability index, available from the St. Louis Federal Reserve. I believe these data come from the National Association of Realtors which tracks multiple affordability indices based on the relationship between median household incomes, median home prices, and mortgage rates. I only post the national composite, affordability is of course much worse in the markets Trulia notes as overvalued and much better in markets that Trulia notes as undervalued.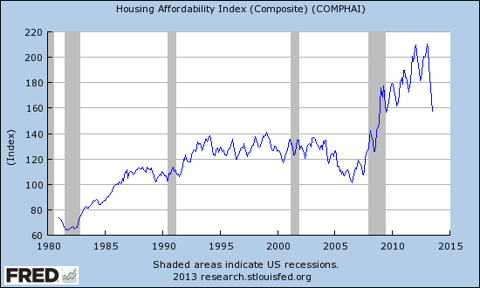 Housing affordability has plunged this year at a dramatic pace
Source: St. Louis Federal Reserve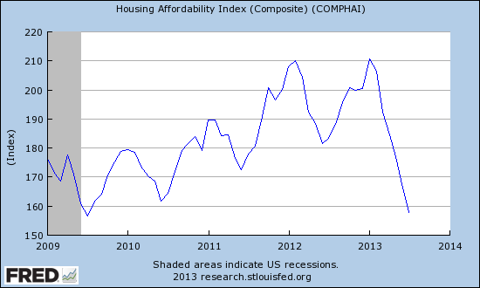 Housing affordability has returned to levels last seen coming out of the recession
Source: St. Louis Federal Reserve
Affordability is nowhere as bad as it was during the last bubble or even the over-heated market of the late 1990s. Yet, plunging back to levels last seen since the economy emerged from recession is certainly bad for market psychology. Moreover, rapid changes in rate can have very similar effects to hitting some psychologically important absolute level. The housing market continues to struggle with the residuals from the deflationist mentality spewing from the collapse of the housing bubble, so I can imagine these changes are sufficient to resurface bad market memories.
The Federal Reserve slips into this volatile cocktail as it purportedly prepares to pull back on the bond buying that is supposedly helping to prop up the housing market. Last month, The Center for Economic and Policy Research (CEPR) welcomes the resulting rise in rates as a dampener for "irrational exuberance" in the housing market. The CEPR in effect congratulates the Fed for introducing the prospects of bond tapering (emphasis mine):
"Since the data in the Case-Shiller index are based on completed sales and it is a three-month average, it is giving us a dated picture of the housing market. June levels reflect contracts signed between February and May. However that picture clearly showed a market where prices were rising at a ridiculous pace in many markets. From this standpoint, the plunge in sales in July should be seen as cause for relief. It may not have been the intention of the Fed to burst an incipient bubble with its taper talk, but it deserves credit nonetheless."
I do not think the Fed wants this congratulations. The Fed has not referred to any "incipient bubbles." Instead, the Fed, collectively, has to be nervous about potential on-going fallout for losing control of the bond market at a time when overall employment is not improving dramatically and incomes remain relatively moribund. Assuming the Fed believes its actions have directly helped the housing market, it can only conclude that doing anything that helps drives mortgage rates up even further could cause a renewed slowdown in housing activity. Such a slowdown could send some markets back into depression-like conditions. At the same time, drive mortgage rates back down in an effort to improve affordability may only exacerbate rapid price increases in the strongest markets. I see a true conundrum in the making.
The prospect of weakening economic conditions as a result of the Fed's coming actions can help explain why the U.S. dollar (NYSEARCA:UUP) continues to languish far off its high for the year (which was also a three-year high). It can help explain why homebuilder stocks (NYSEARCA:ITB) are languishing at lows for the year and worse despite the insistence of many builders that demand remains strong and rising mortgage rates have little to no impact on their business at these levels. It of course does NOT explain how and why the S&P 500 (NYSEARCA:SPY) is still trading in the neighborhood of all-time highs (granted, the housing recovery has contributed little to the economic recovery to-date anyway).
Like many others, I am looking for some resolution in the coming week. The stakes are pretty high now, so the Federal Reserve has every incentive to be as crystal clear as possible, at least as clear as a central bank can be. Without clarity, current momentum in the wrong directions could pick up. THIS should be "interesting"…
Be careful out there!
Disclosure: I am long SSO, TBT. I wrote this article myself, and it expresses my own opinions. I am not receiving compensation for it (other than from Seeking Alpha). I have no business relationship with any company whose stock is mentioned in this article.
Additional disclosure: I am long call options in SSO. I am long housing-related stocks TPH, UCP, and GFA. In forex, I am net long the U.S. dollar.