Hardinge Inc. (NASDAQ: HDNG) develops high precision computer controlled metal cutting turning machines, grinding machines, vertical machining centers and accessories related to those machines since 1890. Throughout its long operating history, the company's products have become known for their accuracy, reliability, durability and value. These products are sold worldwide through a network of distributors, agents and representatives.
In this article, we'll take a look at why the company's stock is undervalued at its current levels and some catalysts that could unlock that value for investors.
China Recovers, Europe Stabilizes
Hardinge's revenues are diversified between North America, Europe and Asia, with the majority of its revenues coming from Asia. While the company reported a 13% decrease in FY 2012 sales due to China's decelerating economy, the country's industrial production figures have been posting a modest recovery (see Figure 1) and the Purchasing Managers' Index reached a 16-month high of 51.0, according to the National Bureau of Statistics.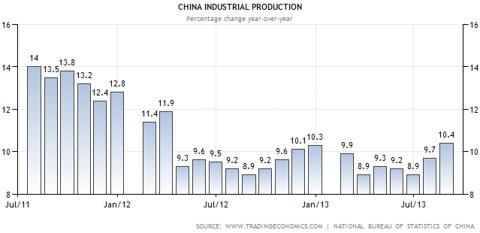 Figure 1 - China Industrial Production Chart - Source: TradingEconomics
Many analysts cited the jump in new export orders as a sign that the recovery is benefiting from both domestic and international demand, while higher input prices suggest that aggregate demand has strengthened significantly relative to supply. These trends led analysts from both JPMorgan (NYSE:JPM) and Deutsche Bank (NYSE:DB) to lift their third quarter estimates for the country's economic growth to 7.6% and 7.7%, respectively, as its economy continues to turnaround.
Of course, Hardinge's largest wildcard at this point is its exposure to Europe, which accounted for about 30.6% of its revenues in Q2 2013. Last quarter, sales to the region fell $9.3 million, or 27%, year over year, due to ongoing weakness in its manufacturing sector. While Figure 2 below shows that this weakness persists, there have been a few signs of improvements with manufacturing activity reaching a 26-month high in August, according to Markit PMI data.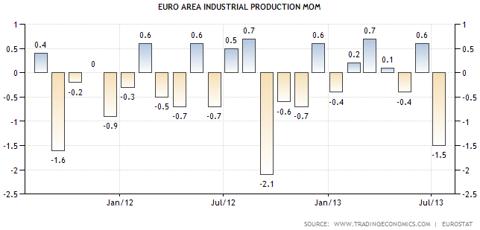 Figure 2 - European Industrial Production - Source: TradingEconomics
Despite the fall towards the middle of September, improving confidence figures across most eurozone countries should encourage businesses to invest more and customers to spend more on durable goods. Sentix, for example, showed that investor confidence increased in September to its second highest level on record into positive territory for the first time since July 2011. The ECB has also helped by keeping rates unchanged at 0.5% for the fourth time in a row.
In the end, CEO Richard L. Simons made some good remarks in its Q2 report:
Although Europe remains weak, we are beginning to see early signs of a stabilization of economic activity there. The U.S. market has been a little slower than we had anticipated at the beginning of the year, but the acquisitions are providing some growth. Asia has improved sequentially as activity with the customers and markets that we serve have generated demand. Despite some of the uncertain macro-economic data from the region, we are cautiously optimistic regarding our outlook of the China market. With our acquisitions, we have improved our product mix which we expect will strengthen our margin profile. As well, we believe there is measurable leverage to be gained with higher volumes and with our improved business model.
Still Priced For A Protracted Slowdown
Hardinge's may have seen a modest slowdown in its trailing 12-month financial results compared to its FY 2012 financial results, but China's recovery and ongoing strength in U.S. manufacturing should help improve those figures over the coming quarters. Still, the market seems to be playing catch-up with the company's valuation significantly lagging many of its peers and the S&P 500, as illustrated in Figure 3 below from Morningstar.

Figure 3 - Hardinge Valuation Comparison - Source: Morningstar
The company's 12.2x price-earnings ratio is likely justified by its exposure to Asian and European weakness, but the aforementioned stabilization and recovery in these end markets could lift the multiple back near its industry peers at 19.3x. This multiple expansion would equate to a share price of around $20.00 a piece, based on projected FY 2013 EPS. Meanwhile, the low book value suggests that investors have a greater margin of safety than peers or the S&P 500.
These earnings multiples could be leveraged even further by the company's acquisition of Forkardt for $34 million. By diversifying into workholding solutions, the company avoid some exposure to its highly cyclical machine tool product line-up and should realize both higher margins from product mix (as alluded to in the above quote) and higher sales, as the global machine tool market is expected to grow at about 35% over the next four years.
According to Mr. Simons on his Q2 2013 conference call:
I want to touch on our strategy to pursue growth and stronger-margin businesses, specifically grinding and workholding and aftermarket product sales. Our recent acquisitions of Usach last December and Forkardt in May demonstrate our execution of that strategy. Usach will be contributing meaningful sales and operating returns on sales in 2013. The more recent addition of Forkardt has gone well, and I'm excited about continuing to build upon their reputation for reliable, high quality, customized workholding solutions that the Forkardt brand carries. Also, this business historically has not experienced the severity in business cycles that the capital goods sector does.

As part of the Forkardt and Usach acquisitions, we incurred about $1.8 million of acquisition-related costs in the second quarter, which led to a lower level of operating income than we would normally have reached at these revenue levels. Ed will discuss this in further detail, but we are pleased that when excluding those costs and on a lower sales volume, adjusted earnings per share was $0.34 and shows an improvement over last year's second quarter EPS of $0.31.
Conclusion
Hardinge represents an attractive investment for those who believe the U.S., Asian and European manufacturing growth will stabilize. As these factors help boost the top-line, management's acquisition strategy aimed at improving and stabilizing its product mix at higher margins should leverage its bottom line earnings per share. And combined, these factors could help its multiple expand at least to industry averages at around 20x from its current 12x levels.
Disclosure: I have no positions in any stocks mentioned, and no plans to initiate any positions within the next 72 hours. I wrote this article myself, and it expresses my own opinions. I am not receiving compensation for it (other than from Seeking Alpha). I have no business relationship with any company whose stock is mentioned in this article.