A lot of observers on SA and elsewhere like to point to the "share of profit" as an alternative to "share of market" for cell phone suppliers and in particular for Apple (NASDAQ:AAPL) with its enormous success in recent years. Canaccord Genuity in a recent report published a chart showing "share of profits" data for the major suppliers since 2007 and the report makes for good reading.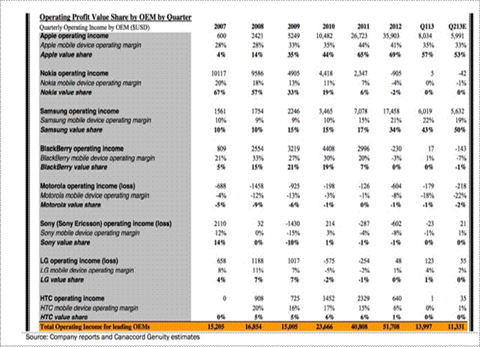 In 2007, Apple earned only 4% of the profits in the cell phone space and Samsung had only 10%. The big winner at that time was Nokia (NYSE:NOK) with a stunning 67% and the undisputed leadership of the cell phone industry.
Nokia went downhill pretty fast, declining from 67% in 2007 to only 6% by 2011 and essentially no profit ever since.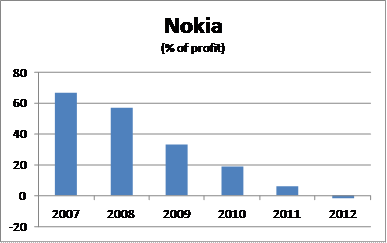 The culprit was Apple, of course, coming from near obscurity to dominating the sector through 2012.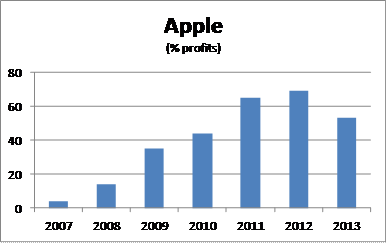 What seems to be happening in 2013 is that Samsung is displacing Apple and about to take the leading "share of profits" position in the second half of 2013.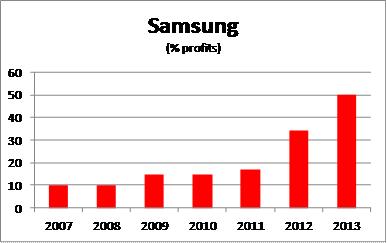 There is a lesson in this little microcosm of technology history it is that even profit leadership is hard to hold onto for a very long time.
In my view, profit share is highly correlated with market share and the company that ignores the correlation does so at its peril. Palm ignored Motorola. Motorola ignored BlackBerry. BlackBerry (NASDAQ:BBRY) ignored Apple. And Apple appear to have ignored Samsung (OTC:SSNLF) or, at a minimum, the whole Android community. In each case, I am confident the boards of directors of each company reviewed the competitive landscape, saw spreadsheet after spreadsheet showing the cost of meeting the competition on price, discussed the benefits of their scale and reach and concluded that they did not have to protect market share because the upstarts were never going to be a serious threat. Wrong. Wrong. Wrong.
At General Electric (NYSE:GE), Jack Welch used to say that if a unit could not be number one or number two in its industry in terms of market share, it could not remain part of GE. In parallel, it was considered necessary to keep at least 20% market share to be competitive in any industry. Most industries when mature shook out to have a leader with 35 to 50% share; a number two with 20 to 30%; and, a bunch of unprofitable "also ran" competitors eking out an existence. I had a hand in closing or disposing quite a few of those in GE, many of which we described as having "lived off the Edison patents" for a bit too long.
It can be cold comfort to those who are bullish on Apple that it still has (barely) the greatest share of profits in the industry as its share of market shrinks to the low teens. Its latest product launch of some really very lovely new phones has fallen flat on Wall Street because, right or wrong, the analyst community knows there is something wrong when your market share goes down the toilet regardless of how profitable you were last quarter.
Apple will sell a lot of phones this Christmas. The new ones with their faster processors, fingerprint readers, clearer screens and new icons will be popular choices, and the colourful additions for a few dollars less will have broad fashion appeal while providing a very good smart phone experience. But in my view, at the prices Apple has chosen (without doubt to optimize profits), Apple will continue to shed market share and runs the risk of sinking to single digits next year.
New competition is growing very quickly, and not just from Samsung. Names like Lenovo (OTCPK:LNVGY), Yulong, Huawei, ZTE (OTCPK:ZTCOY) and Xiaomi are emerging as serious competitors in Asian markets.
Looking only at the June 2013 quarter, Samsung, Lenovo, Yulong, LG and the rest of the industry all grew at twice the rate of Apple. The new phones may slow that trend but are unlikely to stop it.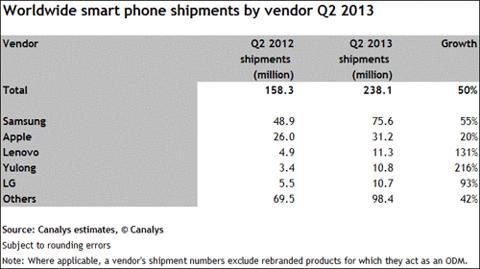 In India, larger screen smart phones called "phablets" are growing at an incredible pace and took 30% of the market in the June 2013 quarter. According to IDC, "phablets" are now outselling tablets worldwide. Apple is not even represented in this category.
The Android competitors are joined by a stronger, more focused Microsoft (NASDAQ:MSFT) now able to control its own destiny in terms of smart phone design and marketing and well advanced on a strategy to build a presence that will demonstrate the strength of the brand and the innovation the company is capable of. The impact of their efforts will be felt.
2014 will be a watershed year for Apple in my opinion. Despite an enviable ecosystem, beautifully designed products and an almost cult-like following in North America, Apple seems destined to follow in the footsteps of Palm, Motorola, Nokia and BlackBerry with an ostrich-like disdain for the reality that surrounds it and a lemming-like race to the cliff's edge all in the name of short-term margins and profits, egged on by activists like David Einhorn and Carl Icahn who think the massive encroachment by competitors that are ripping away Apple's market share can be offset by stock buybacks and dividend hikes. They could not be more wrong.
Strategy is what separates great companies from just good ones and great leaders embrace reality and thrive on adversity. Apple's reality is competitive, not balance sheet, and Tim Cook or his successor needs to deal with it aggressively and quickly. Apple enthusiasts can rant until they are exhausted, but this competition is a war that will not be won by complacency or by short-term profit optimization.
I am short Apple calls and puts both at a $500 strike with a greater short position in the calls than the puts, and I will trade in and out of the position as the stock price varies. Overall, I am bearish on Apple.
Disclosure: I am short AAPL. I wrote this article myself, and it expresses my own opinions. I am not receiving compensation for it (other than from Seeking Alpha). I have no business relationship with any company whose stock is mentioned in this article.
Additional disclosure: I am short Apple calls and Apple puts at $500 strike with twice as many calls short as puts.