Despite the increase in yields over the last four months, investors and savers continue to battle with financial repression and low short-term interest rates. Market participants continue to seek high yielding securities, such as master limited partnerships, real estate investment trusts, high yield bonds, and high dividend blue chip equities. Up until May of 2013, investors seeking yield in virtually any income producing asset have benefited from the Federal Reserve's monetary policy. High yield bonds, REITS, MLPs and other fixed income securities have performed well since up until the Federal Reserve introduced tapering its bond buying program.
As the economy has started to heal at the margin and the Federal Reserve starts to taper, I believe investors must be more careful with their fixed income portfolios. Mortgage REITs have been an investor's best friend since 2008, but I believe fixed income investors must be more thoughtful in their asset allocation decisions. Book values of many popular mortgage REITS have declined 10%-20% over the last three months as the risk of taper has led to a bond market sell-off. Mortgage REITs are highly levered vehicles that borrow short and lend long.
Leverage: A Double-Edged Sword
Agency portfolios of most mortgage REITs typically utilize leverage of 6.0x-8.0x, whereas non-agency portfolios typically utilize leverage of 1.0x-3.0x. As the bond market for agency and government securities sells off, these portfolios are impacted due to the high amounts of leverage. I have recently added Ellington Financial (NYSE:EFC) to my portfolio due to its (1) discount to book value, (2) historical track record, (3 non-agency focus, and (4) modest leverage.
Ellington Financial LLC
Ellington Financial LLC is a specialty finance company that acquires and manages mortgage-related assets, including residential mortgage-backed securities backed by prime jumbo, Alt-A, manufactured housing and subprime residential and commercial mortgage loans, residential mortgage-backed securities, and commercial real estate debt. EFC is focused on allocating the majority of its capital allocated to non-Agency RMBS. The company uses interest rate and credit hedging instruments to manage risk and volatility. EFC generally seeks to deploy relatively low leverage in the execution of its strategies.
The company's debt-to-equity ratio of 2.02x:1 as of June 30, 2013 was significantly lower than the hybrid mortgage REIT peer group average of 5.5x:1.
My Investment Thesis
Discount to Book Value - As of July 2013, the company's book value was $24.43 ($24.05 on a diluted basis). The company recently traded for $22.05 per share or a discount of 8.2%.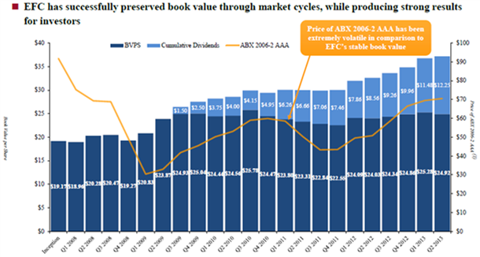 Strong and Incented Management Team - Management owns approximately 13% of EFC, which ensures interests are aligned with shareholders
Strong Track Record - Ellington has over 18-year track record/EFC has a 6-year track record
Strong Financial Performance Since Inception - Life-to-date total return from inception in August 2007 through July 31, 2013 is 113% (assuming dividends are reinvested)
Lower Levered than Industry Peers - Utilizes lower leverage relative to its mortgage REIT peers - 2.02:1 debt to equity ratio as of June 30, 2013. A lower levered alternative is attractive in a more volatile interest rate environment
Focus on Non-agency Securities - Strong data driven approach to security selection
Average price $0.73
Seasoned securities where underlying borrowers have equity in their homes and where borrower performance has improved
Securities that maintain attractive yields when subjected to moderate home price stresses
Non-agency securities will perform better as the economy heals and home price appreciation continues
Non-Agency Portfolio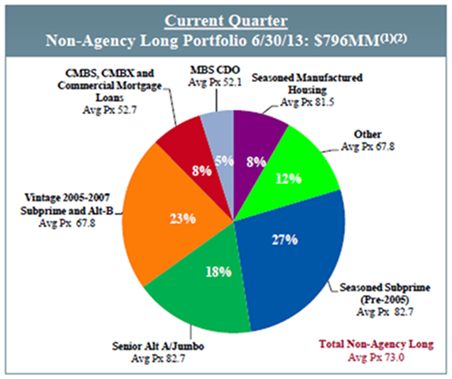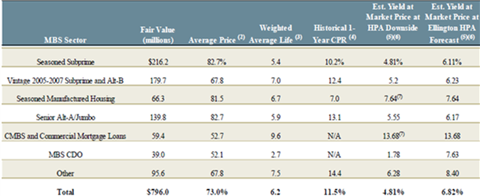 HPA Downside - All home prices decline a total of 15% over the next two years relative to EFC's baseline HPA projections but are in-line with EFC's baseline HPA projections thereafter, and the default rate on all collateral increases 50%.
As of June 30, 2013, EFC's baseline projections call for home prices to rise approximately 4.7% per year nationally over the next four years, with some variation over time and material variation across localities.
Dividend Yield
EFC management has paid a $0.77 dividend in the most recent quarter. Based on the recent price of $22.05, EFC's annualized yield equates to 13.9%. If EFC trades closer to book within the year, investors are looking at a total return of 23.0%.
Conclusion
As investors search for yield in a more volatile interest rate environment, they need to be more cautious on the risk and reward trade-off. I believe low levered mortgage vehicles that invest in non-agency securities are poised to benefit from an improving economy.
Disclosure: I am long EFC, TWO, MFA, AGNC. I wrote this article myself, and it expresses my own opinions. I am not receiving compensation for it (other than from Seeking Alpha). I have no business relationship with any company whose stock is mentioned in this article.