Mark Twain once was reported to have uttered "[R]eports of my death have been greatly exaggerated" (see here). The same might be said of Dendreon (NASDAQ:DNDN). And yet, like Lazarus of Bethany, the company -- and the stock -- seem to survive one potentially fatal tragedy after another, be it a disappointing quarter, the increasing number of short sales, and the increasingly worrisome issue related to its debt load. Still, with Provenge the only FDA-approved treatment for asymptomatic or minimally symptomatic metastatic castrate resistant (hormone refractory) prostate cancer in the pre-chemo space that evidences a statistically significant median overall survival benefit (median 4.1 months, on-label; from post hoc analyses, 13 months for patients with PSA less than 22.1), Dendreon -- and Provenge -- have much to offer patients. Would that this translate eventually into higher share prices for the company's long-suffering shareholders.
Provenge was approved for use in the US by the FDA in 2010, and Dendreon is now seeking approval for the drug in Europe. To that end, it has for 2 years been running a manufacturing trial in the EU to support its application to the European Medicines Agency (NYSEMKT:EMA). The application has proceeded through the necessary regulatory hurdles, including two oral presentations, and an announcement on the EMA's final determination could be released at any time. Meanwhile, Dendreon has mounted a major offensive in the EU to educate practitioners and researchers alike on Provenge. This offensive will include major presentations to be made at the European Cancer Congress for 2013. Better known as "European Cancer Congress 2013 (ECCO-ESMO-ESTRO)," the meetings are scheduled to be held in Amsterdam, Netherlands from September 27 through October 1, 2013. As stated on the Congress's Web site: "The European Cancer Congresses are consequently the only multidisciplinary and multi-professional educational opportunity in oncology to take place in Europe -- a fact that underpins the relevance, role and participation of each and every speciality in oncology." Clearly this is an important forum, which is but one reason why there are ten presentations related to sipuleucel (Provenge) that will be given there. You will find the abstracts here; enter <sipuleucel> in the line item for "abstract body" to retrieve related abstracts, including two abstracts for Dendreon's Neuvenge for bladder cancer.
Among the abstracts are one (#2860) that addresses the Phase 2 trial combining sipuleucel-T in combination with concurrent or sequential abiraterone acetate (JNJ's Zytiga); a presentation (#2900) on preliminary product parameters from P11-1, a Phase 2, open-label trial of sipuleucel-T in European men with metastatic castrate-resistant prostate cancer (mCRPC), and as noted above, two abstracts (#2907 and #2928) on NeuACT, a Phase 2 randomized, open-label trial of DN24-02 in patients with surgically resected HER2+ urothelial cancer at high risk of recurrence.
With European approval of Provenge expected shortly, these presentations are an important adjunct to the marketing effort that Dendreon and its European partner must mount immediately upon the EMA's go-ahead. (Dendreon's management has repeatedly stated they would partner Provenge in the EU, most recently here. It is already manufacturing the treatment in the EU using a contract manufacturer for the trial cited above.) I would have to believe the first three countries targeted for the treatment will be France, Germany, and the UK, given the more robust state of their economies. Regardless, pricing will be a challenge, though we know from JNJ's (NYSE:JNJ) experience with Zytiga and Medivation's (NASDAQ:MDVN) experience with Xtandi, it should not an obstacle to approval in countries with better functioning economies.
Finally, EU approval takes none of Dendreon's other problems off the table. Stagnant revenues, the inability of management to more rapidly reduce the cost of goods sold (COGS) to the 20-30% range, and the 2016 debt overhang still make this stock a risky investment.
Technical Analysis
The Daily chart, courtesy of StockCharts.com, shows the stock still languishing just above $3. It got a slight boost last week when according to the Fly on the Wall, "Lafferty initiated Dendreon with a Buy and $8 price target based on the belief there is a place for Provenge in the treatment of prostate cancer and low expectations for revenue growth." Relative strength is climbing and the MACD is positive.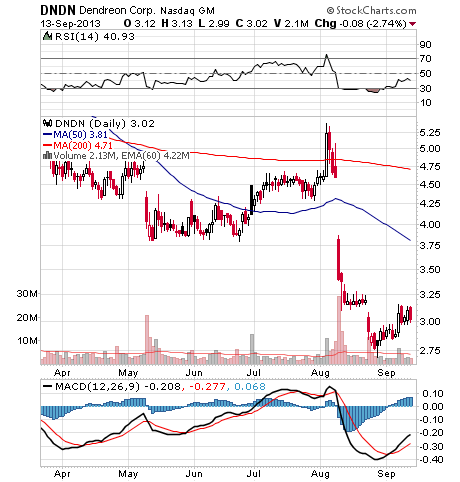 As to the Weekly data, the Relative Strength is near oversold levels while the MACD remains neutral, as it has been since April 2012.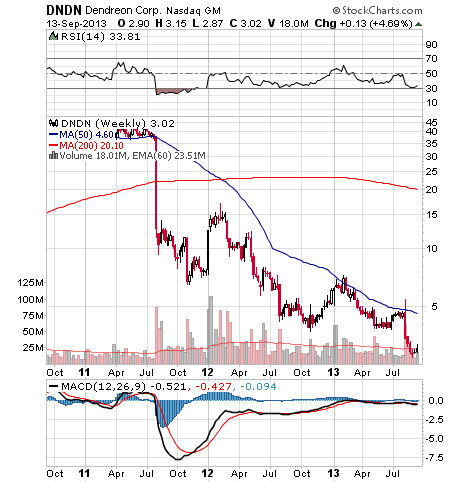 Disclosure: I have no positions in any stocks mentioned, and no plans to initiate any positions within the next 72 hours. I wrote this article myself, and it expresses my own opinions. I am not receiving compensation for it (other than from Seeking Alpha). I have no business relationship with any company whose stock is mentioned in this article.
Additional disclosure: I am not a registered investment advisor and do not provide specific investment advice. The information contained herein is for informational purposes only. Nothing in this article should be taken as a solicitation to purchase or sell securities. Before buying or selling any stock you should do your own research and reach your own conclusion. It is up to investors to make the correct decision after necessary research. Investing includes risks, including loss of principal.