When the market made a gain two weeks ago, it could be chalked up to a blip. It was only a 1.3% advance, and didn't wipe away the prior week's loss. After last week's 2.0% jump, however, the bulls have a much stronger case.
Anything's still possible, mind you, but from a momentum-watcher's perspective the bulls are in charge again, poised to give us a rare September gain.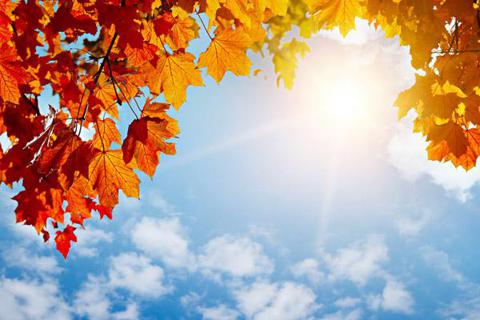 We'll detail how the stars aligned for the market in a moment. First we need to take a step back and check the market's temperature using the key economic numbers as the thermometer.
Economic Calendar
Truth be told, though we got a fair amount of economic data last week, not much of it was all that meaningful; we'll stick with the highlights, on order of appearance.
The relatively new (to us) JOLTS - an acronym for "Job Openings and Labor Turnover Survey" - data wasn't as strong in July as June's numbers led us to expect. The number of listed job openings fell from 3.869 million in June to 3.689 million for July. Granted, the data is well over a month old, but it's still not a step in the right direction. Remember, we also learned a couple of weeks ago that the rest of August's jobs data (employed people, participation rates) wasn't exactly great either, despite the dip in the unemployment rate. The unemployment rate only fell from 7.4% to 7.3% because so may people took themselves out of the labor force.
Retail sales were something of a disappointment on Friday. Though they were up 0.2% last month, and up 0.1% when not factoring in automobiles, that was shy of estimates for 0.3% and 0.2% growth, respectively. As we noted a week ago, given the fragile state of our consumer-driven economy, there wasn't really any room for error on this front…. not that the market was bothered by it. Stocks rallied anyway on Friday, perhaps assuming the weal retail-spending data would keep the Fed's stimulus program going for a little longer than had been presumed.
Finally, though not as important as this week's consumer inflation data will be, on Friday we learned the producer price inflation rate fell to an annualized pace of 1.4% (from 2.1%). While we generally want to keep the inflation beast tamed, this rate is inching its way back to dangerously-low levels.
Economic Calendar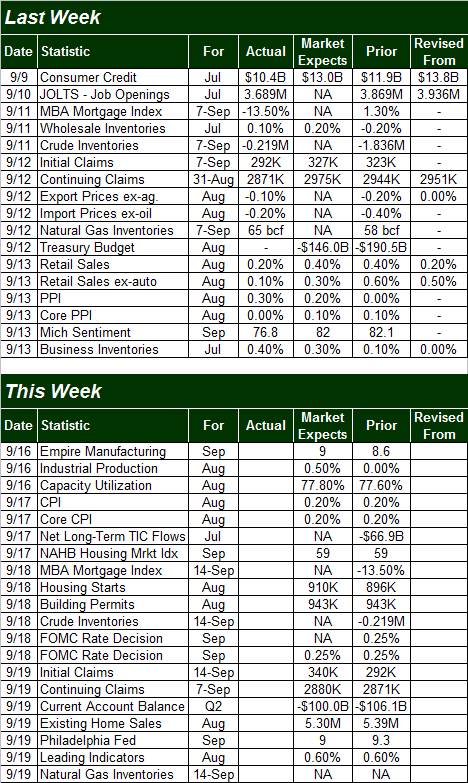 The coming week will be a little busier in terms of the amount of data we're going to get, but it will be a lot busier in terms of the amount of important data in the lineup.
The party gets started right away, too, with Monday's industrial production and capacity utilization. Capacity usage fell a bit last month, and industrial production was flat. One tepid month is a problem, but neither of these figures has shown any meaningful net growth since March. Could both data sets already be working on contractions? We'll see soon.
Capacity Utilization and Industrial Productivity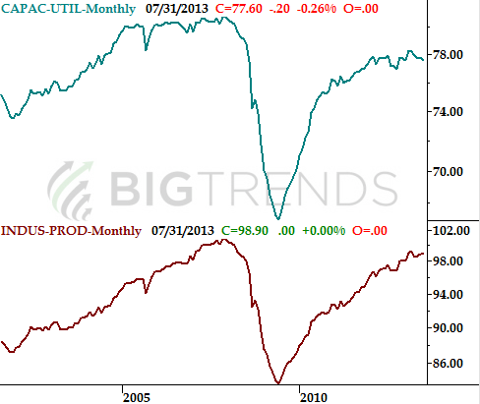 On Tuesday we'll round the inflation picture out with the consumer inflation data for August. The current annualized inflation rate is 1.96%, which isn't high, but the rise from only 1.06% in April suggests the rate could be rapidly growing [which is in sharp contrast to the PPI data we got last week]. It will be interesting to see of the CPI data follows the producer price inflation data's lead.
Past that, the data later in the week starts to paint a much clearer picture of the real estate market. Housing starts and building permits will be posted in Wednesday, with existing home sales numbers being published on Thursday.
Starts should grow a little, from a rate of 896,000 per year to 910,000, while permits should stay flat at 943,000, annually. Both data sets perked up last month, but those recoveries still haven't fully repaired the stumble each made earlier in the year.
Housing Starts and Building Permits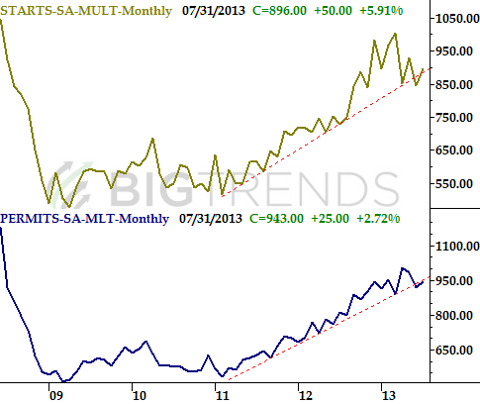 The pros are looking for existing home sales to fall from July's pace of 5.39 million to only 5.3 million for August. Just bear in mind that July's number was surprisingly and unusually large, and that 5.3 million would still be a solid figure.
Stock Market Index Analysis
Let's start this week's technical analysis with a look at the weekly chart of the S&P 500 (SPX) (NYSEARCA:SPY). It takes no time at all to see just how big of a move last week's rally was. You can also see how the index used the 100-day moving average line (gray) as a pushoff point last week, after moving back above that key line the week before. The CBOE Volatility Index (VIX) (NYSEARCA:VXX) also logged its second weekly downward move. And, both indices still have room to keep running in their current directions.
While a renewal of the rally seems hard to believe (the S&P 500 is up 39% since this time of the year in 2011, and we've made no major corrections since May of 2012), based on what we see from this weekly chart, the undertow is once again momentum (NYSEARCA:DIA) (NASDAQ:QQQ) (NYSEARCA:IWM). Just be aware there's one more thing the daily chart needs to do before getting all the way back into a bullish zone… it needs to move back above its upper 20-day Bollinger band line.
When we zoom into a daily chart, we can see the same bullish momentum. But, we can also see how a ceiling has developed around 1691. Part of that ceiling was put into place because of the upper 20-day Bollinger band, but part of it was also established just because the rally started to get a little frothy, and the bulls kept things in check there for the last three days of last week.
Again, as bullish as the weekly chart feels, until the S&P 500 moves above 1691, there's no reason to get excited. Just bear in mind the index won't necessarily have to move above that line on Monday to fully renew the rally. Between the 50-day moving average line (purple) at 1672 and the 20-day moving average line (NASDAQ:BLUE) at 1656, there are a couple of places a pullback could be quickly reversed and get the market back above 1691 later.
Needless to say, this week is going to be an interesting one.
Disclosure: I have no positions in any stocks mentioned, and no plans to initiate any positions within the next 72 hours. I wrote this article myself, and it expresses my own opinions. I am not receiving compensation for it. I have no business relationship with any company whose stock is mentioned in this article.