On October 26, 1999, running partners Intel (NASDAQ:INTC) and Microsoft (NASDAQ:MSFT) were added onto the Dow Jones Industrial Average as component stocks. In retrospect, the event signaled the apex of the PC Revolution, as a driver of the overall technology economy. On that date, Intel stock closed out the trading session at $27.53 per share, or roughly $240 billion in market capitalization. On September 13, 2013, Intel stock traded for $23.44, which calculates out to a market capitalization valuation of $117 billion. Over the past fourteen years, the size of Intel's business has literally been slashed in half. Aggressive stock buy back programs and dividend increases have done nothing to advance Intel shareholder value.
Critics of Intel management will highlight an inherent stubbornness in regards to clinging onto a deteriorating PC market, while ignoring the rise of this latest mobile revolution. Alternatively, Intel bulls will fire back theories that this cash rich brand can muscle its way into mobile chip technologies with relative ease. On September 10, 2013, Intel held its development conference in San Francisco to field questions on concerns from both camps. Multiple reports have cited the Bay Trail chip as the star of the show. Ironically, Bay Trail chip engineers have granted both bulls and bears plenty of reasons to declare victory. Bay Trail is a significant technological advance for Intel. These down market chips, however, are effectively too little and too late to grow Intel bottom line profits. Intel is a strong sell.
Bay Trail - Atom Z3000 Specifications
Intel's Bay Trail System-on-a-Chip (SoC) line is technically listed as the Atom Z3000. The Atom is a broad category above Intel's mobile chip line. The Bay Trail is a subset chip set for hybrid tablet and net book machines, such as the Microsoft Surface. Intel has begun to refer to the Surface as a two-in-one that can function either as a tablet or a laptop. The Surface tablet does run Office applications and features USB ports for printing off documents. Bay Trail Windows 8.1 tablets from Acer, Dell (NASDAQ:DELL), and Lenovo will launch during Fall 2013 at price points between $250 and $350. Within this mobile chip market segment, the focus shifts away from raw processing power and towards preserving battery life and cool temperatures.
The Intel Atom Z3000 family was designed to compete against ARM microprocessors. The entire Bay Trail line has been manufactured according to Intel's Silvermont CPU 22nm process technologies. The Z3770 is the premium Bay Trail chip, as a quad core processor capable of reading memory bandwidth at 17.1 GB per second. Bay Trail chips can accommodate display pixel resolutions between 1200 X 800 and 2500 X 1600. According to Steve Smith, Intel Tablet Development Vice President, the battery life of Z3000 machines extends for ten hours worth of use. Other Intel executives have claimed that Bay Trail offers a three-fold performance increase above that of the last generation Intel Clover Trail and Salt Well CPU mobile chip technology. According to Sebastian Anthony and Extreme Tech, however, these recent upgrades are "by no means game-changing."
Intel recently released scores for tests it had conducted comparing the Bay Trail Atom Z3770, Clover Trail, Qualcomm (NASDAQ:QCOM) Snapdragon S4, and NVIDIA (NASDAQ:NVDA) Tegra 4 chips against each other. The Bay Trail chip did post the highest relative scores according to PC game graphics, Windows desktop productivity, and Windows light media editing. The tests also intimated that Intel Atom Z3770 quad core tablets were superior to ARM tablets driven by Qualcomm and NVIDIA chips.
The mobile chip competition has already fired back against Intel. "Frankly, we do not put any weight behind Intel's benchmarking when they use compilers that are specially tuned to deliver better benchmark results on the x86 architecture. If you use standard production tools for building the common operating systems and applications, the story is different," said an ARM official.
The Tablet Market
Intel cheerleaders have been left to rationalize the idea that Bay Trail is far from a revolutionary product. Microsoft Windows tablets are likely to remain a niche product within a market rapidly approaching maturity. Recent disappointing Windows 8 and Surface sales figures may indicate that consumers reject designs to fuse traditional smart phone, tablet, and desktop interfaces together. Numerous technology experts have already written off the Windows 8 operating system as a failure and flop. Windows 8 sales have lagged far behind those of the much-maligned Vista at similar points within both product cycles. Taken further, Wayne Williams and Beta News blasted Microsoft Surface sales results as "pathetic."
At best, Intel Bay Trail will effectively be all dressed up, with nowhere to go. The aforementioned Sebastian Anthony and Extreme Tech reasoned that Intel Bay Trail "does not stand a chance," without the emergence of a major product win that can compete against the popular Apple (NASDAQ:AAPL) iPad and Google (NASDAQ:GOOG) / Samsung Nexus tablets. On August 5, 2013, a report out of International Data Corporation (Pending:IDC) confirmed the presence of an Apple iOS - Google Android operating system duopoly above the tablet market. This iOS - Android duopoly powered 95.1% of all tablet shipments during the second calendar quarter of 2013. As original equipment manufacturers (OEMs) Apple and Samsung are also the leaders here, and carry respective 32.4% and 18% shares of the tablet market.
For Q2 2013, IDC reported sales of 2 million Windows operating system tablets. This performance calculates out to a mere 4.5% share of the market. For the sake of comparison, Apple recorded sales of 14.6 million iPad machines during its latest Q3 2013, which largely coincides with IDC calendar Q2 2013. Be advised that Apple iPad unit sales have actually declined by 14%, when compared against the year-over-year quarter. The recent IDC statement indicated that tablet sales have fallen upon a sequential quarter-to-quarter basis at Apple, Samsung, and ASUS. Misguided Intel bulls are likely to find these trends to be secular, rather than cyclical. Holiday Season launches out of both Apple and Microsoft will not reignite tablet market hyper growth. Again, Intel Bay Trail is too little and too late to power alpha shareholder returns above the major technology indices.
The Bottom Line
Intel has classified its businesses according to PC Client, Data Center, Software and Services, and Other Intel Architecture operating segments. Over the past three years, the PC Client Group accounted for roughly two-thirds of total net sales at Intel upon an annualized basis. Broken down further, top-three customers Hewlett-Packard (NYSE:HPQ), Dell, and Lenovo combined for 43% of 2012 revenue. The Other Intel Architecture operating segment has been defined as an umbrella category above chip sales to netbook, tablet, and smart phone operators. Other Intel Architecture accounted for a mere 8% slice of the 2012 revenue pie at Intel. Be advised that Intel fiscal years largely overlay calendar years.
In 2012, Intel projected "single-digit" revenue growth through 2013. Intel management had therefore already telegraphed expectations of deteriorating net income through this year. Intel has especially ramped up research and development spending over the past few years, in order to establish a beachhead in mobile. R&D spending at Intel now approaches 20% of total revenue. Between 2011 and 2012, Intel increased research and development spending to $10.1 billion from $8.4 billion. Intel revenue actually declined during this period from $54 billion to $53.3 billion. These moves may signal that Intel has been desperate to escape the ongoing collapse of the personal computer market.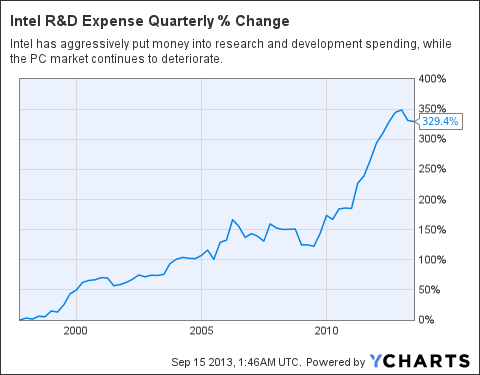 INTC R&D Expense Quarterly data by YCharts
A slight uptick in Bay Trail mobile chip sales at Intel will not make up for aggressive R&D spending and the abrupt end of the PC Revolution. Research firm Gartner recently estimated that the Western European PC consumer market shrank by 25.8% during Q2 2013. Meike Escherich, Gartner principal research analyst, already argued that sales future Windows 8.1 / Intel Haswell machines "will not fully compensate for the ongoing PC decline."
Again, the Bay Trail mobile chip offering has exposed structural problems within the Intel business model. This company has already missed Q1 and Q2 2013 analyst expectations and will continue to fall short through the Holiday Season. Intel is a strong sell.
Disclosure: I have no positions in any stocks mentioned, and no plans to initiate any positions within the next 72 hours. I wrote this article myself, and it expresses my own opinions. I am not receiving compensation for it (other than from Seeking Alpha). I have no business relationship with any company whose stock is mentioned in this article.