Bristol-Myers Squibb (NYSE:BMY) has released disappointing results from its Phase 3 trial of Yervoy (ipilimumab) in previously-treated castration-resistant prostate cancer patients. The study's primary endpoint of overall survival did not reach statistical significance.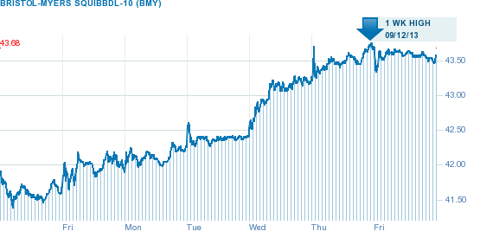 Despite the negative findings, Bristol-Myers shares ended the week at $43.56, close to its peak for the week. Bristol-Myers has risen by 34% since the beginning of the year.
Yervoy (ipilimumab), a monoclonal antibody approved in more than 40 countries for the treatment of patients with unresectable or metastatic melanoma, was launched in the U.S. in March 2011 and in Europe in July 2011.
Yervoy, discovered by Medarex which Bristol-Myers bought for $2.4 billion in July 2009, is also being studied in Phase III trials for other indications including adjuvant melanoma and non-small cell lung cancer. Bristol-Myers owns Yervoy's patent which will not expires till 2022 in the U.S. and 2020 in the EU.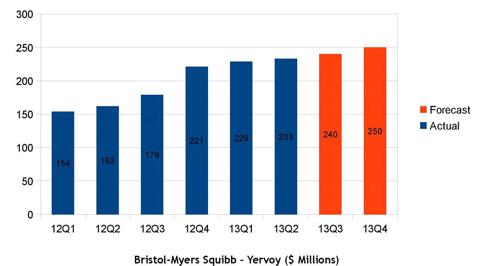 Yervoy realized global revenue of $360 million in 2011 and almost doubled that amount to $706 million in 2012, its first full year on the market. Despite recent slowdown in quarterly sales growth, Yervoy realized $462 million in the first half of the year and is on track to blockbuster status in 2014.
Prostate Cancer Study Details
The double-blind, randomized clinical trial comparing Yervoy to placebo following radiation in patients with advanced metastatic castration-resistant prostate cancer (mCRPC) who have received prior treatment with docetaxel had overall survival as its primary endpoint.
Despite the fact that overall survival did not reach statistical significance, anti-tumor activity was observed across some efficacy endpoints, including progression free-survival. Treatment-related adverse events were common, with most being immune-related, and were managed using standard protocols.
According to Brian Daniels, senior vice president, global development and medical affairs at Bristol-Myers Squibb, the company is still committed to continuing its development of Yervoy in prostate cancer despite being disappointed that the primary endpoint of overall survival was not met.
Bristol-Myers' Patent Cliff
Bristol-Myers lost patent exclusivity for Plavix, its lead product, in 2012 and with it $4.4 billion (64%) of its net sales. The company is also expected to lose patent exclusivity for Abilify, its second largest selling product, in 2014.
In February 2013, Bristol-Myers was hit with surprise patent loss of Baraclude when Teva won a court case that allows it to sell a generic version of the hepatitis B fighter. Baraclude generated $240 million in U.S. sales last year.
Bristol-Myers Valuation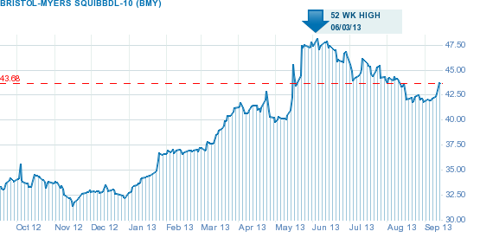 Back in June, we published an article titled "Bristol-Myers Squibb: The Untold Story Of Led Zeppelin" where we detailed Bristol-Myers' product portfolio, highlighted potential risks due to loss of patent exclusivity and benchmarked its valuation ratios to a couple of its peers. We opined that Bristol-Myers might be richly valued. Share price trended slightly lower, hovered around $42 for a while and, since last week, started rising back again.
| Company | P/E | P/S | Yield | Cap. |
| --- | --- | --- | --- | --- |
| Bristol-Myers | 53.1 | 4.1 | 3.2 | $72B |
| Eli Lilly - (NYSE:LLY) | 11.9 | 2.7 | 3.7 | $60B |
| Merck - (NYSE:MRK) | 28.5 | 3 | 3.6 | $140B |
| Pfizer - (NYSE:PFE) | 19.3 | 3.2 | 3.4 | $189B |
When revisiting the benchmarks, three month on, Bristol-Myers still does not fare well in terms of price-to-earnings and price-to-sales ratios. Although it is the lowest in the group in terms of current dividend yield, 3.2 yield is still respectable. The question is whether the company will be able to maintain it going forward.
During its second quarter conference call, Bristol-Myers' management revised full-year 2013 EPS guidance downward to an EPS range of $1.70 to $1.78, from $1.78 to $1.88 at the begining of the year. They have also estimated total sales for 2013 at $16.3 billion, mid-range.
Missing the primary end point in the prostate cancer trials is not a big deal but it is clearly a setback for Yervoy in that indication and a dent in the armor of a potential blockbuster.
We still believe that at the current $72 billion valuation, 4.4 times 2013 sales, Bristol-Myers is pricey, especially with the coming patent expiry of Abilify in 2014.
We do like Bristol-Myers, it is a solid company with a great history, however, if you are planning an entry into the stock you better wait for a more favorable valuation.
Disclosure: I have no positions in any stocks mentioned, and no plans to initiate any positions within the next 72 hours. I wrote this article myself, and it expresses my own opinions. I am not receiving compensation for it (other than from Seeking Alpha). I have no business relationship with any company whose stock is mentioned in this article.