Over the past year and a half, chip giant Intel (NASDAQ:INTC) has been one of the biggest disappointments in the market. In 2012, the company started with a yearly revenue forecast for growth in the high single digits, and by year's end, actually reported a decline in revenues. In 2013, the growth forecast was not as aggressive, but Intel took down multiple guidance numbers at their Q2 report. A weak PC market is to blame, and Intel has admitted that they were late to the mobile party, now playing catch up. Well, Intel just had its annual IDF event, launching its key Bay Trail line. Along with some other launches, this is supposed to spark the turnaround in Intel, because analysts believe 2013 will be the second straight year of declining revenues.
Given that we are more than 2/3 done with 2013, it's time to start looking forward, and that means to 2014. What will the new year bring for investors? Well, today, I'll break down the financial side of Intel, looking at the bull/bear cases for Intel. I won't be discussing any of Intel's technology, but I will be discussing what it could mean for Intel's top and bottom line. After presenting both cases, I'll discuss why I am cautiously optimistic for next year when it comes to Intel.
Building a base case for 2013:
Before we can get into a discussion about 2014, you have to start with 2013. Since this year is not over, we don't have final results for Intel just yet. In this section, I'm going to build a base case for 2013 that we can use to project Intel's bull/bear cases for 2014. For now, let's start out with the following assumptions, which are taken from Intel's latest yearly guidance:
Revenues are now expected to be flat compared to 2012.
Gross margins of 59%.
R&D plus MG&A spending of $18.7 billion.
Amortization expense of $300 million.
I'm going to give Intel the benefit of the doubt right now when it comes to revenues. Current analyst estimates call for a 0.7% decline in revenues, which is not surprising given how Intel has continued to disappoint on the revenue front in the past year and a half. The bearish side of me, which has been quite prominent regarding Intel in the past, wants me to use the analyst number, or maybe even a 1% decline. However, for consistency purposes, I'm going to use Intel's guidance, so flat revenues compared to 2012.
For gross margins, I'll use Intel's guidance for 59%. When it comes to R&D plus MG&A spending, I'm also using their guidance. I'm using a 55%/45% split (55% for R&D). Intel doesn't break down their guidance, so the split isn't tremendously important in the end. I will also use amortization expenses of $300 million, which means total operating expenses are expected to be $19 billion.
Further down the income statement, I have to make a few assumptions. First, for "other income" items, like gains/losses on equity investments, interest income, and interest expense, we have to guess. For 2012, Intel had total other income of $235 million. This year, I'll assume it will be flat. Intel took out roughly $6 billion in debt late last year, primarily to use for their stock buyback. That means extra interest expenses over last year, and "other income" items actually were negative in the first half of 2013. Also, I will use a 23% total tax rate for 2013. Intel had a tax rate of 16% in Q1, 26% in Q2, and guided to 26% for the rest of the year. I also am assuming that the buyback will decrease the full year diluted share count (as used for EPS purposes) by 1% this year. The following table summarizes the base case for 2013, with dollar values in millions.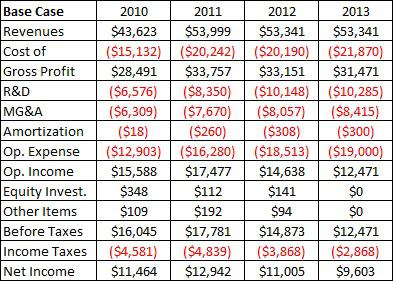 The drop in net income should not be a surprise. Intel's gross margin forecast represents a 315 basis point decline over 2012. Also, they are adding on about half a billion worth of R&D plus MG&A expenses. With flat revenues, that will also pressure operating income. Additionally, I detailed the potential decline in "other income" items. Finally, Intel will get a little back from a reduced tax rate. When it comes to earnings per share, my base case comes out with $1.88 for 2013. That is currently one penny ahead of where analyst estimates are.
The bull case for 2014:
I'll first do the bull case, because I'm cautiously optimistic on Intel for 2014, and I'll discuss some reasons why later. Here are the main assumptions I'll use for my bull case:
Revenue growth of 5%.
Gross margins of 61%.
R&D plus MG&A spending of $19 billion.
Amortization expense of $300 million.
"Other income" of zero.
Tax rate of 26%.
Revenue growth of 5% may not seem like much, but for Intel, it would be very impressive. Right now, Intel analysts are looking for just 3.8% growth, and remember, that's coming off a 0.7% expected decline in 2013. I am using a flat 2013, so my bull case has Intel's 2014 revenues more than a billion ahead of analyst expectations.
For gross margins, let's assume Intel comes in at 61%, which would be 200 basis points of improvement over the current guidance for 2013. I'll assume R&D plus MG&A spending ticks up a little to $19 billion, which would be an increase of $300 million over 2013. I'm not increasing this at a larger rate because I think Intel spent a lot this year and I'm hoping they won't have to spend a ton more next year. Amortization and other income items are hard to predict, so I'll leave them at the 2013 rates for now. I'm also going to assume a 26% tax rate, the expected rate for the final three quarters of 2013, and basically the rate for the full year 2012 as well. I'm also going to assume that Intel's diluted share count comes down to 5 billion, from an expected 5.108 billion in 2013. Since the bull case is assuming improved results, I would hope Intel could use some of the extra cash produced for buybacks. Here is how the bull case table looks.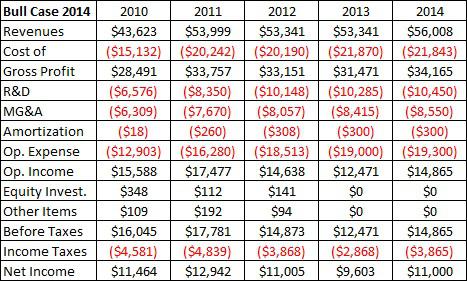 Since this is a bull case, it's not surprising that I'm well above current analyst estimates for $54.97 billion in revenues and $1.97 in earnings per share. Basically, the huge difference in revenues is what causes my large expected earnings beat. If I were to put in flat revenues for 2014 (after flat 2013 ones as well), but leave all of my other assumptions the same, Intel's 2014 earnings per share would be $1.96. That's a penny behind current analyst estimates.
My other assumptions also seem to be a bit conservative (beneficial to Intel) as well. If I were to plug in the current analyst average of $54.97 billion for revenues, using the rest of my assumptions, Intel would have earnings per share of $2.11. That's nine cents below my bull case. I'm guessing the main difference is the R&D plus MG&A spending number, plus some added benefits from the buyback.
The bear case for 2014:
Because Intel has disappointed a bit in recent years, I do also have to provide a bear case for the chip giant. While I am still going to show some improvement over 2013 levels in certain categories, I'm not going to show improvement in all areas. In fact, my earnings per share number will show another yearly decline. Here are my assumptions for the 2014 bear case:
Revenue growth of 2%.
Gross margins of 60%.
R&D plus MG&A spending of $20 billion.
Amortization expenses of $325 million.
Other income items of negative $100 million (an expense).
Tax rate of 26%.
On the top line, my revenue growth number would be a disappointment at this point. My revenue number is a little more than half a billion below current analyst estimates. While I do see gross margin improvement in the bear case, the 60% figure is only half of the improvement I am showing in the bull case.
I also see a bit more expenses in this case. Intel is forced to spend more on R&D plus other operating expenses, and amortization expenses rise a little as well. Again, in this case, the breakdown I use between the operating expense categories isn't the most important part, it is the total that is. I also see an expense of $100 million for other items. I'll leave the tax rate at 26% in this case as well. Since net income is a lot lower in this scenario, I see a reduced buyback. That results in a diluted share count reduction of just 0.5%, instead of the 2% plus reduction I see in the bull case. Here are the results of this case: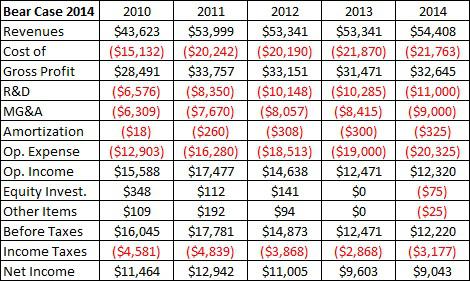 Obviously, this would be a bad year for Intel, which is why I call it the bear case. In this case, Intel's earnings per share come in at $1.78, which would be a dime below the 2013 level. It also would be 19 cents below the current analyst average estimate for 2014. However, this would not be the worst prediction, as the lowest analyst estimate is for $1.70 in 2014.
Why I'm cautiously optimistic:
So why would I side with the bull case at this point? Well, the first reason is that Intel is a chip giant. While the company has admitted being late to the mobile party, I think they are starting to catch up. In my opinion, 2013 was a transition year, and their guidance for very low single digit revenue growth (original forecast) really showed that. I think that Intel is starting to catch on, and they are planting their seeds currently. Once we get into 2014 and beyond, Intel should start clicking, and that could mean trouble for the competition.
The second item I think hurt in 2013 was the CEO transition. Yes, I know that most outgoing CEOs will stay on until a new CEO is named, in an effort for a "smooth" transition. However, there is a search process for a new CEO, and I do think it gets away from the business just a little. Intel named one of the two best candidates to the top spot, and I think that will benefit them going forward. Investors were a little uneasy at first when the CEO transition period was announced, but with a clear leader now, that worry is gone.
The third item I think will help in 2014 is a potential dividend raise. There seemed to be some panic when Intel did not raise the dividend recently, but it could be a matter of timing. I think Intel might be trying to get back onto a calendar payout schedule, which means we might have to wait until the first payment of 2014 for the dividend raise. If Intel does raise its dividend, which is already the highest yield among large cap techs, investors will love the name even more. If Intel does expect a turnaround in results during 2014, a dividend raise would solidify that expectation.
Final thoughts:
Today, I presented the bull and bear cases in my opinion for 2014. Intel had a bad 2012, and 2013 is expected to be a transitional period, with flat or declining revenues and falling earnings. New product launches are starting to inspire confidence, and Intel should start to become a major factor in the mobile revolution going forward. Revenues and earnings will rebound eventually, which will allow the company to boost the dividend and re-accelerate the buyback, which has slowed in recent quarters. Along with a new leader at the helm, Intel is poised for a strong 2014. I'm cautiously optimistic that Intel is set up for a good year, but there is still some business risk here depending on how the PC industry does and equity risk based on the Federal Reserve. Intel shares have bounced recently after IDF, so investors might want to see how things shake out a little before jumping all in, but this is a company that is one to watch in 2014.
Disclosure: I have no positions in any stocks mentioned, and no plans to initiate any positions within the next 72 hours. I wrote this article myself, and it expresses my own opinions. I am not receiving compensation for it (other than from Seeking Alpha). I have no business relationship with any company whose stock is mentioned in this article.
Additional disclosure: Investors are always reminded that before making any investment, you should do your own proper due diligence on any name directly or indirectly mentioned in this article. Investors should also consider seeking advice from a broker or financial adviser before making any investment decisions. Any material in this article should be considered general information, and not relied on as a formal investment recommendation.