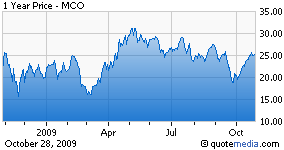 Moody's Corp. (NYSE:MCO) is expected to report Q3 earnings on Thursday, October 29 with a conference call scheduled for 11:30 am ET.
Guidance
Analysts are looking for EPS of 38c on revenue of $417.18M. The consensus range is 34c-42c for EPS, and $402M-$433.40M for revenue, according to First Call. A federal judge recently dismissed 10 of the 11 fraud charges brought against the ratings agencies, including Moody's. In the civil case, Abu Dhabi and Kings County, Washington alleged that Moody's and the other ratings agencies committed fraud by issuing inappropriate ratings for a Structured Investment Vehicle.
Analyst Views
The ruling is "a significant development" for Moody's (MCO), according to Piper Jaffray. The firm notes that the 10 dismissed charges cannot be leveled against the ratings agencies again. As a result, the judge's decision removed a significant overhang on Moody's, according to Piper, as the ruling shows that the ratings agencies still have strong legal defenses. The firm thinks the remaining fraud charge will likely be dismissed in the case, and it reiterated Overweight ratings on Moody's. The plaintiffs alleged Moody's (MCO) had issued inappropriate ratings for a Structured Investment Vehicle. Meanwhile, Moody's was sued earlier this month in a separate case by King County. The county was an investor in a Structured Investment Vehicle that received a top rating in June 2007, and before it was downgraded to junk in October 2007. Investors will want to determine whether Moody's agrees with Piper's legal analysis in the Abu Dhabi case, what the company's outlook is in the King's County case, and whether the company faces any additional legal hurdles.
In a related matter, a House of Representatives committee today passed legislation that would for the first time set up an office within the SEC to regulate the ratings agencies and expose them to more lawsuits from investors over their ratings. Meanwhile, Piper reported on September 29 that preliminary new debt issuance trends had "improved meaningfully" on a year-over-year basis last month. This news could signal a better than expected earnings report from Moody's according to Piper, which has an Overweight rating on the stock.