Earlier this year, the Catholic Church chose its CEO - who has rebuffed much of the traditional, stodgy requirements of the job in favor of a more open papacy. From washing women's feet in a youth prison to his more symbolic changes (no more Prada loafers), Pope Francis has brought fresh air and energy into the Church.
That is the same thing that Microsoft (NASDAQ:MSFT) needs. After trading in a $15-17 range for the past 13 years, Microsoft needs an outsider who can offer a fresh take.
Brief Overview
Make no mistake, Microsoft has been in a lull. Since Steve Ballmer took the helm in January 2000, the price moved lower before stagnating in roughly a $15-17 range. This year, MSFT is up 24 percent, in line with year-to-date gains in the NASDAQ-100. With a current yield of 2.8 percent, Microsoft provides a yield comparable to other tech giants, including Apple (NASDAQ:AAPL).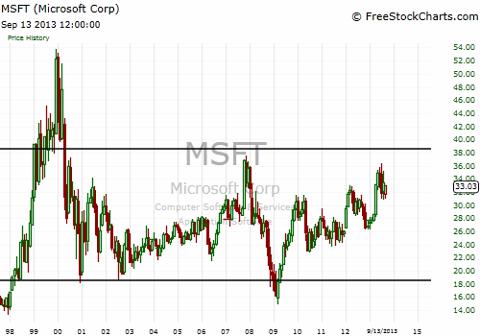 Following Steve Ballmer's announcement on August 23, Microsoft went towards recent highs, gaining from $32.39 to $34.75 - a gain of 7 percent in one day. Then, came Microsoft's purchase of Nokia, which saw the price sink around $4.00 to a recent low near $31.20.
Stephen Elop, Unfortunate Frontrunner
There were some jokes following Microsoft's acquisition of Nokia (NYSE:NOK) that the company just paid $7.2 billion to acquire a new CEO - a hefty price indeed. The potential candidate, Nokia's CEO, Stephen Elop, is a Microsoft alum and a part of the senior leadership team for two years starting in 2008.
Elop has led Nokia since then, overseeing the company for a 60 percent decline in its stock - from $10 per share in September 2010 to $4 per share prior to the Microsoft deal. Since that deal, the market is seeing it all-but-certain that Elop will take Microsoft's helm. Bookies are even in on the prediction - making Elop a heavy favorite at 1:4 odds. That means that risking $100 would only net you $25.
But Microsoft could learn a few things from the Catholic Church in finding its own Pope Francis - the CEO that will shake up the company culture, reinvigorate its customers and unlock shareholder value once again. Stephen Elop is not that person.
How Pope Francis Shook Things Up
I am not a Catholic (nor am I a theologian, so these are pure observations), but from afar you have to admire how Pope Francis is changing the face of the Catholic Church. Doing more than eliminating the Prada loafer look, Pope Francis is ushering what is arguably the world's oldest corporation into a new era. He is returning the Church to the simplicity of its teachings, embracing the poor and downtrodden to expand the Church's base.
And, this comes at a time when the Church was offering a dying product to much of the world. While the hard line was embraced in Latin America and other parts of the World, much of Western civilization was looking for another message - one that wasn't being served by Pope Benedict. Pope Francis has shifted this stance, offering a new look at the world that is focused on compassion and mercy. So much for Catholic guilt.
Microsoft Needs that Same Shake-Up
Much in the same way, Microsoft is offering a dying product to the world. The below chart, pulled from Business Insider, shows how Microsoft's share of the global computing market has shrunk from 60-70 percent in 2009 to 25 percent in Q2 of 2013. Of course, the problem for MSFT is where those gains are going. Though some companies, notably Facebook (NASDAQ:FB), have executed a mobile strategy, Microsoft has not. And it's 4 percent share in the smartphone market is only sure to be an increasing problem as the PC dies off.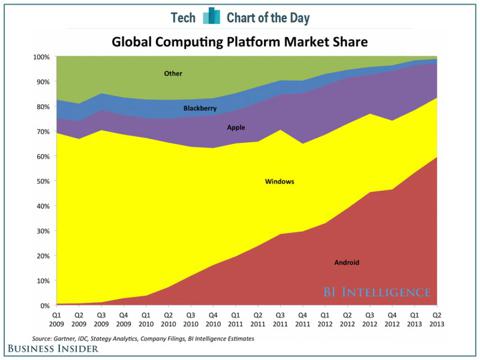 In fact, IDC has recently downgraded its outlook for Windows phones - first seeing Windows having a 20 percent share of market in 2015 before downgrading that to 10 percent in 2017. How can Microsoft expect that Nokia's CEO to help those prospects? Hint: he can't.
Microsoft's Other Challenges
In addition to the smartphone market, Microsoft is also going to have to figure out tablets. While sales of Apple's iPads and even Samsung tablets have been going well, no one seems to buy Microsoft's Surface. Just last month, the company announced that the temporary price reduction of the Surface Pro would be made permanent, just a month after it cut the price of its Surface RT. The price tag to shareholders thus far: nearly $1 billion in unsold devices.
On the PC side, software sales have not gone gangbusters either. And, that is probably expected with sales of PCs down overall. We all know the challenges facing HP (NYSE:HPQ) and Dell (NASDAQ:DELL). These challenges with fewer PCs is augmented by a new "app economy" - where devices are basically custom made with just the tools that users want. In that environment, it is hard to imagine that this ultimately doesn't also trickle down to software margins. After all, if you don't want the whole package, Microsoft can't charge that much for the a la carte options.
Who is Microsoft's Pope Francis?
Beyond Pope Francis, there are a couple other examples of recent CEOs that have totally shaken up their company. Yahoo's (NASDAQ:YHOO) Marissa Mayer immediately comes to mind - instituting various personnel and strategic changes that have set the company on the right course. Those changes have not only boosted morale inside the company, but have also calmed investors and led to a 46 percent increase in the stock's price this year.
This brings me to another high-profile female executive that has generated some buzz - Sheryl Sandberg. As Facebook's COO, Sandberg has helped the company mature to a point where it is monetizing mobile, and, with FB's stock well above its IPO price at the moment, Sandberg's stock has never been higher.
Simultaneously, there has been some speculation that she is itching for something new. Sandberg has sold off more than $95 million in Facebook stock in two transactions over the past month alone. Sure, she may just be diversifying or taking some money off the table - but, such a move would also be a precursor to taking a step away.
Ford (NYSE:F) CEO Alan Mulally has also been floated in the media as a potential outside successor to Ballmer. It is hard not to see how Mulally would be a good choice, having previously led a series of cost reductions and turnaround in one of the most challenging industries out there. Those measures were enough to sure up Ford's balance sheet and prevent it from following General Motors and Chrysler into bankruptcy in 2008-2009.
Apparently, some of Microsoft's largest shareholders have urged the executive search committee to put Mulally - as well as CSC CEO Mike Lawrie - on the list, which may consist of 40 names. Ford tried to put a cap on those rumors by stating that Mulally would stay until the end of 2014, as previously announced.
Conclusion - Microsoft Needs to Go External
Perhaps an unquantifiable estimate - but, if selected, I believe Sandberg, Mulally or most other external CEOs would add at least a 10 percent pop to the stock immediately. From there, I would expect the price to move above $40 per share in a hurry. (Sandberg is around a 25-to-1 bet, according to those same bookies as earlier.)
This isn't to say that Microsoft stock cannot move higher from current levels. But, it is to say that to add real, long-term shareholder value will require a true shake up. That is something that I do not expect an internal candidate to be able to offer. Barring that, I predict that Microsoft stock will be stuck in the $30s for another 13 years.
Disclosure: I have no positions in any stocks mentioned, and no plans to initiate any positions within the next 72 hours. I wrote this article myself, and it expresses my own opinions. I am not receiving compensation for it (other than from Seeking Alpha). I have no business relationship with any company whose stock is mentioned in this article.