As markets head into a much anticipated Federal Reserve decision that should feature some resolution on the tapering question, I found it interesting to rewind the tape back to the recent G20 summit held in Saint Petersburg, Russia. After the summit, CNBC interviewed IMF Managing Director Christine Lagarde to get her perspective on the proceedings. Lagarde noted the high level uncertainty about the impact of unconventional monetary policies and the resulting angst felt particularly in emerging countries over the Federal Reserve's potential tapering. She specifically said (a bit paraphrased):
…we are in uncharted territory. When unconventional monetary policy started, no one had a clue exactly what it would produce, and what the multiple effects including side effects would be. The same goes with tapering. In both cases, everybody is exploring and everybody is a bit anxious about what will the consequences be, will it work, over what period of time. Would it be properly gradual and orderly. So, trepidation coming in, trepidation coming out. Central bankers didn't do a bad job getting in, I am sure they will do a good job getting out.
Lagarde is clearly able to admit to a level of uncertainty that central banks cannot afford to do! Lagarde also claimed that in response to concerns from emerging economies, the "advanced economies acknowledged that tapering had to be orderly, well-communicated…" Tapering also had to happen in dialogue with other countries because of the potential side effects and ripples throughout the global economy. She did not offer any insight on how this could work in practice even as she acknowledged that central banks are independent entities.
I find the angst in emerging countries interesting given the mixed signals in the markets. Sure interest rates have increased, but U.S. and international stock markets have shaken off those effects for months now.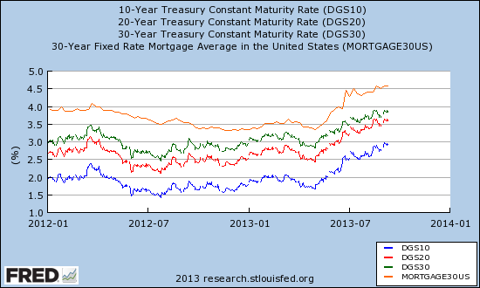 U.S. rates continue to rise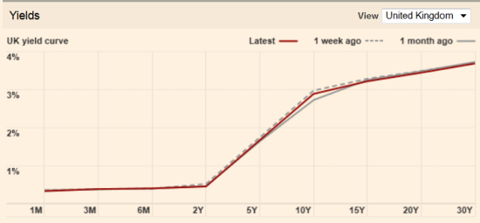 UK bond yields are up in the past month in the middle of the curve
Source: Financial Times
For example, the iShares MSCI Emerging Markets EEM ETF has soared 10% in just the last three weeks to three month highs. I had written earlier that shorting EEM was a good play on higher rates. Now it seems more appropriate to short it as a hedge on other bullish plays; I soon recognized the uneven recovery from what had seemed like a rate-related sell-off. (Scaheffer's Investment Research recommends a straddle options strategy on EEM during times such as these when volatility is on the decline).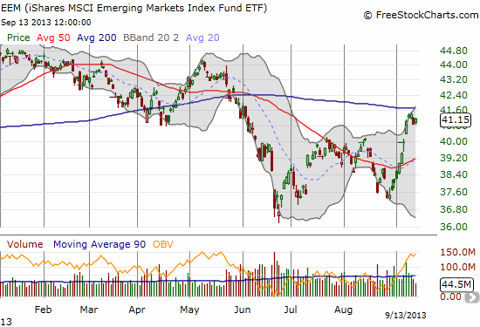 EEM failed to make a lower low in the last swoon so a bottoming could be underway
Source: FreeStockCharts.com
Other market indicators are also showing traders and investors are getting more comfortable with EEM. The open interest put/call ratio on EEM reached an over 2-year high as the shares bottomed in late June. That open interest has now declined from over 2.30 to 1.85 as of September 13th; current levels are actually at a 2-week high. Moreover, shares short have plunged in recent weeks. On June 15th, short interest stood at 171M shares, up 39% in just two weeks and a 2+ year high (perhaps a record?). As of September 1st, shares short were back down to 115M shares, a drop of 1/3. So, if tapering is going to have a harsh impact on emerging markets, that assessment is less and less evident in the trading of EEM.
Moving on to the African continent, the bond markets in many African countries have been quite active and healthy. It seems investors have no hesitation in chasing higher yields there. For example, earlier this month, Ematum, a Mozambique government-backed agency that promotes the "fishery activity of tuna," issued the country's first dollar-denominated bond. It yields about 8.5% with a 7-year maturity. Ematum issued $500M in government-guaranteed debt. Next up are Kenya and Tanzania which will issue a combined total of $2.5B in bonds. According to the Financial Times, "African countries have already raised a record $6.2B in international debt this year, three times as much as in 2011." If tapering is damaging emerging markets, the jitters are not infecting Africa. (Note that the The JPMorgan Nexgem Africa index has increased in yield from 5.3% in January to over 7.0% now).
Somewhat tempering this picture, perhaps even paradoxically, are the large outflows of funds from emerging market equity and bond funds. Combined, such funds hauled in over $80B net last year. In recent weeks, the flows have actually turned negative (-$11B), losing $10.2B in the two weeks ending September 4th. Emerging market bond ETFs were suffering a 15-week losing streak as of September 6th.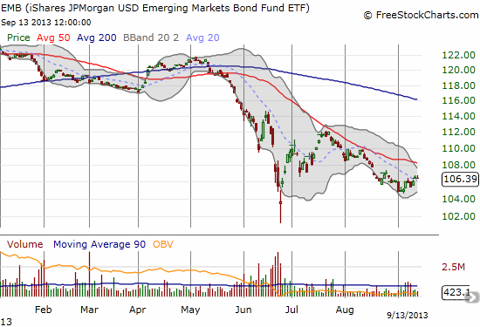 iShares JPMorgan USD Emerging Markets Bond (EMB) is not enjoying the same rebound that EEM has
Source: FreeStockCharts.com
The iShares JPMorgan USD Emerging Markets Bond ETF has not experienced the same rally as EEM in recent weeks, but it too has yet to drop below the late June lows. This resiliency should get tested in coming weeks.
Putting it altogether, the somewhat mixed signals in the trading in emerging markets underlines the potential for on-going, sporadic bursts of high volatility as the market's assessments shift and swoon with the tides of sentiment. Even after the Federal Reserve provides clarity on tapering (assuming it does), the impact of its decision will be hotly debated and every little signal, like the latest major economic report from China, will get over-extrapolated into a conclusion. Under these conditions, I think it makes sense to avoid one-way thinking and to stay flexible. As I mentioned earlier, for now, I still like opening short positions on EEM at key technical levels (it is currently testing resistance at its 200-day moving average). If EEM manages to continue its rally, I may have to flip over to the bullish camp.
Disclosure: I am short EEM. I wrote this article myself, and it expresses my own opinions. I am not receiving compensation for it (other than from Seeking Alpha). I have no business relationship with any company whose stock is mentioned in this article.
Additional disclosure: Short EEM via put options.