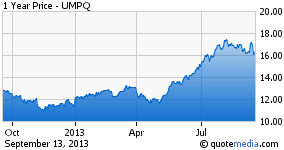 Shares of Umpqua Holdings (NASDAQ:UMPQ) have seen their fair share of volatility over the past trading week as the bank doubled in size following the acquisition of Sterling Financial. The deal will create a bank with over $20 billion in assets.
While there are some synergies to be expected, I am hesitant to invest in the new combination. The troubled history of Sterling's balance sheet, combined with an already premium valuation in terms of book value and earnings multiples, make me hesitant to invest.
The Deal
Last Wednesday, Umpqua announced that it has entered into a definitive agreement under which Sterling Financial Corporation's (NASDAQ:STSA) assets will be merged with and into Umpqua.
Under terms of the deal, investors in Sterling stand to receive $2.18 in cash for every share they own, and 1.671 shares in Umpqua's stock. Based on the closing prices of the 11th of September, the deal values Sterling Financial at $30.52 per share, or $2.0 billion in total.
Given these deal terms, shareholders in Umpqua will hold 51% of the stock in the new company following the deal, with Sterling's shareholders holding the remainder of the shares.
The deal will create the largest community bank on the U.S. West Coast. The newly formed bank will operate 394 locations in 5 states, creating a bank with $22 billion in assets, $16 billion in deposits and $15 billion in loans. The combination will operate under the Umpqua bank name and brand.
Umpqua's CEO Ray Davis commented on the rationale behind the deal, "Together, Umpqua and Sterling will create something unique in the financial services industry, an organization that offers the products and expertise of a large bank but delivers them with the personal service and commitment of a community bank."
The deal is expected to be accretive by some 12% to 2015's operating earnings per share, with 100% of synergies factored in.
The transaction has already been approved by the board of directors of both companies. Funds which are affiliated with Thomas H. Lee Partners and Warburg Pincus, each holding a 20.8% stake in Sterling Financial, have already voted in favor of a deal.
The deal is expected to close in the first half of 2014 and is subject to shareholder approval by shareholders of both firms, as well as regulatory approval, and normal closing conditions.
Valuation
Umpqua ended its second quarter with $11.4 billion in assets, supported by $1.7 billion in common equity, resulting in a book value of $15.33 per share.
For the first six months of the year, the company generated $190.4 million in net interest revenues, which is down 7% on the year before as net interest margins compressed to 3.75%. Net earnings came in at $49.2 million, which is up 2% on the year before, as earnings per share came in at $0.44 per share.
Following a simple extrapolation, full year net interest revenues could come in just below $400 million, while net earnings could come in around $100 million. Trading around $16.50 per share, the market values Umpqua at $1.84 billion. This values operations at 1.07 times book value, 4.6 times annual revenues and roughly 18 times annual earnings.
Umpqua pays a quarterly dividend of $0.15 per share, for an annual dividend yield of 3.7%.
Some Historical Perspective
Just like many other community banks, shares of Umpqua's are far removed from all time highs. Shares had steadily risen from $8 in 2000 to highs around $30 at the start of 2007.
Shares have fallen to lows of $7 in the 2009 crisis and have traded around the $10 mark ever since. After witnessing year to date returns of almost 40%, shares are currently exchanging hands around $16.50 per share.
Investment Thesis
Following the news of the deal, shares of Sterling Financial rose from $26.50 on Wednesday to levels around $28.50 on Thursday, valuing the business at $1.8 billion.
Sterling Financial ended its second quarter with $9.5 billion in assets and $1.2 billion in equity, resulting in a book value of $19.36 per share. For the first six months of the year, the company generated net interest income of $157.3 million, on which it net earned $50.4 million in net income.
For shareholders in Sterling, any premium was welcome. Yet the long term performance of the shares has been terrible. Extreme dilution in the financial crisis made shares trade with losses of 99% from the highs of 2006 and 2007.
Following the deal, the outstanding share base of 112 million shares in Umpqua will roughly double to 220 million shares, as the company pays out $140 million in cash as well. Trading around $16.40 per share, the new market capitalization will be around $3.6 billion.
The new combination will hold assets of around $21 billion, and hold $2.9 billion in equity to support the asset base. On a pro-forma basis, the combination generates revenues of $350 million for the first half of the year, on which it earned $100 million.
Umpqua sees cost savings being equivalent to 30% of Sterling's core operating expenses which total $87 million per year, resulting in synergies of around $25 million. Some 50% will be realized in 2014, with full realization of synergies expected in 2015.
At this pace net interest revenues could total some $700 million per annum, while earnings could total $200 million. Factoring in $25 million of expected synergies, earnings could total $225 million, valuing the operations at 16 times annual earnings.
While Umpqua sees compelling value for all shareholders, driven by earnings per share accretion and low tangible book dilution, I am not convinced. While the deal is accretive to earnings per share, I am not impressed with synergies which will boost pro-forma earnings by a modest 10%. The poor historical performance of Sterling's balance sheet and loan book has been troubling.
Combined with a fairly high valuation in terms of earnings and premium levels to book value, I remain on the sidelines.
Disclosure: I have no positions in any stocks mentioned, and no plans to initiate any positions within the next 72 hours. I wrote this article myself, and it expresses my own opinions. I am not receiving compensation for it (other than from Seeking Alpha). I have no business relationship with any company whose stock is mentioned in this article.