With mortgage rates rising as the markets brace for Fed tapering, Americans have grown more hesitant to take out a mortgage. In fact, mortgage applications fell by 14% last month. Essentially, higher rates are making homes less affordable, thereby crowding out the marginal buyer. Mortgage demand has fallen so dramatically that Citigroup (NYSE:C), JPMorgan Chase (NYSE:JPM), and Wells Fargo (NYSE:WFC) have each cut over 2,000 mortgage bankers in the past month. I believe this phenomenon will disproportionately impact KB Home (NYSE:KBH) as the firm caters more to first-time home buyers. The drop in home affordability the past six months is truly astonishing: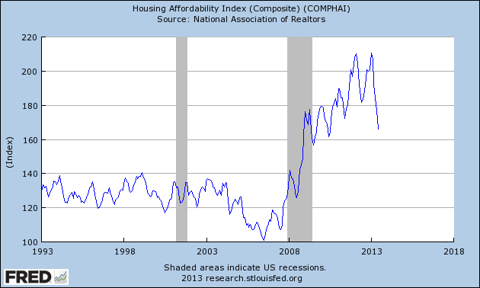 However, rates are still historically low, which is why affordability remains above its historical average even though it has dropped off dramatically. That is why I also like to look at the ratio of home prices to median income, which ignores transitory moves in interest rates to see if home prices are sustainable, expensive, or cheap. This chart shows that the home price/income ratio is pushing up towards its non-bubble high, though we're not in a severely over-bought market: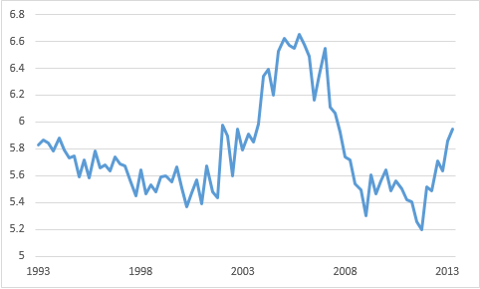 To me, this chart suggests that home prices are not due for a massive correction, rather I feel that home prices are probably topping out with very limited upside from here. At the same time, I believe rate-shock will keep some borrowers out of the market for some time. A combination of stagnant prices and lower volumes is bad for the home builders. More price conscious consumers also are problematic because new homes are being sold at a significant premium to existing ones as input costs have risen substantially. Industry reports have suggested that new homes are selling for a 20% premium to existing ones. As investors begin to sell their properties, prospective home-owners may be more inclined to buy these existing homes. When mortgage rates were extraordinarily low, they had the capacity to pay up for a new home, but with rates higher, that 20% premium becomes far more noticeable.
This environment would seem unfavorable to all the homebuilders, which is true. At current levels, none of them present tremendous value; however among them, KB Home seems the most exposed to me because of the market it caters. Even though KBH has fallen 30% from its summer highs, I believe it remains over-valued with another 30% of potential downside. Unlike DR Horton (NYSE:DHI) which serves higher end customers who already owns homes, KBH builds smaller homes, geared towards first time-home buyers.
This fact is shown by KBH's average selling price, which stands at $290,000, up a whopping 25% year over year (full quarterly data is available here). That figure was mildly over-stated due to a higher proportion of homes being sold in its West Coast segment. Excluding the West Coast, KBH's average selling price is less than $220,000. In the West Coast where cost-of-living is dramatically higher, its selling price is $460,000, which believe it or not, is an entry-level price there. For comparison, DHI sold homes at an average of $525,000 nationally. While both KBH and DHI sell homes, they are not really competitors just as Tiffany's (NYSE:TIF) and Zale's (NYSE:ZLC) aren't competitors though both sell jewelry.
With an understanding that KBH is geared towards that less-wealthy, first-time home buyer, it is important to recognize the questions KBH's potential customers ask themselves. They are not questioning whether to upgrade or change houses; they need to decide whether they prefer owning to renting. Virtually all first-time home buyers are renters, which is why they are especially sensitive to interest rates. Historically, renting has been a cheaper alternative to taking out a mortgage, which makes sense as renters lose out on appreciation; however with rental rates rising and mortgage rates so low that reversed: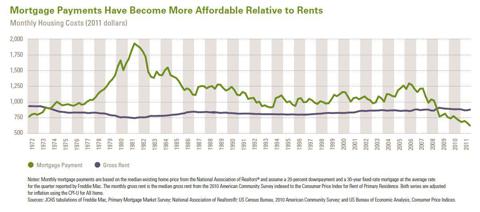 As mortgage rates rebound quickly, owning becomes relatively less attractive to renting. Further with the growth of investor-owned properties, the supply of rental homes has grown dramatically over the past three years, which will present a downward pressure to rental rates. Rising mortgage payments and stagnant rental rates will undermine first-time home buyers' demand. Further, listed mortgage rates are not available to all borrowers. In fact, it has been well documented that banks have been very hesitant to extend credit since the financial crisis. First-time home buyers as a group maintain lower incomes and credit scores, usually forcing them to take out higher interest mortgages. This higher rate makes the owning vs. renting dynamic even less attractive.
Essentially, KB Home faces a customer base that is disproportionately weakened by rising interest rates, which will adversely impact their results. In fact, I believe last quarter could prove to be the firm's near term high-water mark as home buyers rushed to get mortgages. Even then, the company's results remained far from spectacular with a loss of $0.04 reported. In its first half, the company had home-building revenue of $924 million with decent gross margins of 15%. However, stubbornly high SG&A ate up all but 1% of revenue, leaving $9 million in gross profits. It should also be noted that homebuilders benefit from their ability to capitalize some interest. KBH's cash interest was double interest expense. Using a cash interest basis would have resulted in a net loss of $0.10.
At the same time, the firm's backlog only increased 5% quarter over quarter, and I would anticipate a higher cancellation rate thanks to rising mortgage rates. The firm now has an order backlog of roughly 6 months, leaving the firm extremely exposed to interest rates in 2014. New orders were also flat year over year. These figures run counter to the firm's 39% increase in homes delivered year over year. The fact that orders were so disconnected from sales suggest that this strong quarter was due in large part to one-time demand from rushed closings. Future home-buyers seem shocked from rising rates and are happy on the sidelines.
Based on new orders and rising interest rates, I forecast KBH home volumes to be in-line with 2012 results when the firm reported a loss of $0.76. With prices higher than in 2012, financial results should be superior to 2012 next year but less than analyst expectations of $1.00-$1.20. Based on my analysis, KBH will break about even next year. At current prices, KBH is more than pricing in my most optimistic scenario with significant downside, magnified by the firm's large debt burden.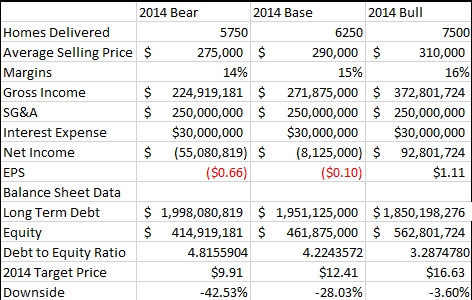 Conclusion:
With its focus on first-time home buyers, KB Home is especially sensitive to changes in interest rates, which greatly impact its consumers' buying power. The market is not pricing in the volume slowdown and price stagnation that higher rates will bring. KBH is fully pricing in even the most optimistic of scenarios while fully discounting what I believe is the mostly likely economic scenario. Investors should avoid KBH at current prices.
Disclosure: I have no positions in any stocks mentioned, and no plans to initiate any positions within the next 72 hours. I wrote this article myself, and it expresses my own opinions. I am not receiving compensation for it (other than from Seeking Alpha). I have no business relationship with any company whose stock is mentioned in this article.