I am long various fixed income products and interest rate sensitive ETFs and with US interest rates trending higher over the past 3 months, I have found myself increasingly making use of inverse ETFs such as ProShares UltraShort 20+ year Treasury (NYSEARCA:TBT) to try and hedge some of the interest rate component within my investments. One of the hardest things to do sometimes is to know when to remove hedges, in this case whether I should be paring down my TBT holdings ahead of September's Fed meeting.
The taper or no taper question will be answered after the much awaited FOMC meeting on Wednesday 18th September. The size, duration and composition of the taper will be the market's initial focus followed by the Fed's 2016 growth projections. The 2016 projections and any changes in the language regarding data threshold triggers will be closely watched by the market to determine the possible timeline for actual rate hikes to begin. I personally believe that the 2016 projections and the data thresholds within the communique will be as important if not even more important than the taper details.
Since the taper talk has started in May 2013, interest rates globally have re-priced significantly in a violent fashion and I thought it would be worthwhile putting in context the extent of the sell-off in relation to Quantitative Easing (QE) history.
Table (1) gives a brief history of the various QE programs.
| | | | |
| --- | --- | --- | --- |
| | Official Start | Official End | Notes |
| QE1 | 11/25/2008 | Mar-10 | |
| QE2 | 11/3/2010 | Jun-11 | |
| Operation Twist | 9/21/2011 | | |
| QE3 | 9/13/2012 | | UST buying 45bln per month |
| QE4 | 12/12/2012 | | MBS buying 40bln per month |
Table (1): QE Evolution
So tapering in respect with the current talk at the moment refers to the initial stage of the phasing out of QE3 and QE4, which started in Sep. 2012 and Dec. 2012 respectively.
Chart 1 below is the history of 10yr US swap rates with shaded areas denoting the period of each QE episode.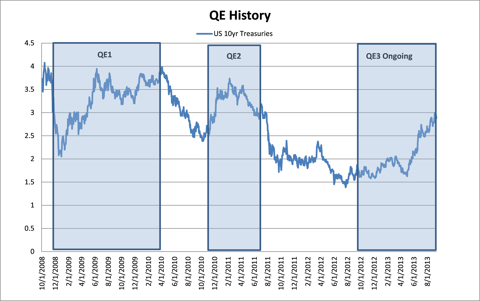 Click to enlarge
Chart 1: QE history and 10-year interest rates.
QE1 was an altogether novel policy and as such the initial reaction was a strong move lower in US 10 year rates, call that the shock/novelty factor, but rates started trending higher soon afterwards.
In regards to QE2 and QE3, interest rates actually moved higher post the announcement of QE either due to economic data having worsened in the run up to (or rather generating the need of another QE) the official announcement of the next QE or the chairman of FOMC having already hinted at new QE during official speeches at Jackson Hole.
Nonetheless, irrespective of the driver, in the instances of QE2 and QE3, rates trended higher after the official announcement in a classic example of buy the story (rumor), sell the fact.
Chart 2 helps to explain the subsequent reversal in interest rates by comparing the behavior of nominal GDP with US 10yr interest rates.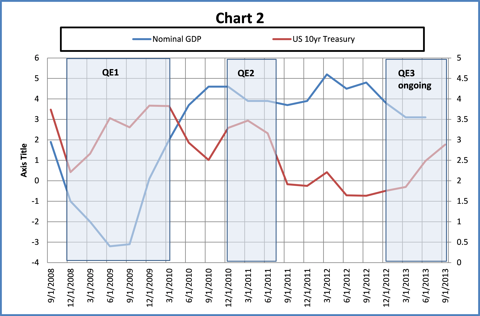 Click to enlarge
Chart 2: Nominal GDP and 10-year interest rates.
In chart 2, we can note that nominal GDP growth started stalling around 3.5-4.0% and had been running below the nominal average growth of 5-6% observed just prior to the 2008-2009 recession.
Chart 3 is the comparison of nominal GDP brought forward by 3mths against the US 10yr rates. There is always a lag of when GDP gets officially released and markets very often use leading indicators such as "ISM" and "PMI" surveys to derive an expectation of future GDP growth. As such US treasury rates will always tend to lead the actual release of GDP in that interest rates will react to expected future GDP. In this case I applied a 3-month adjustment to GDP. Chart 3 can give a better sense of the timing of the prior QEs and the overall next direction of GDP growth. In this case with the move higher in rates, market is clearly expecting a higher future nominal growth, which has been validated by better forward-looking data over the past month not only in the US but also in Europe and, to a lesser extent, in China.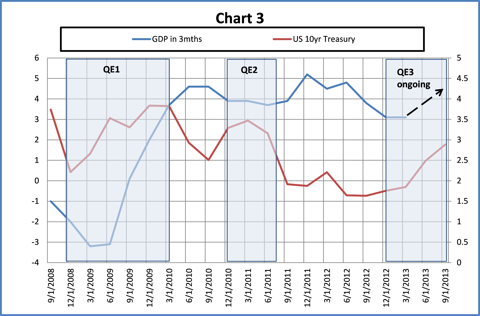 Click to enlarge
Chart 3: Nominal GDP in 3mths and 10-year interest rates.
Chart 3 would seem to indicate that a good deal of nominal growth is now priced in the US 10yr rate and combine that with the past behavior of rates in QE2 and QE3 where rates reversed post announcement, interest rates could certainly move lower unless the taper and projections come out on the hawkish side. Another way of saying this is that interest rates could move lower on an outcome, which is at expectation or on the dovish side.
2 of my Interest Rate sensitive ETFs
Pimco Municipal Income Fund II (NYSE:PML)
Using PML as an example, chart 4 would suggest that the recent weakness in PML has come mainly from the interest rate side and not from the municipal credit risk side. In the case of PML, the decision to hedge PML with TBT is not as clear cut as you may be better off just selling PML. There are other/better municipal ETFs out there and CEFconnect.com can give an indication of the premium/discount to NAVs. (For purposes of full disclosure, I have been gradually rotating out of PML into NRK and NCB).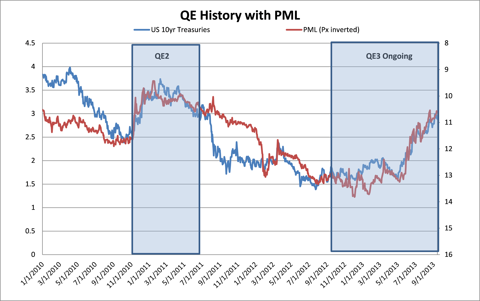 Click to enlarge
Chart 4: PML and US 10yr
Morgan Stanley Emerging Markets Debt Fund Inc. (NYSE:MSD)
On the other hand, according to Chart 5, the emerging market sovereign bond ETF is displaying some cheapness at the moment, the discount to NAV being a big factor. With MSD trading at a decent discount, I had been hedging the interest rate component with TBT in the hopes of capturing this "cheapness."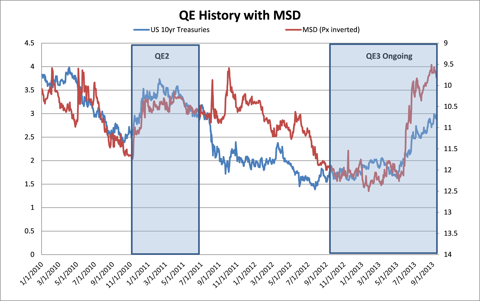 Click to enlarge
Chart 5: MSD with US 10yr
Hedges - to remove or not to remove?
At the moment, my personal bias is to remove some interest rate hedges in the short term on the back of GDP growth that has already been built in and on the back of prior reactions to QE announcements.
One play, which could provide a good asymmetry of payoffs with respect to my TBT hedges, would be to look at buying some TBT put options expiring 21st Sep. 2013. These very short dated options would capture the FOMC event, which is market's main focus at the moment, at least till mid-week.
Disclosure: I am long TBT, MSD, PML, NRK, NCB. I wrote this article myself, and it expresses my own opinions. I am not receiving compensation for it (other than from Seeking Alpha). I have no business relationship with any company whose stock is mentioned in this article.