Bank of America (NYSE:BAC) has long traded at a deep discount to book value - something that made inherent sense in the immediate aftermath of the financial crisis when investors were unsure of the cost from the fallout of its acquisition of Countrywide Financial. Time has healed some wounds - allowing Bank of America to figure out what exactly was on its books and settle some claims against Countrywide.
A small symbol of this - in the Q1 earnings conference call, Countrywide was mentioned seven times during the call and Q&A; in the Q2 earnings conference call, it was not mentioned specifically once.
State of Countrywide
Countrywide is still a big cost to shareholders, exceeding $50 billion and counting. As of the second quarter earnings call, Legacy Asset Servicing expenses were moving lower ahead of schedule. In Q2, LAS was down nearly $800 million on the quarterly basis, falling to $2.3 billion from the $3.1 billion peak. At an annualized rate, LAS costs are still just shy of $10 billion.
However, we have seen the peak. By the end of this year, according to a KBW analyst, those per quarter costs should drop to below $2 billion before being cut in half each of the next two years. That puts annual LAS costs in 2015 to $2 billion - savings of $7.2 billion over current levels.
Another cloud of uncertainty is the $8.5 billion settlement that Bank of America has struck with investors over Countrywide's mortgage-backed securities. Hearings for that settlement continued last year, where some of the opponents, including AIG, started questioning experts. The settlement would put an end to $108 billion in MBS losses suffered by 22 parties. If the New York state judge declines the settlement, Bank of America may put Countrywide in bankruptcy.
Buying Bank of America here - closing at $14.49 on Friday - would certainly mean bearing that risk. But, I believe that this issue will be resolved in 2013, removing the overhang from BAC's share price. And, when that overhang is gone, investors will once again realize that Bank of America is discounted.
Price-to-Book Value > P/E Ratio
Sure, Bank of America's price-to-earnings ratio is above its peers. Looking at the forward P/E, BAC is the most expensive large bank, trading at 10.65 times forward earnings compared with 8.62 at JPMorgan (NYSE:JPM), 9.08 at Citigroup (NYSE:C), and 10.52 at Wells Fargo (NYSE:WFC). However, when it comes to banks with volatile earnings, P/E ratios can be misleading. Investors are usually unwilling to push to high multiples because bank earnings rely on leverage and cyclical fluctuations.
That's why looking at price-to-book value is a more accurate predictor of the relative valuations. And, by that measure, Bank of America is still vastly undervalued. The chart below shows BAC's relative price-to-book value since the financial crisis.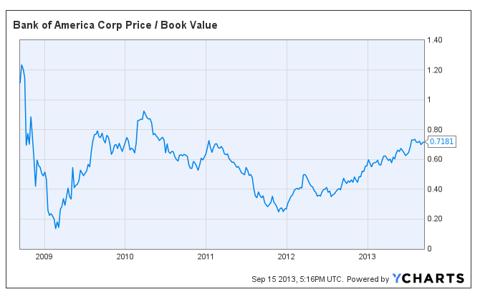 During that time, not once has the company recouped its book value - and probably for good reason. With the lingering Countrywide issues, BAC continued to sell at a deep discount because no one could be sure what that "book" value was, or at least what it was going to be in six months. Now, with more certainty and an improving economic landscape, we can be more certain.
Yet, Bank of America is still the most undervalued financial stock using this measure. Wells Fargo, which arguably will be the worst hit in a rising rate environment, trades at 1.5 times book; JPMorgan trades at book value; and Citigroup trades at 0.8 times book.
With book value per share of $20.18, even moving to Citigroup's valuation would see a 10 percent increase in BAC's stock price - to $16.14 per share. If BAC moves back to its price-to-book last seen in 2010, it would mean a price above $18 per share - and that's without any growth in the book value.
Moynihan Pay Tied to Key Metrics
And, Bank of America CEO Brian Moynihan will desperately be trying to increase book value. That's because it is one of the metrics that will be used to judge whether he will receive millions in stock awards.
So, no one has more to gain from Bank of America's success than CEO Brian Moynihan does, and that is how it should be. The deadline: December 31, 2015. That's when Bank of America's compensation committee will meet to determine whether Moynihan's stock options will vest based on these performance metrics.
Before Moynihan would see these units, the Bank would have to overcome the minimum of 0.62 percent return on assets and book value that grows by 5.25 percent between 2013 and 2015. To get paid in full, Bank of America will need to have average return on assets of 0.8 percent, while book value must grow by 8.5 percent annually between 2013 and 2015.
As of now, BAC has a return on assets of 0.3 percent over the past 12 months. To get that up to 0.62 percent would push it higher than it has been over the past five years.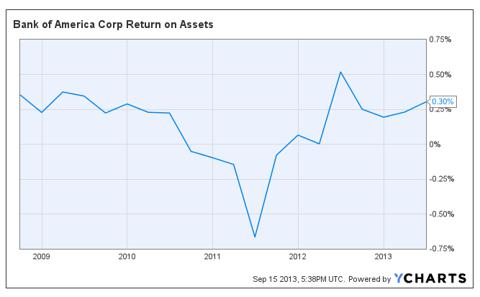 Meanwhile, Moynihan's larger challenge might be increasing the book value, which has stagnated in recent years, even declining from a high of $220 billion.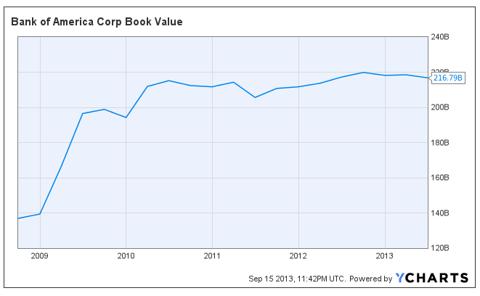 Moynihan has another two and a half years to bring these metrics up. Increasing return on assets and book value will only translate to better returns for investors - and I want to be in that trade.
Conclusion
The bottom line: at present levels, Bank of America is undervalued for the long term.
But, I think there are a number of short-term events that could spur more value before year-end. The first is a conclusion to the Countrywide Financial saga this year, which would remove the gray clouds and remaining uncertainty. Secondly, if the market expects, as I do, that BAC will receive approval to hike the dividend early next year, the price should move higher as well. That's why, from here, I see 20 percent upside to around $18 per share before 2014 even starts.
Disclosure: I have no positions in any stocks mentioned, but may initiate a long position in BAC over the next 72 hours. I wrote this article myself, and it expresses my own opinions. I am not receiving compensation for it (other than from Seeking Alpha). I have no business relationship with any company whose stock is mentioned in this article.