Twitter is going public. This is old news to most of you but exciting news for investors - and their September 12th tweet announcing the IPO has already itself been re-tweeted 14,626 times.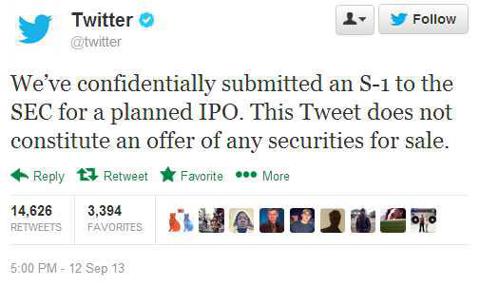 While it's usually very difficult for investors like you or I to get a hold of share in a popular company ahead of the IPO unless we have large accounts with underwriters like Goldman Sachs (NYSE:GS), who are taking lead on this one, we are able to piggy-back on Funds that already own Twitter, like GSV Capital (NASDAQ:GSVC), who have 1.9 Million shares.
GSVC has already jumped considerably on the news, from $12 to $13.83 on Friday, which is over 10% and that's up from $8 earlier this year but, even after the move up, GSVC is only valued at $267M. That would be roughly $15 per share of Twitter, even if Twitter were the only stock they owned!
A $13.83 investment in GSVC now coupled with a $20 or more IPO in Twitter is likely to yield a 10% bump in the price of GSVC's stock. That would be a very good short-term return on a stock that is much, much easier to get a hold of than getting Twitter yourself from your broker.
Firsthand Technology Value Fund (NASDAQ:SVVC) is a lesser-known owner of 1M shares of Twitter and Friday's close at $24.39 is only 20% above their recent range, certainly not taking into account the potential windfall that can come from a Twitter IPO. According to Barron's, as of late August, SVVC's 1M shares of Twitter were 10% of the fund, which was priced at $23 at the time.
Both SVVC ($46.50) and GSVC ($20.89) had huge runs into the Facebook (NASDAQ:FB) IPO for similar reasons. That one didn't work out and both funds fell out of favor but Facebook is back to it's IPO level ($40+) but the funds that hold them are still in purgatory.
I feel both of these small funds are fortunate to have gotten into the social media giants in the early stages and they offer the benefit to the investor of both getting in early and diversifying our investments through their other existing holdings.
Disclosure: I have no positions in any stocks mentioned, but may initiate a long position in GSVC, SVVC over the next 72 hours. I wrote this article myself, and it expresses my own opinions. I am not receiving compensation for it (other than from Seeking Alpha). I have no business relationship with any company whose stock is mentioned in this article.