This small company has innovated its way into many of today/s hottest emerging trends of Cloud computing, SDN (software defined networking), NFV (Network Function Virtualization), Virtualization, Security, Wire speed solutions, and Big Data. The groundwork has been laid over the past few years to find its way into every key player in these key technology sectors.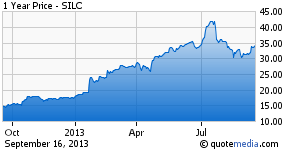 One strategic driver for Silicom (NASDAQ:SILC) was to develop a platform technology called SETAC which simply is a framework of marrying Server grade performance with the flexibility of an Appliance. This is not simply a product, but rather architecture to leverage Silicom's vast array of innovative networking solutions into today's hottest trends. Silicom has not only placed itself in position to take advantage of all the underlying trends resulting from rising internet traffic, but is also capitalizing on the trend towards standard servers being used more as their computing power has increased, and away from specialized hardware, previously needed to perform the complex calculations necessary to enable network solutions. Silicom provides the building blocks for cutting edge solutions to address the bottlenecks created from overwhelming data.
Aided by SETAC, Silicom has secured Design Wins worth Tens of Millions of dollars of potential business since its launch, which has begun to ramp in the last few Quarters. They are suppliers to the vast majority of the key players in the various verticals, and are adding customers all the time in the newest technological spaces. Importantly, Silicom has never lost a customer, which exemplifies the quality of their products and outstanding customer service. One example is Silicom recently released a new innovative Nano Time stamp adapter that is the fastest and lowest cost on the market. This product alone, in my opinion, has the potential to add 40 to 50 Million dollars of annual revenue, as this is a new hyper growth market with 50% plus market growth rates. This product will begin a rapid ramp up that should begin in earnest in 2014. One can look at Gigamon (NYSE:GIMO) as an example of the growth rates of network monitoring products.
Silicom will enjoy explosive growth for several years as the rise in data traffic and big data from the likes of Netflix, Amazon, and the continued explosion of mobile data traffic drive exponential need for big data solutions.
Close collaboration with the industry's top players, Silicom has positioned itself as the arms dealer to the battle of managing big data traffic and is strategically at the crossroads of today's hottest emerging trends. The Telecom market is also converging into the world of digital big data and Silicom is armed with the portfolio to provide solutions to help enable this future.
In my previous articles, I outlined revenue and earnings expectations for what has now drawn near. As with virtually any company, the macro economic backdrop pulls back and forth exact timing of events, and also effects new product introductions and ramp trajectories.
Long term, I expect that Silicom will continue to prosper in the Networking markets, thru further new product innovations and from gaining further market share with existing customers. Another strategic transformation for Silicom will be to ride the wave of the coming Telecom and data center convergence alongside the migration to the 100GB data center world and produce revenues in the area of $250MM annually which will yield earnings of roughly $8.00 per share assuming 7MM shares outstanding and a 22% net margin. This implies a more than 30% CAGR and assuming a PEG of 1 and a P/E of 30, there is strong appreciation potential alongside the rising annual dividend while holding.
With a diversified customer list approaching 100, and a cadre of products that are designed into a product that usually takes months or years to get embedded, Silicom has rather manageable risks for a small technology firm and could not easily be replaced.
This quiet, well managed company with its black bag of innovative products will be an exhilarating trip on a magic carpet ride through the cloud.
Disclosure: I am long SILC. I wrote this article myself, and it expresses my own opinions. I am not receiving compensation for it. I have no business relationship with any company whose stock is mentioned in this article.