Background
According to research group Global Industry Analysts Inc., world snack food sales will top a third of a trillion dollars by 2015. "The main factors fueling the market are income levels and consumer perceptions and demographics," reports the group's analysts. "The market is highly fragmented and intensely competitive, with an abundance of industry players in all categories from small to large."
Operating in developed markets poses a particular challenge. Food manufacturers and retailers must look for pockets of growth in a sluggish landscape that is competitive to the point of saturation.
To grow sales in markets like the US and Europe, companies must build brands, develop new faster-paced categories and invest in innovation.
One company that is one of the leaders in innovation and building brands in the U.S. is a company called: Inventure Foods (NASDAQ:SNAK).
Investment Thesis
Inventure Foods has seen healthy growth the last few years, and this growth is likely going to be continued. The company's value doesn't reflect the full potential of their underlying business.
The Company
The company is a marketer and manufacturer of specialty brands in better-for-you and indulgent categories under a variety of company owned and licensed brand names, including Boulder Canyon Natural Foods™, Jamba™, Rader Farms®, T.G.I. Friday's®, Nathan's Famous®, BURGER KING™, Poore Brothers®, Tato Skins® and Bob's Texas Style®.
click to enlarge)

Inventure Foods is headquartered in Phoenix, Arizona and has plants in Arizona, Indiana and Washington.
Financial Performance
If we look to the financial performance we can see that the company is doing a great job. The numbers I extracted from the latest investor's presentation in August.
(click to enlarge)

(click to enlarge)

(click to enlarge)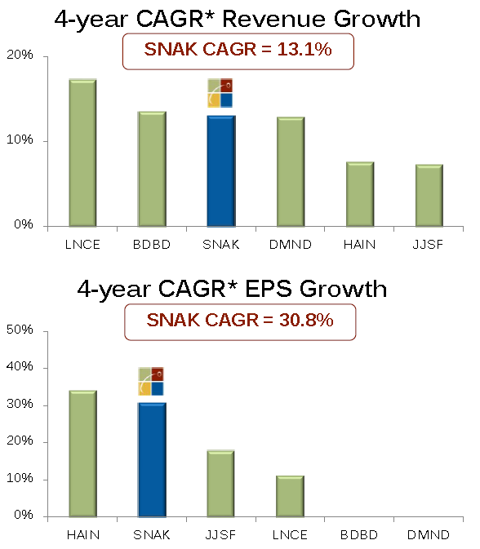 Second quarter results were the highest in the company's history, with net revenues totaling $53.7 million, which includes $1 million in revenues from its newly acquired Willamette Valley Fruit Company.
The healthy natural portfolio products continue to lead the way representing 65% of the total net revenues and sales growth of 16.9%. The strength of the company's frozen fruit business has been one of the keys to this success of this portfolio.
The last quarter Inventure took steps to ensure the continued growth of its frozen fruit business, with the addition of Willamette which expanded its recent capabilities, packaging capabilities and added presence in another geographical location with direct lines to local growers.
On May 28, 2013, it made an acquisition of the berry processing business of Willamette Valley Fruit Company, LLC, a family owned business located in Salem, Oregon. The acquired company has become one of the Pacific Northwest's leading processors of high-quality berry products. Each summer, it processes an average of 13 million pounds of fruit, including strawberries, raspberries, boysenberries, blueberries, cranberries and a variety of blackberries including a local favorite, Marionberries.
The frozen beverage business continues to be a strong category for Inventure Foods. The second quarter marked another chapter in the Jamba At-Home smoothies' success story as market share in this category continues to increase. Jamba sales grew by 20.8% during the quarter.
The success of the Jamba products led the way for the launch of the coffees category first blend-at-home frozen coffee beverage (Seattle's Best Coffee).
This product is now also exceeding distribution expectations and will be available at more 10.000 points of sale by the end of this quarter.
Competition
The snack food industry is large and highly competitive and is dominated by large food companies, including Frito-Lay, Inc., a subsidiary of PepsiCo (NYSE:PEP), Procter & Gamble (NYSE:PG), Kellogg's (NYSE:K), ConAgra (NYSE:CAG), Diamond Foods (NASDAQ:DMND) and General Mills (NYSE:GM). These companies possess substantially greater financial, production, marketing, distribution and other resources than Inventure, and their brands are more widely recognized but that doesn't mean that Inventure can't compete.
The company's frozen berry products generally compete against other packaged berries on the basis of quality and price. Key competitors include Townsend Farms, Sunopta, Cascadia Farms, Wyman's and Dole. Obtaining freezer space at supermarkets and club stores is critical to successfully compete with other berry products, as supermarkets and club stores will frequently only carry one brand of frozen berry products, contrasted to snack products where multiple brands are carried.
Inventure's smoothie kits generally compete against other packaged smoothie kits on the basis of quality and price. Key competitors include Yoplait, a General Mills brand, Dole smoothies and a number of smaller brands. Obtaining freezer space at grocery, mass merchandiser and club stores is critical to successfully compete with other smoothie products, as grocery, mass merchandisers and club stores will frequently only carry two to three brands of frozen smoothie products, contrasted to snack products where multiple brands are carried.
Inventure Foods competes principally on the basis of product quality and taste.
Direct Competitor Comparison
Food Companies
Market
EV/
EV/
Current
Gross
Perf.
Company
Ticker
Price
Cap
Revenues
EBITDA
Ratio
P/S
PEG
Margin
YTD
Inventure Foods
SNAK
9.00
175.26M
1.05
13.66
1.81
0.91
1.32
18.90%
38.67%
PepsiCo
PEP
80.32
123.87B
2.20
11.70
1.15
1.87
2.22
52.70%
19.90%
ConAgro
CAG
31.88
13.37B
1.48
11.14
1.29
0.86
1.32
23.00%
10.43%
General Millis
GIS
49.25
31.56B
2.18
11.16
0.81
1.76
2.12
36.10%
24.62%
The Kellogg Company
K
60.64
21.98B
1.99
13.35
0.86
1.47
2.14
37.10%
10.96%
source: Finviz, Yahoo Finance
From a valuation point of view and in comparison with some big direct competitors, there is room left for the stock price to appreciate to levels between $11.50 - $12.50.
This fiscal year will still be a year of fine-tuning so we don't expect a lot on the margin front and we expect EPS to be in line with last year. The next year, however, we expect earnings per share of $0.48.
Final Note
American consumers are snacking more than ever thanks to less frequent restaurant dining, frenzied lifestyles that encourage on-the-go eating, a growing tendency to replace meals with several smaller snacks and marketer efforts to combat the obesity epidemic by developing healthier snack foods that still taste appealing.
The boundaries between meals and snacks are becoming more blurred, creating consumer consumption habits that will resonate for generations.
Health continues to be a strong motivator for food purchases among U.S. consumers, and this will remain so for the foreseeable future. The pursuit of wellness spans all age groups: the aging population is seeking ways to feel younger and more vital, and the nation as a whole has realized that healthy eating habits need to be taught early on to fight the obesity epidemic.
As consumers seek ways to achieve a healthier lifestyle, snack foods that are marketed as "better for you" will remain popular. Companies are realizing that they must highlight attributes such as vitamins, minerals, fiber content and lower sodium to both educate consumers and take advantage of demand for such products. At the same time, with the ever-growing abundance of "better-for-you" snack products, marketers must also offer secondary offerings to attract consumers, such as unique flavors or ingredient blends, with great taste as a given.
In the healthy/natural snack space, Inventure products such as Rader Farms frozen berries, Boulder Canyon Natural Foods brand kettle cooked potato chips, Jamba branded blend-and-serve smoothie kits under license from Jamba Juice Company are setting the tone.
At the end this could lead to interest from bigger competitors to snap up the company. As one or our largest fund holdings we see a potential buyout within a timeframe of five years.
Disclosure: I am long SNAK. I wrote this article myself, and it expresses my own opinions. I am not receiving compensation for it (other than from Seeking Alpha). I have no business relationship with any company whose stock is mentioned in this article.
Additional disclosure: Dutch Trader is managing partner of RJT Capital, a Dutch-based investment fund. RJT Capital is long SNAK.www.iextraders.nl/Portfolio/1139129/RJT.aspx