In its second-quarter earning release, Sunshine Heart (NASDAQ:SSH) explained why it took longer than expected for U.S. sites to get activated:
...Given multiple ongoing device trials and additional stem-cell studies examining Class III heart failure patients, U.S. sites are currently taking an average of about six months from trial commitment to activation, longer than ... initially expected...
Stem-cell therapy was cited as one of the competing treatments that potentially slowed the sites' activation. Now, news that broke last Friday could possibly expedite the U.S. pivotal trial COUNTER HF, and also removes concerns among investors that C-Pulse could be overtaken by stem-cell therapies. On Sept. 13, Chris Kaiser, the cardiology editor at MedPage Today, reported that based on one-year results of the randomized CADUCEUS trial, autologous stem cells shrank cardiac scar tissue and increased viable heart tissue but did little to improve functional outcomes:
The 17 patients treated with stem cells saw an absolute decrease of 11% in LV scar tissue compared with a 2.2% decrease in eight controls not treated with stem cells (P<0.004), according to Eduardo Marbán, MD, PhD, director of the Cedars-Sinai Heart Institute in Los Angeles, and colleagues. In addition, cardiac MRI showed a significant mean increase in viable LV mass of 22.6 g compared with 1.8 g in controls. ... However, the stem-cell treatment did not lead to any significant changes from baseline to one year in end-diastolic and end-systolic volumes, cardiac output, or stroke volume -- which also was evident at six months. Neither were there any significant changes in NYHA functional class, peak oxygen consumption, quality of life scores, or distance walked in six minutes in the treated group compared with controls...
The news clearly does not bode well for NeoStem's (NBS) AMR-001, a chemotactic hematopoietic stem-cell product comprised of autologous bone-marrow-derived CD34+/CXCR4+ cells selected to treat damaged heart muscle following heart attack. AMR-001 is currently being evaluated in a Phase II study. The difference between stem cells in the CADUCEUS trial and AMR-001 is that CADUCEUS used cardiosphere-derived stem cells (CDC), while AMR0991 is bone-marrow-derived. Both are autologous -- i.e., stem cells are taken from the same individual and therefore have no foreign immune antigens that may be rejected. But CDCs could be superior in that because the cells come from the person's heart, they are more likely to form heart tissue.
Even though CDCs show the ability to heal scar tissues, they failed to boost heart function. In contrast, C-Pulse reduced one NYHA class on average in the feasibility study and improved quality of life and six-minute walk scores. This news clearly makes the compeitive landscape for C-Pulse look even brighter. Sunshine Heart will dominate the Class III/ambulatory class IV market. Based on the recent corporate presentation, there are about 1.5 million Class III patients in the U.S. and 3.7 million in Europe.
Click to enlarge image.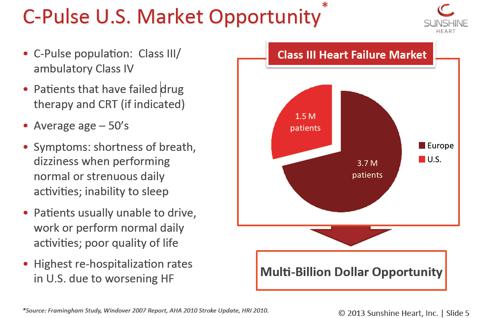 C-Pulse used to be priced at $59,000/patient. If we assume a modest 10% penetration rate, that would translate into more than a $30 billion sales opportunity. Given the feasibility study results and the odds of success of a EU trial and a U.S. trial, Sunshine Heart is severely undervalued with a $136 million market cap.
We believe that the ongoing updates from the EU open-label trial will continue drive the share price higher throughout 2013 and 2014. Favorable EU reimbursement decisions in 2014 will mark the start of the transformation of Sunshine Heart from a development-stage biotech company into a commercialization-stage medical device giant.
Disclosure: I am long SSH. I wrote this article myself, and it expresses my own opinions. I am not receiving compensation for it (other than from Seeking Alpha). I have no business relationship with any company whose stock is mentioned in this article.