Editor's note: This article covers a micro-cap stock. Please be aware of the risks associated with these stocks.
Celsion (NASDAQ:CLSN) is a "leading oncology company" that I've been following very closely since a month or two before the company's Phase III HEAT trial failure that took place in early 2013.
So far, Celsion has been holding up, staying up over $1 steadily since it has first peeked its head back over the $1 line two months ago. Monday morning, Celsion opened up about 5% on continued positive news of Celsion's Thermodox improving overall survival and progression free survival in patients that underwent RFA for sustained periods of time.
Celsion's stock performance has waned recently - catalyzed by disclosed short sellers lobbing half truths and conjecture about the company. According to CLSN at Yahoo! Finance, as of August 30 2013, over 20% of the float (20.60%) is being held short.
The purpose of this article is to review recent CLSN news and then get across how Celsion could potentially burn the shorts. As you can see from the six month chart below, Celsion looks to have found some significant support at around $1.10, about 50% higher than their post-Phase III support level of around $.70. Confidence seems to be coming back, little by little.
As I stated in a previous article, those who have been invested in Celsion since before the post-Phase III crash in January 2013 are likely to be sitting on losses. Those who have invested afterwards, in what I call the "new" Celsion, were at one point up pretty handsomely - but lately, the price has settled in the $1.10-$1.30 region.
My first argument to reinvest in Celsion post-crash came when I wrote an article claiming the new Celsion could, at some point, be worth $4/share. I still maintain this view and no doubt that a short squeeze would be part of the fuel added to Celsion's fire to get us there.
As far as refuting the shorts myths, I've done my part. On August 6th, I wrote an article called "4 More Bearish Celsion Myths Refuted," which was a second part to an article called "6 New Bearish Celsion Myths Destroyed," that I wrote on June 12th of this year. Both articles systematically dissected ludicrous arguments that were laden with hearsay from anonymous sources and general lack of facts.
What's New?
Monday morning, Celsion released a PR talking about the intricacies of its presentation at the International Liver Cancer Association 7th Annual Conference, held in Washington DC this past weekend.
(Source Celsion.com)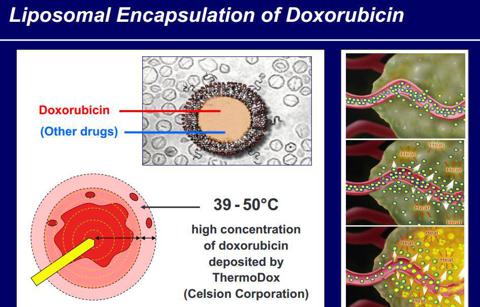 (Click to enlarge)
The data, although not "statistically significant" by FDA standards, continues to nod in the right direction for a second Thermodox trial potentially boding well (I've added my emphasis in underline):
Professor Poon's oral presentation, titled "Phase 3 Randomized, Double-Blind, Dummy Controlled Trial of Radiofrequency Ablation (RFA) + Lyso-Thermosensitive Liposomal Doxorubicin for Hepatocellular Carcinoma (HCC) Lesions 3-7 cm," was held on September 14, 2013 at 12:00 p.m. (local time) during the Plenary Session. Professor Poon's presentation also included the most recent Overall Survival data from the HEAT Study post-hoc analysis which continues to suggest positive progression-free survival (PFS) and Overall Survival (OS) in ThermoDox® treated patients when heating cycles from the radiofrequency ablation (RFA) procedure were optimized.

The data from the HEAT Study post-hoc analysis presented by Professor Poon demonstrate that ThermoDox® markedly improves Overall Survival, when compared to the control group, in patients if their lesions undergo RFA for 45 minutes or more. These findings apply to single HCC lesions (63% of the HEAT Study population) from both size cohorts of the HEAT Study (3-5 cm and 5-7 cm) and represent a subgroup of approximately 300 patients (42% of the patients in the HEAT Study).
And with that, Celsion has opened up about 5% higher Monday morning. In the face of a failed FDA approval, it's certainly not the "whole enchilada" for Celsion, but it is a current and continued reminder that the Company obviously thinks they can find some value in a second Thermodox trial for HCC.
Anatomy of a Short Squeeze
Obviously, the first thing that you need for a squeeze is a significant short position in a company. You need enough shares held short so that when shorts begin to start covering, they have to do so a pace that continues to propel the stock upwards. As stated earlier, According to CLSN at Yahoo! Finance, as of August 30 2013, over 20% of the float (20.60%) is being held short.
In addition, Celsion is the type of stock that lately has been trading with a significant amount of volatility, including some days (on it's recent run up to $2, before its financing with Sabby closed), that Celsion was trading almost ten times its normal trading average.
The last thing you need is a catalyst - Celsion has a few potential catalysts coming down the pipe. An announcement of a second HEAT trial ALONE, before ever even suggesting results, is going to lead to a good old fashioned biotech emotional runup. If Celsion acquires another company or updates investors on their DIGNITY study for recurrent chest wall cancer, they could potentially act as catalysts as well. The dinner plate is set, it's up to Celsion to deliver the steak.
Risks & Concerns
As I stated in my last article, "Hey Celsion - Tell Me Something Good", I'm really interested in hearing about the company's progress on potential acquisitions:
It's been over two full quarters since the company first suggested the idea of acquisitions to not only bolster its pipeline, but to avoid "having all of its eggs in one basket" with Thermodox. I thought this was a great piece of corporate strategy and got behind it immediately. The company said they had engaged Cantor Fitzgerald to assist with potential M&A, and then a quarter later updated that they had 10 potential candidates that they were looking at.

Everything else that the new company proposed after the HEAT trial, namely downsizing and cost cutting, they've done effectively and I've been happy with them.

But, we're now going on three quarters with no substance on acquisitions. I've argued previously that acquiring a profitable company or a company with a pipeline that complements Celsion's strategy could be great moves for the company and for shareholders.
There isn't a ton of tangible near-term risk for Celsion, as they have a great looking balance sheet and plenty of cash to do their business with well into 2015 at their current burn rate. Potential risks going forward could include a cash burden on the company for another HEAT trial and having to dilute further by another equity financing. This, of course, will be helped by a continued upward momentum in Celsion's stock price.
Analysis
The continued promise of Thermodox potentially having some value would really be the icing on the cake at this point for Celsion, who I believe is really position themselves to be able to operate in the absence of Thermodox for HCC.
My confidence in the company revolves not only around the potential for Thermodox, but in the company being able to continue changing its corporate strategy so that it doesn't have to rely on Thermodox if it doesn't want to. I've often stated, it's the delivery, not the drug. I have no doubts that Celsion's patented liposomal drug delivery method will bear fruit at some point - it's just finding the right combination of application and drug.
Acquisition of either a profitable company or a company with a pipeline could give Celsion "another leg to stand on", and go a long way to infuses more confidence into the company.
I remain on the sidelines here, but continue to look for potential areas for reentry into Celsion. There is zero doubt in my mind that I will be back in CLSN at some point over the coming months, likely for the long haul. Best of luck to all investors.
Disclosure: I have no positions in any stocks mentioned, but may initiate a long position in CLSN over the next 72 hours. I wrote this article myself, and it expresses my own opinions. I am not receiving compensation for it (other than from Seeking Alpha). I have no business relationship with any company whose stock is mentioned in this article.