If you have not already noticed by now, much of our lives require regular maintenance. Unfortunately many of us cannot escape many of life's tasks such as running errands and paying bills. Many of us have regular doctor visits to make sure that we are keeping our bodies fit.
As investors we must also take the time to make sure that our investments are still in line with our goals and expectations. It wouldn't be very smart to invest in something and to never check up on it. With so much information nowadays, investors have tons of information at their fingertips. So what are some things that investors should be looking for with regards to their stocks?
Fundamentals: Investors should always be checking in on the fundamentals of a company. Every quarter investors have the opportunity to go over the earnings reports. In these reports, investors are able to see the type of direction a company is headed (for better or worse).
Insider Trading: All over the world insiders of companies are buying and selling shares. While you shouldn't base your entire investment decisions off of what insiders are doing, watching what they are doing can be very helpful. Peter Lynch said it best about Insider trading when he said, "There's no better tip-off to the probably success of a stock than people in the company putting their own money into it. Insider selling usually means nothing, and it's silly to react to it...but there's only one reason that insiders buy: They think the stock price is undervalued and will eventually go up."
Institutional Holdings: Institutions, hedge funds and many other firms are required to update their holdings every quarter through a Form 13F. The Form 13F filings can offer some interesting insights, such as which stocks are being accumulated by institutional investors, and which stocks are being dropped.
Vringo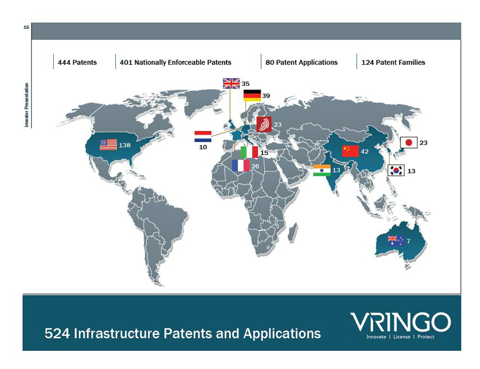 Many investors know Vringo (VRNG) because of its patent lawsuit against Google (NASDAQ:GOOG). While the case against Google shines the brightest lights, Vringo has quietly been putting other pieces together. Here is what has taken place over the last little bit.
July 2012: Vringo completed its merger with Innovate/Protect.
August 2012: Vringo enters into a Patent Purchase Agreement with Nokia (NYSE:NOK). Vringo receives a patent portfolio consisting of over 500 patents and patent applications worldwide.
November 2012: A jury ruled in favor of I/P Engine (Vringo) against Defendants with respect to Defendants' infringement of U.S. Patent Nos. 6,314,420 and 6,775,664. The jury found that reasonable royalty damages should be based on a running royalty, and that the running royalty rate should be 3.5%.
April 2013: Vringo is added to the NASDAQ. Vringo is expanding its visibility to an even broader range of investors. This is a positive sign for investors as Vringo looks to show that it has transformed itself from a small speculative, micro-cap stock into a more broadly held and sound company.
June 2013: Vringo was added to the Russell Indexes.
September 2013: Vringo files a patent infringement lawsuit against The ADT Corporation, ADT LLC, ADT Security Services, Inc., and Tyco Integrated Security.
Institutions Are Buying Vringo
Investors should know that institutions, hedge funds and many other firms are required to update their holdings every quarter. These filings can offer some interesting insights, such as which stocks are being accumulated and which stocks are being dropped. So what is taking place with Vringo?
Over the past year, Institutional activity in Vringo has slowly picked up. It was not that long ago that institutional ownership was in the 7%-8% range. In the last little bit this number has since doubled as Vringo has Institutional ownership up over 15%.
Watching what big money is buying and selling can be a good indicator for longs or shorts. With a number of teams and analysts at their disposal, institutions and large funds have access to data in which they are able to perform in-depth analyses to decide which investments can maximize their profits. Does this guarantee that they will make money? No. But it does greatly enhance the probability that they will make money and put themselves in a better position than most retail investors.
If Institutional investors are buying a stock, that can be an endorsement of sorts that a stock has great prospects. If they are selling, it could mean something is wrong. The fact that institutional investors are buying shares and building their positions in Vringo points to the fact that Vringo has evolved from a speculative patent litigation play and into a more solid institutional-ready investment.
| | | |
| --- | --- | --- |
| Ownership Analysis | # of Holders | Shares |
| | 81 | 12,749,876 |
| | 30 | +2,099,218 |
| | 46 | +7,156,631 |
| | 29 | -1,711,246 |
| | 20 | -731,865 |
| Total: | +27 | +6.8 Million |
Some of this buying directly relates to Vringo's addition to two Russell indexes.
Big Money: The Good And Bad
When my wife and I go to an amusement park she always does her best to make sure we avoid the parts with all of the roller coasters. Why is this so? Three words; she gets sick. Investing in the stock market can be the same way with all of its pops and drops, upgrades and downgrades, confusion and halts. While we cannot avoid everything, we can take steps to make sure we put ourselves in the best situation possible.
No matter how big or how small your investment is, it's important to make sure you do your own proper due diligence with stocks that you are interested in. Never invest blindly or because somebody told you about a "hot stock."
Because big money have vast amounts of money at their disposal, their involvement in most stocks is usually welcomed with open arms to shareholders. However, big money isn't always a positive thing, especially when they are selling.
Institutions for the most part have a lower turnover rate compared to other big players. This means that institutions are not buying and selling stocks as frequently as others. This is good news for shareholders since frequent trading can result in a lot of volatility in stocks.
It can take awhile for some institutions to build positions in stocks (especially those with low volume). Nevertheless, when funds do obtain large positions, you can bet the farm that they are confident about a stock and will do their utmost to make sure their investment stays on track.
The Bad
Every investor in the stock market is looking for a great return on their investments - no doubt about it. Investors buy a stock for one reason and one reason only. To make money. They feel that a stock is undervalued and will eventually go up in price, thus profiting off their return. Investors sell because they feel a stock has become too expensive or something is wrong with a company.
Individual portfolio managers are different in that they frequently buy and sell stocks. What's the reason? Most managers are evaluated on their performance on a quarterly basis. Their positions are usually compared with other funds as well as other major market indexes such as the S&P 500, NASDAQ and DJIA.
Managers who happen to be having a bad quarter and underperforming, will usually dump underperforming positions and buy into stocks that have trading momentum. Some good momentum stocks examples are Netflix (NASDAQ:NFLX), Tesla Motors (NASDAQ:TSLA), Vipshop (NYSE:VIPS) and NQ Mobile (NYSE:NQ). When this takes place, the likelihood that funds are selling some of these stocks at an inopportune time can be pretty high. This leads to extreme volatility in stocks and hurts those investors who happen to be on the wrong side of the trade.
This type of activity drives stock prices with little regard to the underlying fundamentals of a company. Investors could see fund's dumping shares of a certain stock and incorrectly assume that there was something wrong with a particular company.
As you can see big money can be a blessing or a curse depending on what happens with your investment. Institutions can quickly drive up the price of a stock with large orders. However, just as quickly the stock can go into a free fall if institutions decide to sell and move on to a better opportunity with another stock.
Conclusion
If you are anything like me, you invested in the stock market for one particular reason. To make money. By doing your due diligence about a company you are taking the necessary steps to put yourself in the best possible situation.
Looking at insider trading, stock ownership and the fundamentals of a company will give you a great leg up on other investors. I've written several articles about Vringo in these regards here and here and why I like its future prospects going forward.
As a reminder investors should watch for big changes one way or the other in overall stock ownership. A change by a number of institutions could signal that something significant has changed about the company and its future prospects. Also, don't ignore the fundamentals of companies. Fundamentals will always tell the best story about a company's long-term chances for success.
It can be very beneficial for investors to keep tabs on and react to the moves the stock's biggest players are making. Seeing as how stock ownership has doubled in Vringo within the last year shows that a positive change looks to be in the works. I really like Vringo and will continue to add on any dips going forward. For those wondering about my track record and other stocks that I like click on the link provided.
Disclaimer: Investors are always reminded that before making any investment, you should do your own proper diligence on any stock mentioned in this article and to make sure you are comfortable with your investment strategy. Have a great day and as always, I look forward to hearing your thoughts or questions that you might have.
Disclosure: I am long VRNG. I wrote this article myself, and it expresses my own opinions. I am not receiving compensation for it (other than from Seeking Alpha). I have no business relationship with any company whose stock is mentioned in this article.