Yahoo! (YHOO) revealed its new logo last week, which is a part of an ongoing makeover. In its second quarter 2013 results, Yahoo! posted a decent performance of 46% year-over-year increase in its net earnings, which was better than its first quarter result of 36% year-over-year increase in net earnings. During the second quarter, Yahoo! launched many product updates, including Weather, Flickr, Search, Sports, and News, and it completed nine acquisitions to strengthen its product offerings.

Revenge of the fallen
Recently, Yahoo! attracted attention when comScore, a web analytics company, released a report ranking the top U.S. web sites in terms of unique visitors. Yahoo! sites were the most visited sites, with 196,564 unique visitors, ahead of its biggest competitor's, Google (GOOG), 192,251 unique visitors in July 2013. This is the first time since March 2008 that Yahoo! bumped Google from the first spot. The redesigned Yahoo! homepage was one of the factors for this increase in web traffic.
This new home page makes it easier to search and receive required information with more relevant searches on the top of the result page. Owing to success of its homepage, it decided to redesign seven of its websites Yahoo! Sports, Yahoo! Movies, Yahoo! Music, Yahoo! TV, Yahoo! omg!,Yahoo! Games, and Yahoo! Weather.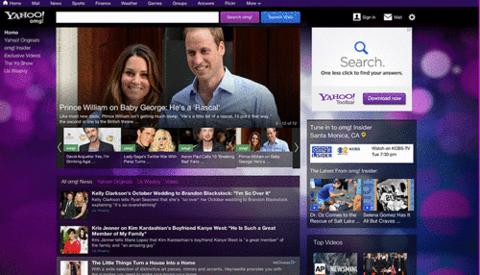 The redesigned pages will be similar to the Yahoo! Homepage with personalized news and services customized to the interests and clicks of the user. There are also specific changes made to each of its seven websites and has received mixed responses to its website redesigns thus far. Many users are delighted with the new layout, while others are cursing the new look of Yahoo! Sports.
Despite these changes, Trefis estimates only a minor increase in revenue per page view to $1.37 per 1000 users in 2013 from $1.36 per 1000 in 2012. We believe that Yahoo! will maintain its top position in terms of unique visitor views, and the initiatives will help increase Yahoo!'s display segment revenue in the third and fourth quarter of 2013. As user traffic increases on its websites, it will attract more advertisers and increase the display segment's revenue, which has shown a decline of 12% year over year in the second quarter of 2013.
In pursuit of search revenue
Yahoo!'s search segment contributes around 38% of the company's total revenue and had global market share of 4.90% in 2012. Its market share has been falling over the years; it occupied 9.35% of the global market share in 2008. The company is trying to revive its search revenue and regain its market share. In August 2013, it entered in a multi-year search and distribution partnership with Perion Network (PERI). Perion is an Internet company that develops products such as e-mail, instant messaging, and photo sharing. It distributes its products and services to consumers in around 100 countries. Under this agreement, Yahoo! will power Perion search services; this means that the Yahoo! search marketplace and services will be available to Perion's customer base. Yahoo! Marketplace is where advertisers bid the amount they are willing to pay for placement of ad on Yahoo!'s page.
On the agreement, Perion's CEO, Josef Mandelbaum, said,
"Yahoo! is one of the most recognized names in search, and a company with a long history of innovation. Perion is pleased to add Yahoo! as a search provider and hopes that this agreement is the beginning of a long and fruitful relationship."
The total paid clicks grew 16% and 21% in the first and second quarters of 2013 respectively. We expect that the total paid clicks will increase with the help of the Perion partnership, which has an installation base of more than 18 million and over 150 million downloads. Through this partnership, Yahoo! will gain access to Perion's customer base. This will increase user traffic on its search services, and will help Yahoo!'s search revenue to reverse its declining trend.
The fellowship of the technology giants
Yahoo! filed a lawsuit against the National Security Agency, or NSA, on September 9, 2013, so it can publicly release the number of data requests it receives from spy agencies. Yahoo! joined U.S. technology giants Google and Facebook (FB), which filed similar suits earlier. In June 2013, the Guardian published that NSA can directly access the systems of these companies and look at user's private data with the PRISM program. PRISM is an undisclosed program that allowed government officials to collect e-mail content, search history, live chats, etc. from these companies.
In its petition, Google clarified that the U.S. government doesn't have direct access to its servers, and it only provides data under lawful requests. Google, which prides itself for privacy of user data, could be in a tight spot due to this controversy. Due to the PRISM program, users could lose trust and stop using Google services. This will not only reduce its user traffic, but would drive away advertisers as well.
Yahoo! General Counsel said:
"We believe that the U.S. Government's important responsibility to protect public safety can be carried out without precluding Internet companies from sharing the number of national security requests they may receive".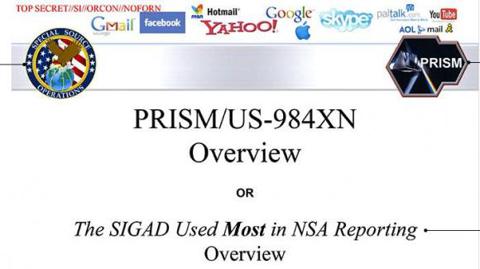 (Source: theguardian.com)
This has become a controversial topic since former NSA Edward Snowden leaked that technology companies were providing user's private information to U.S. government.
A Washington think tank, Information Technology and Innovation Foundation, has estimated that PRISM could cause a loss of $35 billion by 2016 in U.S. cloud computing industry. Yahoo! offers cloud services through cloud-based storage platform Dropbox. Yahoo! Mail is integrated with Dropbox, which allows users to download and store files on the Dropbox server. Many Yahoo! Mail users will be affected by the PRISM program, which will affect Yahoo's business. We believe that this controversy will hurt the reputation and business of all these technology companies, especially data storage cloud companies as users are concerned about the privacy of their data stored on the their servers.
Conclusion
Though Yahoo! overtook Google in terms of page views in the U.S., it is still a long way to go for a turnaround. Since becoming CEO of Yahoo!, Marissa Mayer has tried to revive company's growth with the adoption of different strategies. It is going through a major overhaul and collaborating with tech companies to regain its search market. Looking at Yahoo!'s strong fundamentals, we believe it should deliver good results in the coming quarters, which will provide an upside potential for this stock.
Disclosure: I have no positions in any stocks mentioned, and no plans to initiate any positions within the next 72 hours. I wrote this article myself, and it expresses my own opinions. I am not receiving compensation for it (other than from Seeking Alpha). I have no business relationship with any company whose stock is mentioned in this article.
Additional disclosure: Fusion Research is a team of equity analysts. This article was written by Rohit Gupta, one of our research analysts. We did not receive compensation for this article (other than from Seeking Alpha), and we have no business relationship with any company whose stock is mentioned in this article.