Owners of Linn Energy (LINE) and LinnCo (LNCO) most certainly had a good run last week. On Wednesday, Linn Energy surged over 10% when the company provided an update to its planned merger with Berry Petroleum (BRY). This should be considered good news as it is basically "an expression of confidence" from the companies that this will be the final round of comments from the SEC and that a shareholder vote is around the corner. Also, on Thursday, Linn Energy announced a major acquisition of oil and natural gas properties in the Permian Basin. Combined, these announcements sent shares of Linn Energy about 16% higher for the week. Linn Energy currently offers a $0.2416 monthly distribution, or $2.90 annually, which equates to a yield of 10.30%.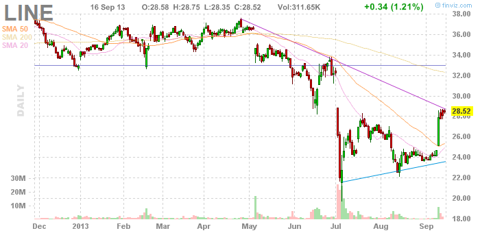 Click to enlarge
Linn Energy buys Permian Basin properties for $525M
On September 12, Linn Energy announced that it was purchasing oil and natural gas properties located in the Permian Basin for $525M. This is basically a "bolt-on" acquisition, very much similar to other purchases made by Linn Energy and other upstream MLPs.
The estimated TTM production for these assets will be around 4,800 BOE/D, of which about 63% is expected to be oil. Proved reserves are estimated to be about 30 MMBOE, of which 70% is oil, with an estimated reserve life of 17 years. The properties include about 124 producing wells and 6,250 net acres, with another 300 low-risk infill drilling and future waterflood opportunities.
An interesting nugget from the press release is that Linn Energy intends to finance this acquisition with proceeds from a committed $500M senior secured term loan. The term loan is expected to have a maturity of April 2018, which is the same date of maturity for Linn Energy's revolver, and is expected to have an interest rate of LIBOR plus 2.5%.
This would mark a departure from Linn Energy's typical strategy of funding acquisitions with about 50/50 debt and equity. However, this change of course is understandable, considering the low unit/share prices of Linn Energy and LinnCo. Cost of capital is a very sensitive issue for MLPs. Do note that the company believes the purchase will "be immediately accretive to cash available for distribution," with one analyst at Wells Fargo estimating between $0.10 to $0.15 of accretion to DCF.
Did Linn Energy get a good price?
Due to the volatile nature of E&P assets and pricing, it is difficult to determine if Linn Energy achieved good pricing with this acquisition. What we can do is compare this proposed transaction with deals announced by other upstream MLPs in the Permian Basin.
Below are a couple of examples:
On December 11, BreitBurn Energy Partners (BBEP) purchased Permian Basin properties for $190M. (link)
On February 28, Vanguard Natural Resources (NYSE:VNR) purchased Permian Basin properties for $275M. (link)
| | | | |
| --- | --- | --- | --- |
| | LINE | VNR | BBEP |
| Date | September 12, 2013 | February 28, 2013 | December 11, 2012 |
| Price | $525M | $275M | $190M |
| Production | 4,800 BOE/D | 2,830 BOE/D | 1,850 BOE/D |
| Proved Reserves | 30 MMBOE | 22.8 MMBOE | 13.6 MMBOE |
| Production Mix | 70% oil, 30% natural gas and NGLs | 59% oil and NGLs, 41% natural gas | 65% oil, 35% natural gas and NGLs |
| Implied price per BOE/D | $109,400 | $97,200 | $102,700 |
| Implied price per BOE in Reserve | $17.50 | $12.06 | $13.97 |
What can we interpret from this data? BreitBurn's acquisition was very similar to Linn Energy's, with the oil percentage being very similar, 65% vs 70%. The Vanguard purchase is unfortunately muddled by the combination of oil with NGLs in its data. As many know, NGL prices have collapsed this year, with the realized price of a BOE of NGL going for about 30% to 40% of WTI prices.
When looking at the implied prices per BOE/D, it looks like Linn Energy had to pay 6% more for the production compared to BreitBurn. Considering that Linn Energy's production is about 5% more oil focused, this seems like a fair trade off. Vanguard seems to have gotten a very good price for its production, however note that it is much more natural gas focused and hence should receive a cheaper price.
Where things get interesting is in the price paid for the reserves. Compared to BreitBurn's purchase, Linn Energy had to pay about 25% more per BOE. Meanwhile, Vanguard's price per BOE seems fair considering the natural gas heavy makeup of its purchased assets.
Do note that these transactions took place in wildly different pricing environments. As I note in a recent article, WTI prices have been hovering over $105 per BBL for most of Q3 2013. Linn Energy most likely had to pay more now for these assets compared to earlier in the year.
A look at Linn Energy's coverage ratio
Assuming a full $0.15 boost to its FY DCF, this transaction would increase Linn Energy's DCF by around $35M per year, or $8.8M per quarter. In the press release, the company noted that it expects the transaction to close during Q4 2013. Using the guidance provided during the Q2 2013 conference call and assuming that Linn Energy achieves the full $8.8M of DCF accretion during Q4, I estimate that the coverage ratio for the quarter will range from 0.99x to 1.01X. Do note that the chart below assumes that no additional units of Linn Energy are issued and does NOT take into account any Berry related news.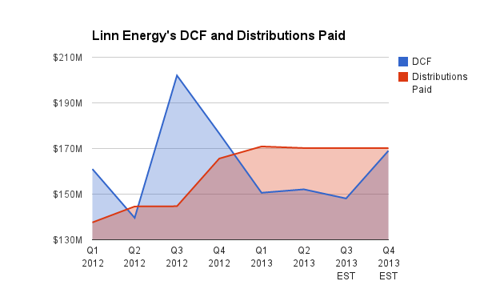 Click to enlarge
Major Catalyst: Berry Merger
Needless to say, Linn Energy would surge on any positive news regarding its proposed merger with Berry. For awhile, it appeared as if the merger was "dead in the water." However, as noted in the intro, Linn Energy is still providing the SEC with information and the merger is far from dead. The date of record for the shareholder meeting for the merger is now set for September 30, 2013. This may appear to be a bit optimistic, as current prices for LinnCo shares would not cover Berry's current share price. Fellow SA contributor David White provided a pretty good review of this situation.
Conclusion
For various reasons, Linn Energy has become a very hard stock to own. The wild swings seen in its unit price are atypical and have most likely caused the entire upstream MLP sector to underperform in recent months. As I noted in my previous article, Linn Energy is the 800 lb. gorilla in this sector, with its enterprise value dwarfing nearly all other upstream MLPs combined. The closing of the Berry merger is vital for Linn Energy. The stock will not achieve any sort of stability until this issue is resolved.
Disclaimer: The opinions in this article are for informational purposes only and should not be construed as a recommendation to buy or sell the stocks mentioned. Please do your own due diligence before making any investment decision.
Disclosure: I am long VNR. I wrote this article myself, and it expresses my own opinions. I am not receiving compensation for it (other than from Seeking Alpha). I have no business relationship with any company whose stock is mentioned in this article.