Tobacco Giant Philip Morris (NYSE:PM) has provided stellar performance for the past 5 years, outperforming the S&P 500 (NYSEARCA:SPY) markedly since being spun off in 2008. Clearly, this can't go on forever. The analytical task here is to develop a realistic trajectory of future growth in EPS and dividends as the foundation of present value.
Volume vs. EPS Growth
The actual growth in number of cigarettes sold per year is glacial, 1.6% from 2008 to 2012. From that base, the company has managed CAGR of 12.6% in EPS. Here's how they did it:

Borrowing to do buybacks
The largest single contributor to EPS growth has been buybacks, funded (in part) by increased debt. That frequently ends badly. However, PM is a long way from the tipping point.
Key items of information involve 1) credit lines and the associated covenants 2) coverage of fixed charges and 3) average duration and interest rates.
From the most recent 10-Q: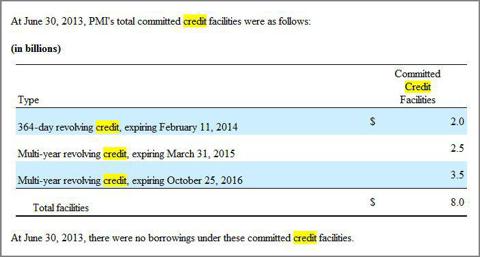 Taking all of this together, PM has good coverage of fixed charges, ample backup liquidity in the form of unused credit lines and reasonable average rates of interest. Average duration is in excess of ten years.
The credit lines contain restrictive covenants on the coverage ratio, prescribing an EBITDA to fixed charges ratio of 3.5:1. The company has the ability to borrow more in order to finance further buybacks. If share prices continue to decline, that will open the door for further value creation.
Interest Rate Risk
As a debtor, PM is exposed to the risk of increased interest rates, mitigated by liquidity resources, ample fixed rate coverage and lengthened average durations.
Investors who buy the company as a substitute for fixed income investment also face interest rate risk. Such risk is short term, based more on fear of the Fed than rational analysis. PM bonds expiring in 2041 are trading to yield 5.07%. A growing dividend is attractive on a comparative basis.
Demographics
Nicotine addiction is normally acquired early in life, if at all, and is more persistent the earlier it is acquired. From there, concerns for health, finances or pleasing others pressure the addiction. While quitting is difficult, many people do it, given enough time and effort.
Assuming that global population growth starts to decline in say 2030 and the population becomes progressively older, a decrease of 1% annually in global cigarette consumption comes into view.
With that in mind, estimates of long term growth should be held at conservative levels.
Valuation
Calculating 5 year average EPS, adjusted for share count, at $4.95, and applying a historical average multiple of 17.2 on that metric, shares are worth $85. Fluctuations from $75 to $100 might be regarded as normal.
A DCF valuation works out to $107. Analyst reports that I have reviewed stay away from the topic, perhaps because it doesn't fit well with market realities. As an investor, the opportunity to own shares at a cost below intrinsic value is advantageous. Here's how I did the math: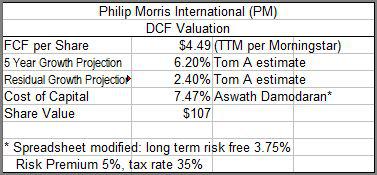 Investment Implications
As developed above, EPS growth in the mid single digits is realistic over the next five years. Assuming a 6% increase in share price, and a 4% dividend, the return going forward from today's fairly valued price is 10%, substantially better than the 6.8% I'm using for the S&P 500. 60 month Beta is 0.88. As such, risk/reward is favorable here.
I would resist the urge to overweight tobacco for any reason.
Given the extremely stable fundamental growth rate, and the fluctuations in price, some sort of policy of buying low and selling high should be workable.
Dividend
PM has good credentials as a dividend growth investment. On 9/11/13 the company announced a 10.6% dividend increase, to an annualized rate of $3.76 per share, yielding 4.3% at recent share prices.
As developed above, much of the growth in EPS has been fueled by buybacks, financed by debt. As the low interest rate window closes, normal prudence would call for decreased borrowing. As such, a realistic projection of dividend increases going forward might be 6% or 7%.
Caveats and Reservations
Tobacco is subject to regulatory risk. The most common model is ... the government permits the activity, taxes it heavily, and polices any black or gray markets that may develop. Plain packaging, or mandatory warnings, is a constant threat to brand equity. Share prices fluctuate as regulatory activity waxes and wanes.
Electronic cigarettes, systems to deliver nicotine without combustion, are a potential threat, or a potential opportunity. Lack of hard data creates a situation where the investor is left with subjective or anecdotal evidence as a basis of decision-making. I don't have an opinion.
Roll your own technology may improve. An affordable machine that produces uniform cigarettes in volume seems possible.
The business model is unattractive. As such, market value may remain below intrinsic value indefinitely.
A Walk Down Memory Lane
As a child, I was somewhat difficult, and was sent away from home to a special school as a sixth grader. Most of the kids there were older than me, and some of them were pretty tough.
I remember my first day there, a bunch of them were hanging out in the garden, and I went over to join them. When I got there, somebody opened a pack of Lucky Strikes and offered me one. The aroma from the freshly opened pack was rich, strong and appealing. The first drag made me light-headed and dizzy. And I was part of the group.
I was an intermittent heavy smoker as a teenager and on until age 46, when I quit for the last time. I've resisted investing in the area, but for the purposes of my synthetic dividend growth portfolio I felt as if tobacco is common enough in that area of the investment world that I would include some. Lorillard (NYSE:LO) is also included. I left out Reynolds American (NYSE:RAI), although it passed the screen.
I used to have this idea that I would dress up as Marlboro Man, riding one of those stick-mounted hobby horses, carrying an oxygen bottle, and attend the shareholder's meetings. I've mellowed out on that - rather than being bitter I just take care of myself.
Disclosure: I am long PM, LO. I wrote this article myself, and it expresses my own opinions. I am not receiving compensation for it (other than from Seeking Alpha). I have no business relationship with any company whose stock is mentioned in this article.