As the US economy was still struggling its way out of the recession, the Full-Service Restaurants industry experienced a slowdown in 2012. However, the rebound in consumer spending in 2013 once again revived this industry. Operating conditions had turned quite favorable but once again analysts are expressing major concerns for this industry. They expect lower customer traffic to restaurants which will eventually hurt companies like OpenTable (NASDAQ:OPEN), whose revenues streams are dependent on the restaurant business.
Company Introduction
OpenTable provides online solutions that connect reservation-taking restaurants and people who dine at those restaurants. Its solutions include Electronic Reservation Book for restaurant customers and reservation website for diners. The company is currently providing services to 27,000 restaurants and their customers across all the states in U.S. as well as in Canada, Germany, Japan, Mexico and the U.K. Since its inception, the company has seated over 450 million diners throughout the world through its OpenTable reservations.
Business Model
The company has a unique business model. Its revenues are derived from two distinct sources: online reservations and subscriptions. The company provides the specialized hardware and software to its subscribed restaurants. Restaurants that use its Electronic Reservation Book (ERB) pay a one-time installation fee for onsite installation and training and a monthly subscription charge of $249/month per restaurant for the continuing usage of the software and hardware. The restaurants also pay a performance fee of $1 when reservations are made from OpenTable's online platform and $0.25 when reservations are made directly from the restaurant's website. However, the company charges $7.5 per reservation during off peak hours. Besides this, the company also charges restaurants for other services including advertising, sending greeting cards to the customers etc.
For the year 2012 and 2011, reservation revenues accounted for 56% and 53% of the company's total revenues, respectively. Similarly, subscription revenues accounted for 35% and 36% of the total revenues, respectively.
Business Segment
The company has two reporting segments, namely North America and International. In the year 2012, the company generated 86% of its sales from North America and 14% from its international business. Revenues generated from business outside North America were $22.3 million in 2012, $20.9 million in 2011 and $8.9 million in 2010 and made up 14%, 15% and 9% of total revenues, respectively.
Financial Performance
Due to its unique business model, the company's financial performance over the years has remained quite strong. The company has registered consistent growth in its revenues and margins over the last four years.
Over the years, the company's revenues have grown rapidly, increasing from $69.0 million in 2009 to $161.6million in 2012, representing a compound annual growth rate (CAGR) of 28%. Gross margins have also improved from 69.8% in 2009 to 74.1% in 2012. This increase was also reflected in the operating margins which increased from 12.7% in 2009 to 22.6% in 2012. However, the operating margin had dropped by 80 basis points in 2012 as compared to 2011 due to the tough economic conditions prevailing in the U.S. which reduced the customer traffic in restaurants.
The graph shows a breakdown of OpenTable's ROE. It provides an insight into how effectively the management is running a business. Over the long term, the company's management was able to efficiently utilize the resources to generate higher margins. However, it is important to note that the company is currently operating with zero long term debt, which means that its financial leverage is totally based on short term liabilities. Despite the slight dip in 2012, overall the return on equity has increased to 17.24% in 2012 from 12.96% in 2009.
Expensive based on multiples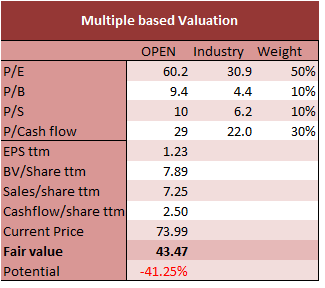 Regardless of its strong financial history, the company is extremely overvalued, as shown in table above. As you can see that the multiples based valuation indicates the fair value of this stock to be $43.47 per share, which means a downward potential of 41.25%. This can be a major concern for investors when making an investment choice.
Potential Concern
The biggest threat that the company is currently facing is the "restaurant meal replacement" and if the new forecasts made by the foodservice industry's most prestigious research companies turn out to be right, the traffic of dinners in restaurants will substantially decrease. This will eventually result in lower revenues for OpenTable.
NPD has stated the rising concern that people will be noticeably less inclined to spend money at restaurants than they currently are because of increasingly aging population. This can have a noticeable impact as consumers in the age bracket of 18-24 are expected to be the heavy users of supermarket prepared foods for afternoon and evening snacks.
Conclusion
So far the company's financial performance has been quite outstanding and the company has posted encouraging growth in the number of dinners seated. However, its effort to attract dinners to use its service has already been priced in the stock. The company's share price has appreciated by 59.3% in a year which leaves behind little room for further improvement. In fact, the company's stock has risen so high that it is extremely overpriced now. Hence, my recommendation for this stock is sell.
Disclosure: I have no positions in any stocks mentioned, and no plans to initiate any positions within the next 72 hours. I wrote this article myself, and it expresses my own opinions. I am not receiving compensation for it (other than from Seeking Alpha). I have no business relationship with any company whose stock is mentioned in this article.