As a whole, commodity prices have been in a steady downtrend, led primarily by the metals, but oil has been an exception. Oil has been on a steady rise since the summer began, helped by presumably in response to the Syrian crisis. Figure 1 displays oil prices for the last year. As we can see there has been a sharp rise since the US began seriously considering Syrian intervention, and crude oil for October delivery now trades at $107.98 at the time of this writing. However, it seems the Syrian situation may end mostly diplomatically, which could pressure certain oil related stocks that have run up. These same stocks can likely be bought back 10%-15% as oil goes down from here. Long-term, the stocks I will discuss are good buys. In the short run, I think there is downside ahead for them.
Figure 1. Crude Oil Prices Over The Last Year, 9/14/2012-9/14/2013, US Dollars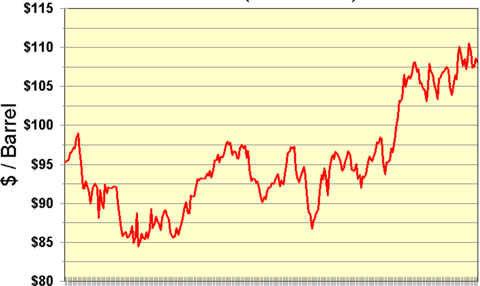 Long-term, we have to consider the new oil boom. Many analysts and fellow authors I speak to continue to talk about the new U.S. oil boom. This new so-called boom is in response to fracking technology and recent large deposit discoveries. With newer more efficient technology and large deposits being discovered, American energy security appears within grasp. Historically, the US was one of the largest importers of oil, the so-called nation of foreign oil dependency. Now, the US has become one of the world's largest exporters of refined petroleum products.
In the long-term, a shortage in global supply is inevitable. We all know that higher supply eventually results in lower prices, and the global oil supply is heading that way very quickly. For years there has been chatter of so-called "peak oil." We probably have surpassed that mark, but did not factor in the possibility of new discoveries and better technology. Despite more cars are on the road, more drivers are on the road and more demand at the pump, the global oil supply is very strong right now and as such under normal economic pressures, prices should be lower or trending lower. They don't seem to be just yet, however a resolution in Syria as well as decreased demand from areas such as mining and transportation should pressure prices in the short-run.
While long-term I am bullish on the oil service stocks, I think there are a few names in the oil sector in which profit should be taken. We can look to buy on dips for value, which will help us to take advantage of future higher oil prices. For now, it is likely oil prices will correct.
Where to take profits:
Schlumberger (NYSE:SLB): I will say right upfront, that in the longer-term this stock will likely trade over $100. For now, I think you have to take some profits. Sell some of the position. The price has run up tremendously in just a month for a low beta stock. In fact, SLB is beginning to look expensive, and on its own could face selling pressure, but combined with the likelihood of lower oil prices, I see it heading to $80 before getting much over $90. Shares trade at around $87.57 with a p/e of 18.93, easily exceeding the S&P 500 average p/e. The company has a decent balance sheet with its annual free cash flow of nearly $9 billion, but only pays a 1.5% dividend yield. SLB relies heavily on drilling in the Gulf of Mexico and activity in that region is growing at a slower pace due to increased activity in land-based exploration in North America. Less than 1/3 of SLB's revenue is derived from North America, which can be seem as both a sign of strength (geo-political diversity) and weakness (missing out on areas with largest growth/development).
Make no mistake, the company is improving as well. Its revenue grew 8% year over year to $11.18 billion in the second quarter of 2013, fueled by high growth in its international segment. SLB benefited from growing drilling activities, and hence creating demand for its services. The international segment generates the highest revenue for SLB (but missed some of the North American growth) but any further growth in this segment will lead to incremental revenue. Its revenue from the Middle East and Asia grew 11% to $2.7 billion as a result of increased drilling and exploration activities in this region. SLB is upping its spending as it is expanding its portfolio through acquisitions and is seeking performance-based contracts rather than fixed contracts. Performance-based contracts are tricky; they could allow SLB to generate more revenue due to its efficiency and products, though are often much more costly initially. Finally, rig count is also expected to increase in these regions from 1,410 in the last year to 1,530 in the next fiscal year. All of this bodes well long-term.
Why sell short-term? Simply put, Oil is going lower. Summer driving demand is over. The Syrian crisis was over blown internationally and will likely end in diplomacy or very limited military interventions. Oil rose over 10% in a few short weeks. Demand in the mining space is diminished and the international catalyst is gone now, and thus downside is likely ahead. My recommendation? Sell a chunk of the stock at the current price of ~$87.50 and look for re-entry at $82 and $79. The stock is just too expensive at current levels.
Halliburton (NYSE:HAL): HAL is SLB's largest competition. Like SLB it is becoming very expensive. In fact, HAL is much more expensive than SLB. The stock price sits just under its 52-week high, trading at $50.14 at the time of this writing. The current p/e is much higher than SLB's sitting at a 25.48 and the dividend yield of just above 1% is absolutely poor for a company that generates over $4 billion in free cash flow annually. While the balance sheet of the company looks good and has been improving since 2009, the stock is simply overvalued. A recent fair value analysis suggests that HAL is sitting atop the range calculated ($27-$51 per share). The price of the stock and the compensation you are paid in dividends simply just does not justify owning the stock at these levels. Long-term, as it expands operations the company and the stock should do well from here, probably heading to $60 so long as oil stays above $90 a barrel. Short-term I see oil heading lower and there is also inherent risk in the stock.
We need to remember that there is still a ton of legal risk stemming from the Deep water Horizon disaster fallout. The outcome of this issue could impact the stock, although HAL has entered a guilty plea for its association in the event. The fine that Halliburton agreed to pay is the statutory maximum for the charge it faces, destruction of evidence. The company also has agreed to be on probation for three years and make a $55 million contribution to the National Fish and Wildlife Foundation, but that payment wasn't a condition of the plea deal. HAL won't face any other criminal charges in connection with the case, though individual employees could still be charged.
Why sell short-term? Aside from the risks associated with litigation and the stock being overvalued, I reiterate that oil is going lower. There just isn't a catalyst to drive it higher. I will also add that hurricane season is upon us, which could wreak havoc on HAL (and SLB's) operations, as well as other refiners and oil related stocks. My recommendation for HAL? Sell half of the position at the current price of ~$50.14 and look for re-entry at $45 and $40. The stock is just too expensive at current levels and could easily pull back 10%-15% as oil falls.
Disclosure: I am long SLB. I wrote this article myself, and it expresses my own opinions. I am not receiving compensation for it (other than from Seeking Alpha). I have no business relationship with any company whose stock is mentioned in this article.