Here is an updated look at the VIX and its megaphone (a.k.a. reverse symmetrical triangle (reversal)) pattern.
"Now Hear This!" blares the VIX... "Greedy bulls have had their fun, held sway for a good long while, morphed Hope '09 into Full Tout '09, got Wall Street to bonus season and generally reenacted the wonderful 50% rally in hope off of the 1929 crash. You know the one, after which the real depression descended. Happy days are not here again and it is unfortunate that most casino patrons will come to that realization after I begin to rise in earnest. I have not decided yet whether to give the bulls one more run at the highs, but I will decide before too long. This megaphone through which I give you my warning is a reversal pattern after all." (click to enlarge)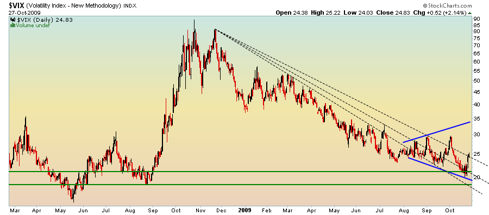 Okay, that is what the VIX says. What I say is that it feels so much like a false dawn that it is alarming how people seem to have gone about their business as we head for the tepid recovery that policy makers, the media and Wall Street seem to be touting. At best we will suffer from the law of diminishing returns under a new and intense cycle of inflation. At worst, we go down again and induce yet more panicked inflationary policy.
The other night I watched The Crash of 1929 on PBS. It was made in 1990, and indeed was intended to warn of the possibility back then that it could happen again. Well, how did that work out for the bears? I have no doubt that with each recession (like 1990) a new round of Great Depression lore gets whooped up, each time providing the 'lever' for new and heroic inflation policy.
But still, it feels like another hard down is coming and a lot of the data I look at supports that idea. It feels like Indian Summer, just like the one due here in New England imminently. There is a lot of noise out there right now from the respective touts pitching their respective wares in their respective sectors and asset classes. I expect it to all fade away as the VIX trumpets the onset of stage 2, the GSR rampages higher and Uncle Buck, pissed off like never before, stages a furious short covering rally.
VIX: "That is all!"