Last Wednesday I published "Wind Energy: Now Is the Time to Invest" as an introduction to wind energy markets and a review of the reasons for which I believe wind offers a bright future for informed investors.
This year, an estimated

28,000 Megawatts (MW) of capacity are being installed worldwide, and by 2013 the new annual installed capacity will have more than doubled to 58,500 MW. The U.S. Department of Energy also projects dramatic growth with wind energy's contribution to U.S. electricity supply to increase to 20% by 2030.
Probably the single largest challenge for a U.S.-based individual investor looking to participate in the growth in wind power is that the vast majority of pure play or significant industry players are foreign companies whose stocks are listed on foreign stock exchanges. A perfect illustration of the dilemma can be found in the list of wind turbine manufacturers in Table 1 below. The list represents the worldwide top 10 market share rankings in 2008.
Table 1: Wind Turbines Manufacturers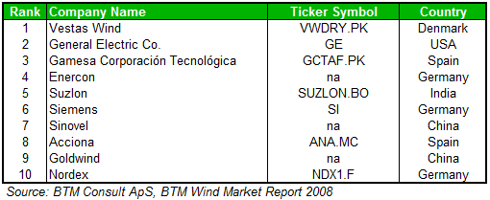 General Electric (NYSE:GE) is the only U.S. manufacturer to make the list. GE manufactured over 50% of the wind turbines deployed in the U.S. last year and grew its global tower market share to 18.6%. It is now nipping at the heels of Vestas
of Denmark, the world's largest supplier of wind turbines, at 20% market share. Still, as we pointed out previously, GE makes a rather poor wind investment. For starters, it is nowhere near a wind pure-play and its participation outside the U.S. market is minimal. For example, in what is expected to become the largest wind market this year, China, GE holds only a 2% share and ranks #10.
If you could only buy one wind company it would have to be Vestas Wind Systems (
OTCPK:VWDRY
) as the clear leader in the wind power industry. Vestas has a truly global reach, having installed wind turbines in 63 countries, and is one of very few industry players that can provide complete end-to-end wind power solutions. Vestas' wind turbines account for nearly one-third of total installed global wind power capacity. Of the top eight country markets, Vestas is the #1 or #2 supplier of wind turbines except in China where they are a strong #4 with 10% market share, behind three Chinese manufacturers.
The list highlights the difficulty for the U.S. investor, as most companies are either private or traded on foreign exchanges. Just like the Vestas stock, a few others are also traded on the pink sheets as over-the-counter (OTC) American depository receipts (ADRs). This means they are not required to make the financial filings in the U.S. that are required for a listing on the major U.S. stock exchanges, and OTC stocks can present other dangers for the casual investor, such as very low volume and high bid/ask spreads which can erode profits.
For anyone only interested in taking a small wind position without investing time and effort, one way to simplify the process is to buy into the wind market as a whole via exchange traded funds (ETFs). Table 2 below lists the two specialized wind funds currently available in the U.S.
Table 2: Wind ETFs

Investing in ETFs presents the benefit of owning an entire basket of stocks in one shot, with the inherent diversification this represents, and the ability to easily participate in hard to reach foreign stocks. We wrote about the advantages of ETF investing in "A Guide to Investing with Green ETFs". On the downside, investing in a broad static index tends to water down the best performers and results will typically lag a portfolio of handpicked stocks assembled by a knowledgeable and specialized analyst.
The good thing about stock picking is that there are dozens of great companies to choose from, including some long-term keepers from the top 10 wind turbine makers listed above. Even more exiting are the prospects one can find elsewhere in the wind supply chain. Upstream are the suppliers of the many critical components which the turbine makers generally outsource, such as blades, bearings, transmissions, generators, towers, power electronics and other key ingredients. Downstream are the wind
farm project developers, independent power producers and utilities. Our next article in the wind series will explore the most promising companies in the extended wind value chain.