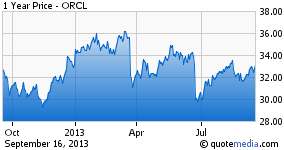 Oracle (NASDAQ:ORCL) reports their fiscal first quarter, 2014 after the bell on Wednesday September 18th, with analyst consensus expecting $0.56 in earnings per share on $8.48 billion in revenue for expected year-over-year growth of 6% and 4% respectively.
ORCL has missed on consensus revenue expectations for two quarters in a row, although they've met EPS consensus thanks to the share repo program
The problem the last few quarters has been "organic license growth" although hardware hasn't been great and enterprise spending on technology has been subdued at best.
Trend in "constant currency license growth"
Q4 '13: +2%
Q3 '13: 0%
Q2 '13: +7%
Q1 '13: +11%
ORCL is generating on average about $10 billion in free-cash-flow the last four years, all of which is currently being spent on the share repurchase program.
The one element or intangible we've always liked about Oracle is Larry Ellison: he will not sit around for too long and let the business or stock languish. Safra Catz the CEO blamed some of the weak license growth on sales execution, which didn't seem like the most iron-clad of excuses, but my guess is Safra and the rest of the ORCL team have a few quarters to fix this issue, or Larry will re-shuffle the deck.
Cloud is being talked about quite a lot at ORCL, but I do not think it is a big part of their business yet at $100 ml run rate, or still less than 1% of revenues.
One positive to ORCL presently is that the operating margin is approaching 50%, which is a 3-year high.
Valuation:
ORCL analyst EPS consensus is expecting $2.89 and $3.16 for fiscal 2014 and 2015, which is expected growth of 8% and 9%. The stock is trading at 10(x) those forward earnings estimates, so from a PE basis the valuation is hardly lofty and expectations are subdued.
The next three fiscal years - 2014, '15 and '16 - the Street is expecting 9% - 10% earnings growth and 5% - 6% revenue growth for the software giant, so again, ORCL trading at $33 seems to incorporate low to modest expectations.
Morningstar has a $39 "intrinsic value" estimate on ORCL, while our internal model values ORCL at $39 - $40 or roughly the same level. ORCL should reward a patient investor. We would be aggressive buyers of more ORCL between $28 and $30.
A return to mid to high single digit "organic license revenue growth" is the ticket for ORCL. The question is when.
Disclosure: I am long ORCL. I wrote this article myself, and it expresses my own opinions. I am not receiving compensation for it (other than from Seeking Alpha). I have no business relationship with any company whose stock is mentioned in this article.