Best Buy (BBY) is striving hard to strengthen its presence in a retail market trending towards online retail. In the second quarter of 2013, the company observed a 0.4% year-over-year decline in sales to $9.3 billion due to weaker same store sales. In contrast to this, online sales increased 10.5% year over year due to a rise in user traffic and increased average order value.
New Partnership will bring additional revenue
It is rumored that Google (GOOG) will partner with Best Buy and is expected to rent 6,000 square feet inside every Best Buy store in the U.S. If the partnership happens, Google will promote and sell its highly acclaimed "Google Glass," which is expected to launch next year. Google Glass is a unique pair of glasses that allows users to take pictures and video, answer to text messages and email via voice command, find information and show maps to navigate. The main reason behind Google investing heavily on renting physical space is to give consumers a chance to test the product, priced at $1,500, before going ahead with the purchase.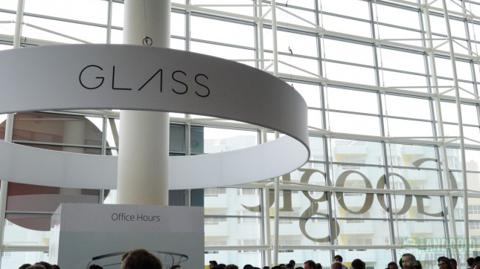 Source: myandroidchief.com
As the leading technology seller in the U.S., with a nationwide footprint, and some underutilized space in its stores, we believe Best Buy seems like an ideal partner. It can also prove to be a major achievement for Best Buy since it would likely increase store traffic as Google Glass is likely to be one of the most intriguing new products introduced over the next two years. Additionally, it will affect Best Buy's per square foot revenue, which is approximately $800 per square foot. It currently owns 1,055 stores in the U.S., so we expect Best Buy to generate estimated revenue of $5 billion every year from the space rented to Google.
Is the partnership enough?
We believe setting up a store inside a Best Buy isn't enough for Google; it should get the whole package that includes both offline and online product visibility. Best Buy offers all of its products on BestBuy.com.
Best Buy chief executive Hubert Joly said, ''The company has been slow to capture a full share of the online market.''
Since June 2013, it has stepped up its initiative to enhance stock availability on BestBuy.com. Previously, it shipped online and store merchandise from separate distribution centers, which caused a major crack in Best Buy's inventory system. Customers often receive out-of-stock messages on BestBuy.com even though the product they wanted was available on the shelf at a nearby Best Buy store. In order to ensure product availability, Best Buy will start operating 1,000 in-store mini warehouses in 1,000 stores across the U.S. This will allow it to ship the products directly from the stores and avoid missing revenue opportunities.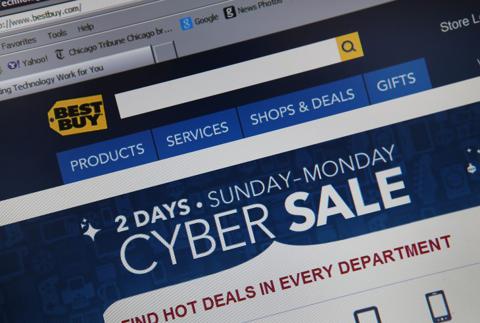 Going forward, this initiative will eventually roll out to all stores in the U.S. over the next six to 12 months, and the company will gain a competitive edge over its competitors including the online retail giant, Amazon (AMZN). It is the top online retailer in the U.S with 28% market share in 2013. Additionally, Amazon reported second quarter results in June this year, with revenue increasing by 22% to $15.7 billion in the second quarter mainly driven by strong sales for its "Kindle" devices, electronics and other general merchandise. Amazon has a strong presence in the online retail market and we expect it to perform well in the coming quarters. This is due to the anticipated strong sale of Kindle and digital content this year. We believe stealing market share from Amazon will be a difficult task, but Best Buy's initiatives to ensure product availability will increase the 10.5% revenue contribution coming from online sales. We expect that this initiative will also help Best Buy attract online user traffic on Bestbuy.com.
Conclusion
Best Buy's revenue hasn't budged in the right direction, but the partnership with Google and initiatives to win back market share from Amazon could bolster revenue in the next two years. Investors are particularly happy and are following its announcement that it partnered with Samsung (OTC:SSNLF), which increased the stock price by more than 16%. It appears that investors are approving of Best Buy's strategy for revenue growth. Looking at its stock price over the past year, it has gone up from a low of $11.57 to a high of $37.92. Of course, it isn't wholly attributed to these partnerships and its efforts to match Amazon, but these things certainly played a big part. Going forward, we believe that the above discussed tailwinds will take the stock price much higher in next two years.
Disclosure: I have no positions in any stocks mentioned, and no plans to initiate any positions within the next 72 hours. I wrote this article myself, and it expresses my own opinions. I am not receiving compensation for it (other than from Seeking Alpha). I have no business relationship with any company whose stock is mentioned in this article.
Additional disclosure: Fusion Research is a team of equity analysts. This article was written by Madhu Dube, one of our research analysts. We did not receive compensation for this article (other than from Seeking Alpha), and we have no business relationship with any company whose stock is mentioned in this article.