The latest data from the Job Openings and Labor Turnover report revealed no change in the trend in the Beveridge curve. The upward shift in the Beveridge curve, which occurred following the end of the "Great Recession," continues to show firms failing to hire workers even though they have announced a sizable number of jobs available.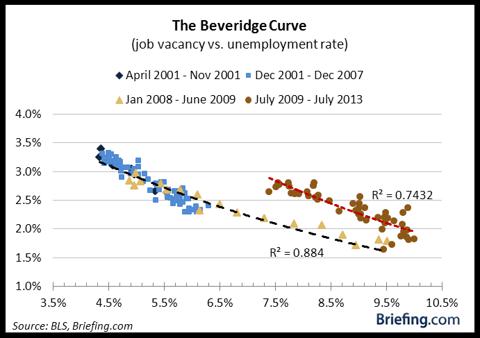 If hiring rates followed the trends from 2001 - 2009, the current number of job vacancies would correspond to an unemployment rate of 5.7%. That would be 1.6 percentage points less than the current 7.3% unemployment rate.
There are many theories that attempt to explain the upward movement in the Beveridge curve. One prominent explanation suggests that a structural disconnect has developed. Current job candidates are not qualified for the job openings. The large pool of unemployed workers has no bearing on the hiring rate because the unemployed are not suitable to fill the jobs that are available.
We, however, do not subscribe to that notion.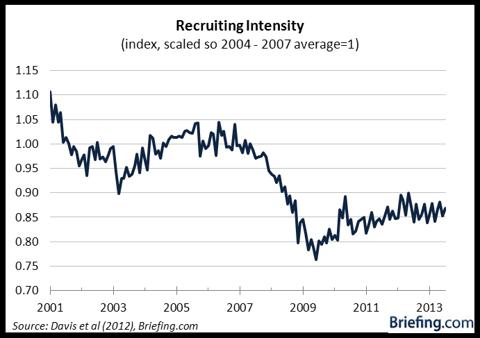 Instead, we still follow the theory that human resource managers are not showing the same recruiting intensity to fill a current job opening as they did in the past. Essentially, businesses may say they have jobs available, but they are not pursuing ideal candidates to fill them.
Trends in recruiting intensity have been flat since June 2012.
This theory explains the breakdown in correlation between the initial claims level and payroll growth.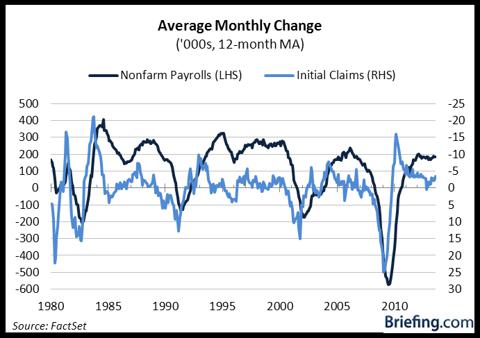 The initial claims level is typically thought of as a leading indicator. Historical trends show that two-to-three months after the initial claims level reaches a bottom, payrolls begin to improve.
Lately, however, the claims data have not been a good predictor of future payroll growth. The correlations that held tightly in the past have broken down over the past 12 months.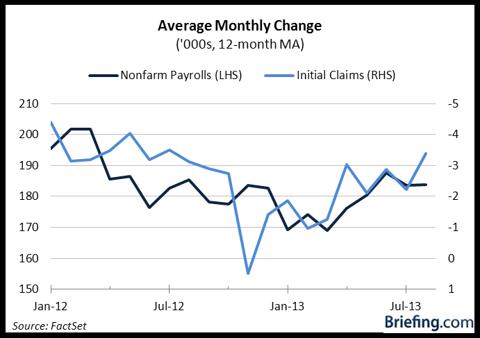 The initial claims level bottomed out in November 2012. Meanwhile, payrolls have been flat since April 2012, and have averaged roughly 180,000 new jobs each month.
If the correlation between claims and payrolls remained intact, we would have seen payroll growth begin to accelerate around January or February 2013.
Given where the initial claims level is, payroll growth should have been running more than 200,000 per month.
Businesses have clearly reduced the amount of workers they are laying off, but they are not motivated to hire more workers. There is no reason to expect a sudden improvement in payroll growth without a deliberate change in human resource responsibilities.
Disclosure: I have no positions in any stocks mentioned, and no plans to initiate any positions within the next 72 hours. I wrote this article myself, and it expresses my own opinions. I am not receiving compensation for it. I have no business relationship with any company whose stock is mentioned in this article.