Celegene (NASDAQ:CELG) issued $1.5B in new debt last month, and $1.5B in August 2012. As bond yields have soared the new Celgene unsecured senior note prices have gone down. Companies like Celgene were quick to take advantage of low rates; now investors are left to wonder whether an acquisition of Acetylon Pharmaceuticals, a private company focused on epigenetics, is at hand following a large investment by Celgene.
Acetylon began with the alignment of a new chemical discovery by scientists at Harvard University's Broad Institute together with the medical insights of our Founding hematologic oncologists at Harvard Medical School and the Dana-Farber Cancer Institute. Together, they postulated potential mechanisms of action for important new drugs to treat multiple myeloma and other diseases.
Here are Celgene's bonds issued last August and this August. Notice the difference between the 2018 bonds' price and yield, compared to the 2017 bonds.
| | | | |
| --- | --- | --- | --- |
| | credit rating | price | yield |
| Celgene Corp Sr Nt 5.25% 2043, Cond Put Change Of Control, Make Whole Call (cusip: 151020AL8) | Baa2/BBB+ | $97.07 | 5.44% |
| Celgene Corp Sr Nt 4% 2023, Cond Put Change Of Control, Make Whole Call (cusip: 151020AJ3) | Baa2/BBB+ | $97.58 | 4.30% |
| Celgene Corp Sr Nt 3.25% 2022, Cond Put Change Of Control, Make Whole Call (cusip: 151020AH7) | Baa2/BBB+ | $92.96 | 4.20% |
| Celgene Corp Sr Nt 2.3% 2018, Cond Put Change Of Control, Make Whole Call (cusip: 151020AK0) | Baa2/BBB+ | $98.92 | 2.53% |
| Celgene Corp Sr Nt 1.9% 2017, Cond Put Change Of Control, Make Whole Call (cusip: 151020AG9) | Baa2/BBB+ | $99.35 | 2.07% |
The 2018 bonds yield 22% more than the 5-year bonds issued last year. The 2023 bonds yield 2.3% more than the 10-year bonds issued last year.
Celgene currently looks strong, though risks abound, investors are very easily alarmed if a clinical trial is unsuccessful, knowing that determining success is precisely the point of conducting a trial. Investors are simply concerned with a new drug's profitability, whereas the scientists are concerned with whether the medicine actually works.
The Correlation Between Celgene 2017 & 2018 Yields
The 5-year Treasury yield has jumped 23%, from 1.39% to 1.71% in the short time since Celgene issued their newest debt. On August 9, 2012, the 5-year Treasury yield was 0.74% and is currently up 131%. The 3-year Treasury yield has more than doubled from 0.37% to 0.87% since January 1, 2013
Take a look at the 3-year / 5-year nominal rates since July 2012:
Source: U.S. Dept. of the Treasury
The blue line represents the 5-year nominal rate, you can see the move since May has been very dramatic. Similar trends in the 10-year and 30-year have impacted Celgene's longer-term bonds. Check out the comparison between corresponding Treasury rates: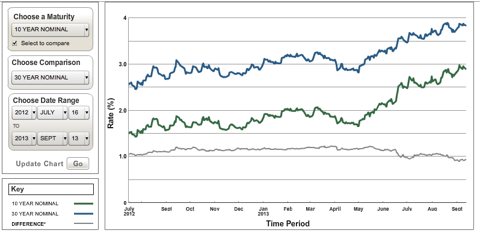 Source: U.S. Dept. of the Treasury
To further gain a sense for the current rate environment, compare the current Treasury yield curve to September 2012 and September 2010:
Source: U.S. Dept. of the Treasury
The current yield curve shows a sharp increase from the 3-year to the 5-year. Now look back to 2010: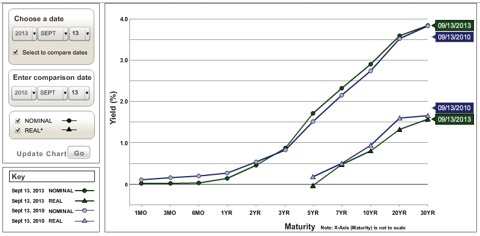 Source: U.S. Dept. of the Treasury
The current yield curve is very close to that of September 2010. However, let's go back to 2003:
Source: U.S. Dept. of the Treasury
Whereas in the past year you may have seen 10-year bonds with 2% yields, now you can find 5-year bonds with 2.5% yields, such as the new Celgene 2018 senior notes. In 2003 the 5-year Treasury bounced between 2.10% in June and 3.51% in August. There were so-called extenuating circumstances in 2003 (Afghanistan & Iraq) just as there are today (Syria).
For now the Celgene bonds stand out like an oasis in a desert of lower yielding investment grade bonds. Who wouldn't want a 47% greater yield from 5-year Celgene bonds, than from 5-year U.S. Treasuries? The important question to ask is where will the yields be next year?
Abraxane: New Indication, Pancreatic Cancer
Celgene's Baa2 / BBB+ credit rating is on the low side of investment grade, though the recent FDA approval of Abraxane for pancreatic cancer appears to be a positive development.
Celgene bought Abraxis BioSciences in 2010, and contended with a lawsuit brought by Elan (NYSE:ELN) over Abraxane. Elan won its case and Celgene settled for nearly $80M.
Abraxane is already FDA approved for some breast cancer patients who have not responded to initial chemotherapy. The drug is also used as a first-line treatment for non-small cell lung cancer. Celgene also makes a few other cancer medicines:
Pomalyst - multiple myeloma
Revlimid - mantle cell lymphoma
Thalomid - multiple myeloma
Vidaza - French-American-British myelodysplastic syndrome
Istodax - cutaneous T-cell lymphoma, peripheral T-cell lymphoma
Note Vidaza already lost patent protection, though sales of the drug came in around $211M recently.
Abraxane is being promoted as a "less toxic" alternative to treatments like Folfirinox, however it is also less effective.
After two years, the figures were 9 percent for those getting Abraxane and 4 percent for those who received gemcitabine...

A big impediment to future Abraxane sales in pancreatic cancer could be that its median survival was almost three months less than that of Folfirinox, a combination of four generic cancer drugs.

New York Times, "Drug Is Shown to Help Pancreatic Cancer Cases"
So, Abraxane is helping 9% of pancreatic cancer patients live over 2 years. There is definitely a market for quality medicine, however, the majority of patients are not benefiting.
Celgene has 13 additional compounds in various stages of research. Furthermore Celgene recently made a large investment in an epigenetic pharmaceutical company, Acetylon, with an option to buy the company for up to $1.6B. Acetylon's ACY-1215 is being studied alongside approved multiple myeloma treatments.
Celgene Bonds Compared to Gilead
To put Celgene's bonds into perspective let's look at Gilead's (NASDAQ:GILD) bonds.
| | | | |
| --- | --- | --- | --- |
| | credit rating | price | yield |
| Gilead Sciences Inc Sr Nt 5.65% 2041, Cond Put Change Of Control, Cont Call 06/01/41@Par, Make Whole Call (cusip: 375558AS2) | Baa1/A- | $109.42 | 5.01% |
| Gilead Sciences Inc Sr Nt 4.40% 2021, Cond Put Change Of Control, Cont Call 09/01/21@Par, Make Whole Call (cusip: 375558AU7) | Baa1/A- | $105.25 | 3.63% |
| Gilead Sciences Inc Sr Nt 3.05% 2016, Cond Put Change Of Control, Make Whole Call (cusip: 375558AT0) | Baa1/A- | $105.13 | 1.40% |
Gilead currently carries a slightly higher credit rating. Whereas Celgene bought Abraxis and has an interest in Acetylon, Gilead (GILD) bought Pharmasset for $11B in order to tap the Hepatitis C market. Gilead is focused primarily on HIV/AIDS and markets drugs for liver disease, cardiovascular and respiratory ailments.
Check out their net income quarterly:
CELG Net Income Quarterly data by YCharts
Gilead is more profitable, though health care investors must consider the impact of patent expiration. One of Abraxane's important patents is scheduled to last through 2024. Health care investors should realize while Abraxane has been approved, there could still be hurdles.
Celgene Bonds Compared to Bristol Myers, Merck & Pfizer
Since companies took advantage of ultra-low rates last year, some of the low coupon issues are down significantly. Take a look at Bristol Myers Squibb (NYSE:BMY) 2042 bonds compared to Merck (NYSE:MRK) and Pfizer (NYSE:PFE):
| | | | |
| --- | --- | --- | --- |
| | credit rating | price | yield |
| Bristol Myers Squibb Co Nt 3.25% 2042, Cond Call, Make Whole Call (cusip: 110122AU2) | A2/A+ | $77.60 | 4.67% |
| Bristol Myers Squibb Co Nt 2% 2022, Cond Call, Make Whole Call (cusip: 110122AT5) | A2/A+ | $88.51 | 3.51% |
| Merck & Co Inc New Nt 4.15% 2043, Make Whole Call (cusip: 58933YAJ4) | A2/AA | $91.56 | 4.67% |
| Merck & Co Inc Nt 2.4% 2022, Cont Call 06/15/22@Par, Make Whole Call (cusip: 589331AT4) | A2/AA | $90.75 | 3.61% |
| Pfizer Inc Nt 4.3% 2043, Make Whole Call (cusip: 717081DE0) | A1/AA | $93.17 | 4.72% |
| Pfizer Inc Nt 3% 2023, Make Whole Call (cusip: 717081DH3) | A1/AA | $94.44 | 3.68% |
Bristol Myers Squibb, Merck, and Pfizer are rated upper medium compared to Celgene's lower medium grade. I would consider using Bristol Myers Squibb 2042 income to go into a fund that holds Celgene bonds. Though some might hold out to see if / when the Bristol Myers Squibb 2042 yield breaks 5%. Take into consideration recently issued City of Hope cancer hospital taxable bonds (cusip: 17858PAA9) are rated higher than Bristol Myers Squibb and yield around 5.7%.
Potential drawbacks to Bristol Myers Squibb include pension liabilities for 28,000 employees versus Celgene's 4,700. Furthermore Bristol Myers Squibb is experiencing several major patent expirations. Bristol Myers Squibb has a more rounded palette of medicines and pipeline, though Celgene is undeniably valuable at this point, boasting a $61B market cap. to Bristol Myers Squibb's $71B.
Celgene: Longer-Term Patent Duration Is Compelling
The Celgene 2022 bonds currently priced around $93 have a 4.2% yield. They also mature before the last Abraxane patent expires, which is compelling. Investors who look to major holders of Celgene and Bristol Myers Squibb bonds will find some crossovers, like iShares iBoxx Investment Grade Corp. Bond (NYSEARCA:LQD) and Vanguard Total Bond Market Index ETF (NYSEARCA:BND).
LQD yields 3.9% while BND yields 2.5%, the latter fund's top holdings are Treasuries. Vanguard's Long-Term Corp. Bond Index ETF (NASDAQ:VCLT) has a more favorable 4.8% yield; be mindful some analysts believe lower rated, investment grade bond yields could continue to soar. VCLT holds a very small position in Celgene 5.7% 2040 bonds and about $3.5M worth of Bristol Myers Squibb debt.
Given the recent drought in bond yields, the Celgene bonds may look like an oasis. Investors must determine whether the yields are a mirage. Drug manufacturers operate in a very complex realm, as evidenced by the nearly $80M Celgene paid to Elan, on top of the $2.9B Celgene paid for Abraxis.
Investors searching for over 5% yield 30-year corporate bonds should keep an eye on the Celgene 5.25% 2043 bonds. The company is going strong, and appears poised to develop new medicines to treat dreadful diseases like pancreatic cancer and multiple myeloma. Investors looking for an alternative to Celgene or Bristol Myers Squibb long-term corp. bonds, might look to recently issued City of Hope A1/A+ rated 5.623% taxable corporate bonds.
Disclosure: I am long GILD, PFE, BMY, BND, VCLT. I wrote this article myself, and it expresses my own opinions. I am not receiving compensation for it (other than from Seeking Alpha). I have no business relationship with any company whose stock is mentioned in this article. I am considering BMY 2042, Celgene 2022 & City of Hope 2043 bonds. This article is not a recommendation to buy or sell, please consult a financial adviser to determine proper allocations, if any, to pharmaceutical company & cancer hospital corporate bonds.