I am generally one of the first people that you'll find on the frontline of welcoming our new computer overlords to the world of trading. It's inevitable, really, that technology becomes more and more of a component in our daily trading.
In numerous documentaries on the markets that I've watched over the years, the amount of physical people on the trading floor continues to diminish, as the tide of technology continues to erode away the human interaction into the exchanges.
In the age of online brokerages and cheap trades, the role of the floor trader is almost completely non-existent and the people you do see on the floors nowadays make up an excruciatingly small percentage of the trades that go off on a daily basis.
With algorithmic automated trading coming to the forefront, there's bad to go with the good. The good is that trading has never been easier, chartists and technical traders have their calculators and trading software built into one, real-time quotes are disseminated by the fraction of the second, and that computers make billions of decisions in the time it takes you to scratch your head.
The bad, as we saw Monday, is that when trading software decides its time for a nap, it checks out without asking permission.
It was reported Monday, at about 2PM, that options trading had been halted due to quote feed issues. CNBC.com broke the story during the day:
Trading in options was halted on all exchanges after a problem was reported in feeding quotes.

The Chicago Board Option Exchange said it halted trading at 1:40 pm ET on CBOE and C2, its smaller exchange, due to problems linking with Options Pricing Authority, which disseminates quotes to vendors
Although the incident was quickly tidied up, it wasn't the first of it's kind this year. In August of this year, the software that runs the Nasdaq decided, without consulting anyone, that it was going for martinis at an early happy hour, and took three hours off.
The NY Times reported:
According to Nasdaq, the trouble began just after 10 a.m. on Aug. 22 when Arca, one of the exchanges run by NYSE Euronext, began having trouble connecting with the system that provides prices for recent trades in Nasdaq stocks, which Nasdaq operates. Arca tried to connect more than 20 times to the system.

As part of its standard procedure, it also sent over a number of zero-dollar quotes, meant to ensure that no stale trades would be sent out to the market.

All told, the data sent greatly exceeded the amount that Nasdaq's system - known as the Securities Information Processor, or SIP - was intended to handle. People with direct knowledge of the matter said that Nasdaq's system was not designed to "throttle," or forcefully slow down, the flood of information. That meant that the data was hitting the SIP at full force.
The NASDAQ OMX Group (NASDAQ:NDAQ), which was trading at highs near $34 at the time of the crash, promptly started a downtrend that took it as much as 15% off of its highs until the stock bottomed around $29.50 in early September. NDAQ has, however, provided 25%+ gains so far for investors in 2013.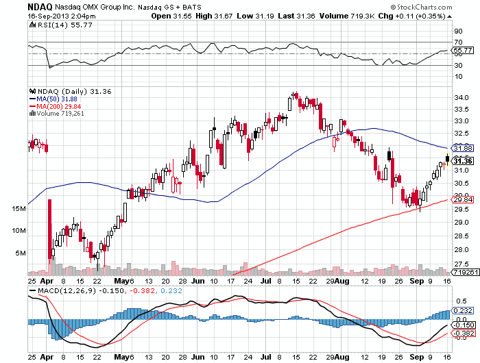 In addition, who can forget Knight Capital Group's (NYSE:KCG) unceremonious forced company sale on the heels of a $400 million trading error that occurred early this year? Apparently, we have learned nothing from what happened to Knight Capital Group at the beginning of the year. Here's a quick well-worded refresher from the folks at the Register:
Knight Capital, a firm that specialises in executing trades for retail brokers, took $440m in cash losses Wednesday due to a faulty test of new trading software. This morning reports were calling it a trading "glitch", which isn't nearly as accurate as the term I'd use: "f**king disaster".
I knew something was wrong at Knight Capital the day of its algorithm error, because the stock was getting crushed down to $9 on massive volume almost an hour before the story ever even hit the newswire. After investing long enough, I've started to learn, "there are no coincidences."
After Knight's collapse, the company's valuation to the market was crushed to the tune of about 70%, screwing many retail shareholders that had bought into the company. The CEO eventually fixed Knight for a buyout at a price that was 55% lower than its trading price before the error. He collected his salary and bonuses, and quickly resigned thereafter.
There was supposed to be regulations and things put in place to stop this. Remember after Knight's collapse? The SEC was going to convene and put things in place to stop this.
So far, it's looking like the computers are bossing us around, not the other way around.
Disconnecting Wall Street from Main Street?
Fora.tv reported on this year's earlier halt:
The glitch, it seems, lay in the very product that has buoyed Nasdaq as an important stock index: software. As high-frequency trading becomes the norm in the capital market, investors and traders should expect occasional problems that will disrupt the system, according to a recent Bloomberg poll.

But Sal Arnuk, partner, co-founder and co-head of equity trading of Themis Trading, has other concerns with high-frequency trading that aren't reported on regularly by traditional outlets covering Nasdaq and other exchanges. Appearing at last year's Big Picture Conference, Arnuk explained argues that high-frequency trading has broken the link between Wall Street and the "real" economy of Main Street.
There is an argument for and against high-frequency trading breaking the link between Wall Street and Main Street. Yes, the days of calling your broker to have him or her execute $59 trades for you are over (if you want them to be, and aren't managing millions). However, some would argue that the rise of online brokerages like eTrade (NASDAQ:ETFC), Scottrade, and Schwab (NYSE:SCHW) actually make your average person far more connected to Wall Street than they would be otherwise.
There has even been speculation that algorithm errors have been used to cover the tracks of funds and trading companies that have overextended themselves, either through intense margin buying or nakedly shorting without having shares to cover.
It's more than likely that the action we've seen just in 2013 alone is going to continue to ramp up more and more as our reliance on technology for trading moves forward.
CBOE/NASDAQ OMX Group - Buy or Sell Here?
How are these electronic "glitches" going to affect trading companies that make their money off of these trades, like Nasdaq and CBOE?
The Nasdaq standing on a bit of shaky ground, if you ask this investor, even before we start to factor in the risk associated with exchange shutdowns. Zacks Investment Research does well to present some other bearish leans on NDAQ in its recent analysis:
In fact, there hasn't been a single analyst estimate revision to the upside in the past two months (in our consensus), suggesting total agreement from those follow the company the closest. This is a pretty bearish signal, especially considering that current quarter figures are baking in a growth rate of just under 1.4%, and full year numbers are forecasting an earnings growth level of just 5.7%.

These factors have pushed NASDAQ OMX Group to a dreaded Zacks Rank #5 (Strong Sell), suggesting it is poised to greatly underperform its peers in the near term. And since this #5 Rank represents a recent downgrade - the company was #4 a week ago - it could suggest that the picture is rapidly deteriorating at NDAQ when compared to its peers in the space.
With analysts piling on here, and in the face of a significant mess last month, I'd be hard pressed to recommend NDAQ as a buy either.
CBOE is a different story. CBOE has yielded about 55% for its investors in the last year, and although it was involved in Monday's "glitch," I'd be a buyer in CBOE.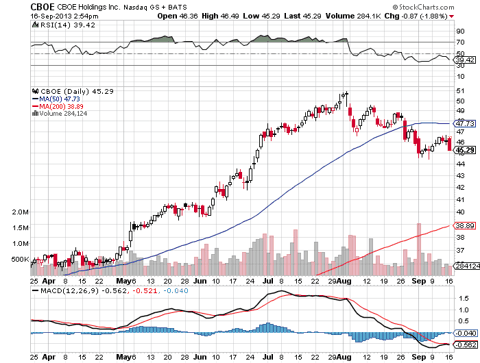 Again, although it is clearly at the helm of the issues with the options market today (Monday), CBOE does seem the better of the two for short-term growth. CBOE maintains one of the better profit margins between the exchanges, and analyst sentiment in CBOE as an investment vehicle is generally bullish.
CBOE's share of the options market has waned, falling from 29% to 26.4% in 2013, but the growing popularity of options could be enough to offset the competition. Index options help CBOE significantly, as well, as they have exclusive rights to index options.
As the VIX rises in popularity and is used and referenced more and more as time goes on, CBOE should find success with the number of people trading VIX options.
CBOE is an exchange that I would likely invest in, as options continue to grow in popularity and the growth of online brokerages is also going to bring with it a residue growth in derivatives, as they become more and more prevalent to household traders.
No matter what, it's important investors realize the future effects of electronic trading - not only how it'll affect the companies that govern and make money off of it - but the trading the equities, stocks and funds that you already hold.
Best of luck to all investors.
Disclosure: I have no positions in any stocks mentioned, and no plans to initiate any positions within the next 72 hours. I wrote this article myself, and it expresses my own opinions. I am not receiving compensation for it (other than from Seeking Alpha). I have no business relationship with any company whose stock is mentioned in this article.