Just over a year ago, when Intuitive Surgical (NASDAQ:ISRG) was selling for $500 a share, I penned an article on SA (here) suggesting that investors wait until the stock hit $435 before they decided to pull the buy trigger.
One of my followers humorously commented, "you'll be waiting to see $435 until you are old, gray and withered."
I was amused, because actually I'm already quite old, gray and withered, if still a healthy cyclist who logged over 3,000 miles out west this past summer.
Owners of ISRG shares are not so amused, however. Two waves of selling in recent months have pushed the stock price down to near $370, where they have been trying to form a base.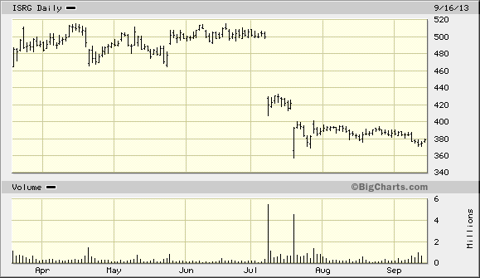 Click to enlarge
source: www.bigcharts.com
What has prompted the selling? Alas, many factors.
Slowing growth in benign hysterectomies, one of the largest uses for the DaVinci robot, amidst doubts about its efficacy (Bloomberg.com, 9/10/2013).
In my opinion, failure on the part of management to respond promptly and convincingly to claims (usually by traditional surgeons) the DaVinci is not cost effective. Why does this issue persist year after year? In the most recent conference call, Goldman Sachs analyst David Roman almost begged the company to sponsor a "large-scale randomized clinical trial to really definitively put a line in the sand on the value proposition of Da Vinci." Really? After more than a decade of sales?
FDA issues, including a warning last spring, that "(the company) ... hadn't adequately reported device corrections and patient adverse events..." (FDA.gov, 6/25/2013)
Rumors that other far less expensive robots, such as the IBIS, developed by the Tokyo Institute of Technology, are just around the corner. (endgadget.com, 07/23/2013)
And why not, like everyone else, blame Obamacare for delays in decisions by hospitals to purchase robots?
Cumulatively, these effects have been devastating to the company's financial performance and its share price.
Percentage revenue growth has sagged from the mid 20s annually to just single digits.
Quarterly EPS growth has collapsed from 50% y.o.y. to single digits, as well.
A primary reason for the above is sagging profit margins on sales: percentages used to be in the mid 30s but now have faded to the mid 20s, and show no signs of recovery.
The question for investors: are these shares now on the bargain counter? Not since the dark days of the crash has ISRG sold at such a low (trailing) PE.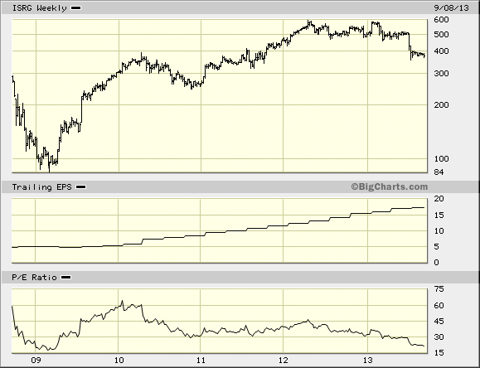 Click to enlarge
The company thinks so: it announced an enhanced share buyback in late July. (Bloomberg.com, 7/29/2013) As is clear from the first chart, the stock price does seem to be forming a base in recent weeks. But investors would be wise to pay attention to an old Wall Street maxim: "panic bottoms seldom hold." This wisdom is telling us the panic July low of $357 has to be tested, and will most likely fail.
After a slew of downgrades in July, analyst estimates for the next two quarters have stabilized. According to Etrade, estimates for 2013 total $15.79. If we apply a P/E ratio of 17x to these earnings, which would allow for a spike downward in the share price below this past July's panic bottom and make the multiple lower than it was at the worst of the 2009 crash, we get a price of about $270 a share.
Alas, a glance at a long-term price chart suggests such a price is not as outlandish as it seems. The recent "base" forming at $380 a share is near a series of tops of a few years back. If this base gives way, there is no firm support until $250 a share or so: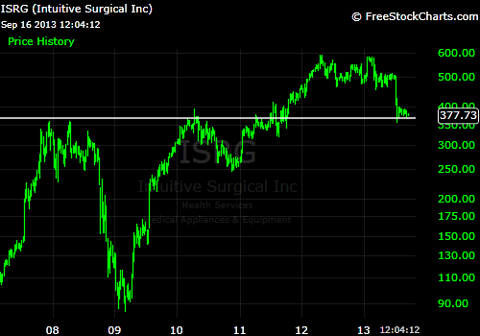 Click to enlarge
source: www.freestockcharts.com
I would be really old, gray and withered if this company saw such dark days. But until the growth, margin, FDA and competitive issues mentioned above are addressed, and they have not been, in any company statements or conference calls, I urge long-term investors to be ultra cautious with these shares. For example, some analysts expect DaVinci sales overseas, especially in Asia, to pick up the slack as US sales growth fades. But Asian economies, especially Japan, Korea and China, are among the most protective and difficult to penetrate. The IBIS robot is a dagger pointed right at that potential market.
Keep your powder dry. These shares will see lower levels.
Disclosure: I have no positions in any stocks mentioned, but may initiate a short position in ISRG over the next 72 hours. I wrote this article myself, and it expresses my own opinions. I am not receiving compensation for it (other than from Seeking Alpha). I have no business relationship with any company whose stock is mentioned in this article.
Additional disclosure: I own ISRG indirectly thru the IHI medical device ETF; but may short the shares soon to offset ISRG's detrimental effect on IHI.